Trying to find a fit for Kendrys Morales
Of the six unsigned qualified free agents, Kendrys Morales seems most likely to have trouble finding a team for 2014.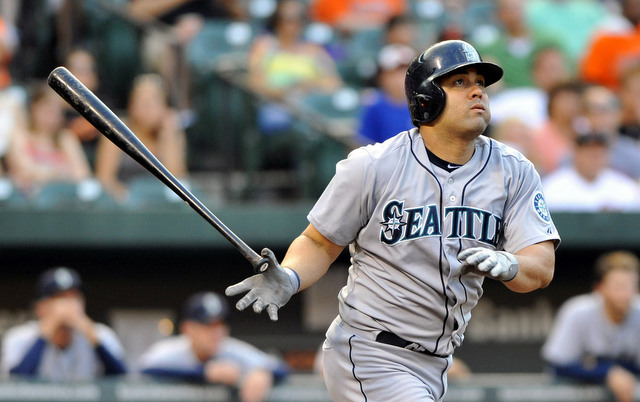 MORE: FA tracker: position players | FA tracker: pitchers | Winter Meetings updates
Every offseason, there always seems to be that one free agent who gets left out in the cold. There were two last winter, when Michael Bourn and Kyle Lohse were still unemployed by the time pitchers and catchers reported to camp. Both are very good players, but the stigma of draft pick compensation kept teams away.
With roughly two months until pitchers and catchers start showing up for work in Florida and Arizona, six of the 13 qualified free agent remain unsigned. It's not difficult to see which one of those six is most likely to be looking for a job come mid February. It won't be Shin-Soo Choo or Nelson Cruz, and the market for Ervin Santana and Ubaldo Jimenez should pick up once the Masahiro Tanaka situation is resolved. Stephen Drew could wind up back with the Red Sox, but even if he doesn't, it's only a matter of time before he lands a job. Quality shortstops are hard to find, man.
That leaves one qualified free agent: first baseman/DH Kendrys Morales, a Scott Boras client who turned down the $14.1 million qualifying offer in hopes of securing a multiyear free agent deal. The 30-year-old switch-hitter hit .277/.336/.449 (123 OPS+) with 35 doubles and 23 home runs for the Mariners this past season, but the club opted to let him walk in favor of the more affordable Corey Hart (and Logan Morrison).
Finding a fit for Morales isn't easy because he's a limited player. He's basically a full-time DH at this point, playing 214 of 290 games over the last two years at the position. Morales can play first base once in a while but he's not really an everyday option there. That eliminates half the league right there. Several AL teams either can't afford a player like Morales or already have a full-time DH (Red Sox and Royals, for example), further limiting his options. Here are six clubs who could be a fit when it's all said and done.
BALTIMORE ORIOLES
The Orioles got a .234/.289/.415 (93 OPS+) line out of their DHs in 2013, so it's an obvious spot to upgrade. Baltimore is short on cash though, as evidenced by the salary dump Jim Johnson trade. Putting the bulk of that savings into a DH is possible but seems unlikely, especially as they flirt with free agents Grant Balfour and John Axford. If they have some money left burning a hole in their pocket come February ... maybe.
CLEVELAND INDIANS
Jason Giambi is back on a minor league contract and the emergence of Yan Gomes gives them the flexibility to move Carlos Santana around. Morales could certainly help at first base and DH with Nick Swisher shifting back into right field to replace Drew Stubbs, but the Tribe have a lot on their plate right now. They have to beef up a pitching staff that lost Scott Kazmir and seems likely to lose Jimenez before worrying about a position that really isn't a problem right now.
HOUSTON ASTROS
They may be the worst team in baseball, but the Astros made some moves this winter, most notably acquiring Dexter Fowler and signing Scott Feldman. They were in the mix for Michael Morse before he signed with the Giants as well. Chris Carter's ability to play first or left field ("play" left field, I should say) creates an opening for Morales if the team wants to go that way. They have a protected first round pick, meaning they would only have to forfeit a second rounder to sign a qualified free agent. That's an easier pill to swallow.
LOS ANGELES ANGELS
The Angels are familiar with Morales after employing him for the first seven years of his career. Albert Pujols is expected to be over his various ailments by the time the regular season rolls around, but he's going to need regular turns at DH either way. Had the Angels wanted another first baseman/DH to pair with him, they simply would have kept Mark Trumbo. Add in the fact that they're crunched for payroll space and can't afford to forfeit their first round pick given the state of their farm system and this doesn't seem like a fit at all.
NEW YORK YANKEES
Once upon a time, Jon Heyman of CBSSports.com reported the Yankees had interest in Morales. Since then, they've gone on to sign Brian McCann, Jacoby Ellsbury and Carlos Beltran, moves that pretty much address their offensive needs. New York certainly has the money to spend and they've already forfeited their first three draft picks, so that's not much of a concern either. How would they fit Morales onto a roster that features Mark Teixeira at first and at least three players (Beltran, Alfonso Soriano, Derek Jeter) who will need regular time at DH? Beats me, but I wouldn't rule the Yankees out just yet.
TEXAS RANGERS
The Rangers traded for Prince Fielder a few weeks ago and they're said to be serious about signing Choo, so there doesn't appear to be a place for Morales in Texas. That could change if Choo signs with another team, but would the Rangers be willing to forfeit a pick for Morales like they would Choo? They're very different players. Texas could pounce if Morales is sitting there unsigned once spring training rolls around, but some other dominos would have to fall (or not fall, really) first.
Boston wants to add two big bats to their lineup, not just one

Even more relievers signed on the final day of the Winter Meetings

Keep tabs on the top 50 free agents right here
The league is not happy Ohtani's medical information leaked

Kansas City and Baltimore were quite busy at the Rule 5 Draft

Piscotty's mother was diagnosed with ALS earlier this year