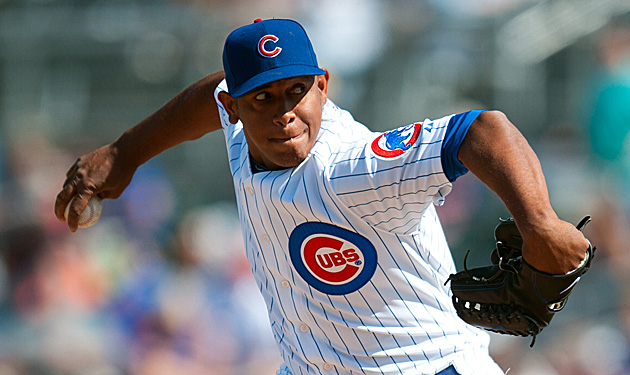 Cubs closer Carlos Marmol had to leave in the middle of an inning from a Cactus League game Tuesday. He went to have an MRI as a precautionary measure, but the initial diagnosis is a cramp in his pitching hand.
"When I talked to him, it was something he said he had before and it always seems to happen in Spring Training," Cubs manager Dale Sveum said (
MLB.com
). "It was a cramp in his hand. There was nothing in his elbow, forearm, nothing like that. He wasn't too worried about it. He said, 'It's fine now, it's gone away,' and he wanted to stay in the game."
Consider Marmol day-to-day and those who drafted him on their fantasy teams can rest easy -- at least until his first save chance of the regular season.
• Mets shortstop Ruben Tejada had been nursing a sore groin, but he returned to the lineup Tuesday.
• Yankees outfielder Nick Swisher has now injured both groins this spring, as he tweaked the left one last week and the right one Tuesday night (
Blogging Bombers via Twitter
).
• In other Yankees news, Derek Jeter is now not expected to play until Friday (
MLB.com via Twitter
). Jeter is sidelined with a calf injury.
• Ryan Braun also has a groin issue, as he was scratched from the Brewers lineup Tuesday with groin tightness (
MLB.com
).
• More Brewers: Corey Hart did a "full workout" Tuesday as he attempts to come back from knee surgery, but there's still no plan for when he can return to game action (
Tom Haudricourt via Twitter
).
• Angels top prospect Mike Trout --
one of baseball's "Big Three" prospects
-- had missed most of spring with a bad illness. Tuesday, he made his spring debut in the Angels' lineup (
MLB.com
).
• Rays outfielder B.J. Upton had two at-bats against Double-A pitching Tuesday. He had been sidelined since a collision last week with Desmond Jennings (
MLB.com
).
• Also on the Rays, shortstop Reid Brignac has a "nasty little injury" in his foot, according to manager Joe Maddon.
Tampabay.com
reports it's a "right foot condition related to plantar fasciitis that will keep [Brignac] sidelined at least several more days." We're late enough in the spring that this could pave the way for Sean Rodriguez being the opening-day shortstop.
• Giancarlo Stanton (knee), Logan Morrison (knee) and Greg Dobbs (hamstring) have been cleared to start "baseball activities" for the Marlins (
MLB.com
).
More Spring Training coverage
• Red Sox pitcher Vicente Padilla "tweaked his hamstring" in the weight room Monday. He's under evaluation (
Bostonherald.com
). Also, pitcher Andrew Miller left Tuesday night's game with a hamstring strain (
Bostonherald.com
).
• Giants right fielder Nate Schierholtz has a forearm flexor extensor aggravation and was scratched from Tuesday's lineup. The Giants expect him back Wednesday, though (
MLB.com
).
• Also with the Giants, second baseman Freddy Sanchez sounds like he doesn't believe he'll be ready for opening day, as he agreed with manager Bruce Bochy's assessment he's not yet ready to play in the field (
The Splash
).
• Even more Giants: Starter Ryan Vogelsong has recovered enough from a strained back that he's now slated to pitch his first Cactus League game of the season Saturday (
MLB.com
).
• Braves prospect Arodys Vizcaino likely wasn't going to be thrown into the rotation this season, but his injury is noteworthy because he underwent Tommy John surgery Tuesday morning (via Jon Heyman of CBSSports.com). So set his timetable back by a year.
• Orioles starting pitcher Zach Britton can't shake the injury in his left (throwing) shoulder, so he's going to visit Dr. James Andrews. For those unfamiliar, Andrews is probably the most famous surgeon in the world. And it sounds like Britton is preparing to miss some time.
"Unless things are perfect tomorrow — I talk to Andrews and he doesn't see anything — then maybe," Britton said (
Baltimore Sun
). "But as of right now I am going to take the cautious stance of I'd rather be ready at the middle of April, end of April, then start the season with the team and then, all of the sudden, two weeks, three weeks later, we are dealing with this situation again. So I just want to get it taken care of right now, and if it costs me a couple weeks, so be it."
• Also with the Orioles, some potentially good news with Brian Roberts. He looked "great taking BP (batting practice) and infield,"
tweeted Roch Kubatko of MASN Sports
. There's still no set timetable for anything with Roberts, though.
• Phillies outfielder Domonic Brown reported his neck soreness is subsiding and he expects to play again starting Thursday (
delawareonline.com
).