Tweet of the day: Papa John's is confused about playoff matchups
It's since been deleted, but Papa John's official Twitter account asked if you have the Dodgers or Tigers getting the World Series going tonight.
Staff predictions | Who has the edge? Dodgers-Cardinals | Tigers-Red Sox
So, um, this was just tweeted out from Papa John's Pizza official Twitter account -- and since deleted, but I caught it in a screen-grab: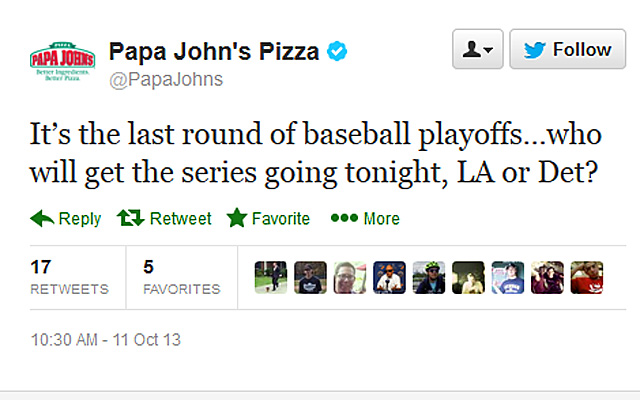 Got that, Red Sox and Cardinals? You have been officially eliminated by someone who both uses better ingredients and produces better pizza. Take that. No soup pizza for you!
The Red Sox and Cardinals are expected to make trade offers next

The free agent first baseman may be a fit in St. Louis

The front office changes in Atlanta continue
The Marlins are more likely than you think on our list

Judge finished a distant second in the balloting and he paid respect to the winner

Stanton just won the 2017 NL MVP award but could wind up being dealt this offseason