Twenty wins was a goal for Gio Gonzalez, 'one of the hardest goals I've ever accomplished'
Some see pitchers' wins as an antiquated stat, but major-league pitchers still view 20 wins as a major goal, and as a symbol of a successful year. Gio Gonzalez of the Nationals, the first to 20 this year, calls it "one of the hardest goals I ever accomplished." As for Gonzalez himself, his pitching coach calls him "a butterfly going 900 mph."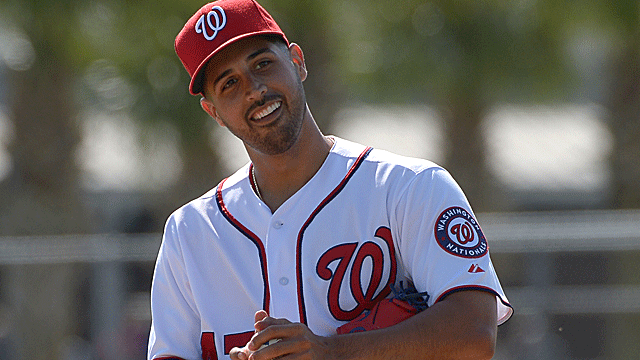 Gio Gonzalez says it's every starting pitchers goal to win 20 games.
(Getty Images)
WASHINGTON -- Want to make a major-league pitcher mad?

Tell him 20-win seasons are insignificant, because pitchers' wins are a meaningless stat.

"You're driven by it," Nationals pitching coach Steve McCatty said Monday. "It's personal satisfaction. Why wouldn't you be? I know I'd have liked to have won 20."

McCatty pitched in the big leagues for nine years, with 63 wins. He was 14-7 in the strike-shortened 1981 season, but never won more than that.

He does have the only 20-game winner in the majors (so far) this year on his staff.

"It's one of the hardest goals I've ever accomplished," Gio Gonzalez said.

Gonzalez understands all the variables that go into whether a pitcher gets credit for a win or not. He says it feels like the Nationals have scored six runs in every one of his starts (actually, while they've averaged 6.45 runs in his 20 wins, he has won games 1-0, 2-1 and 3-1).

"It feels like it's been Gold Glove defense and Silver Slugger offense," he said.

He's also been helped by the Nationals bullpen, which has held all but one of the leads he has handed them.

But as McCatty and Nationals general manager Mike Rizzo said, they still respect a 20-game winner because of the consistency needed to get to 20 wins. They still think it means something.

R.A. Dickey and the Mets obviously think so, too, given how much it's been discussed there -- and given that the Mets adjusted their rotation so that Dickey could try for a 20th win Thursday in the Mets' final home game.

"A goal? Absolutely," Gonzalez said. "I think every starting pitcher wants that. If you're not thinking 20 wins, you're just thinking about getting by."

This isn't about money, either. Gonzalez signed a five-year, $42 million contract with two club options shortly after he was traded from the A's to the Nationals last winter. He's tied to the Nationals through 2018, if they want him, with his salary locked in.

Scouts can argue about who the Nationals' best pitcher is, especially with Stephen Strasburg now shut down for the season. One scout who has followed the team suggested Monday that he'd put Jordan Zimmermann at the top of the list.

For the moment, though, it's clear that the team regards Gonzalez as the ace. Manager Davey Johnson said Monday that while he's not ready to make it official, he expects Gonzalez to be his Game 1 playoff starter.

It's been quite a season for the 27-year-old Gonzalez, who shares space with Dickey on the list of top contenders for the Cy Young Award.

The Mets talk about what a great story Dickey is, but the Nationals are just as happy to tell you about Gonzalez. So are the A's, the team that traded him away.

"I hated to see Gio go," A's owner Lew Wolff said last week. "I love the guy."

"You can't help but love him," McCatty said. "He lightens up the locker room. He just has that charisma.

"He's just Gio. He's a butterfly going 900 mph."

Now he's a 20-game winner. And proud of it.
Then again, three trades in four days might be behind Jerry Dipoto's usual pace

Ohtani is arguably the best hitter and pitcher in Japan

The O's need rotation help, and Cobb is available for hire
The Red Sox and Cardinals are expected to make trade offers next

The free agent first baseman may be a fit in St. Louis

The front office changes in Atlanta continue