Twenty years later, the Blue Jays hope to rock the dome again
Twenty years ago, baseball in Toronto was a happening. "The Blue Jays were like a rock concert," Jack Morris said. This Blue Jays team dreams of bringing that feeling back. Opening night was something of a dud, a 4-1 loss to the Indians, but for now they can still dream.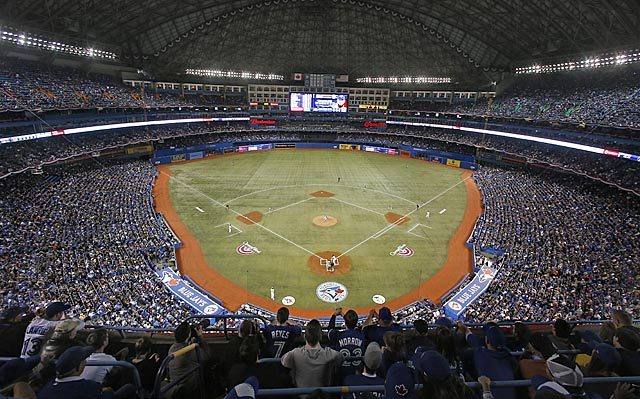 TORONTO -- For a few moments Tuesday, the clock was turned back.
Twenty years back. Has it really been that long?
"You want to pitch tonight," Jack Morris said to Pat Hentgen.
"Yeah," Hentgen said. "So do you."
For a few moments, this wasn't the Rogers Centre. It was still the SkyDome.
For a few moments, you could look up and see all those fans in the 500 level, up where that Jose Canseco home run landed. You could hear the noise cascading down.
It was 1992. It was 1993.
The Blue Jays weren't just relevant. They owned the town. Toronto was the center (centre?) of the baseball world.
"Every night, it was like a rock concert," Morris said. "Every night. The Blue Jays were like a rock concert. It was like Bon Jovi was playing at the SkyDome every night."
That's what they all dream of bringing back. Hentgen, the pitcher turned bullpen coach. Morris, the pitcher turned broadcaster. Paul Beeston, the club president turned ... well, he's the club president again.
Even Alex Anthopoulos, although the 35-year-old general manager charged with bringing the Jays back is a little too young to really understand what it was like here all those years ago. Just like the Blue Jays players who kept turning to Hentgen all night, asking, "Is this what it was like?"
Not really, and not just because opening night itself was something of a dud, a 4-1 loss to the Indians in which the new-look Blue Jays barely threatened after the third inning.
R.A. Dickey, the Cy Young winner imported from the Mets, gave up four runs in six innings while throwing a knuckleball that gave catcher J.P. Arencibia more trouble than it gave the Indians hitters. Jose Reyes, the leadoff hitter imported from the Marlins, began the first inning with a walk, quickly got doubled off first and never got on base again the rest of the night.
"I know everyone's probably disappointed out there, but we're not," said John Gibbons, the manager imported from San Antonio (hey, they weren't all big names). "I know the fans are disappointed, but they'll be back. We've got a good ballclub. They're going to have a fun year."
They could. This Blue Jays team has tons of talent. On talent alone, the Jays deserve to be favorites in the American League East.
But what if they don't win? What if they don't win right away?
These aren't the Blue Jays fans of 20 years ago. The Blue Jays averaged more than 49,000 a game every year from 1991-94.
This year, after selling out opening night, the Jays are expecting crowds in the 20,000-30,000 range the next two nights. They'll do better this weekend, in part because Toronto fans have been waiting all winter to boo ex-manager John Farrell when he returns with the Red Sox.
The people here dream of what it could be like if this team is as good as advertised. Broadcaster Jerry Howarth opened Gibbons' pregame press conference Tuesday by asking where Gibbons was the night Joe Carter hit his World Series winning home run (at home in Texas, but he was watching).
"We'd love to repeat that, that's for sure," Gibbons said.
One loss doesn't say they can't. Carter's 1993 Jays actually lost on opening day, too, when Morris gave up three first-inning runs in an 8-1 blowout in Seattle.
But that team had just won a World Series. This team is only coming off a winter of building expectations.
The Blue Jays players felt the weight of those expectations this spring. They've heard even more since coming home from Florida, and they felt a little overwhelmed by the reception Tuesday night.
"The welcome I got from the fans was borderline supernatural," Dickey said. "You want to give them a great show. You want to entertain them."
Instead, he watched his knuckleball move so much -- "violently," Dickey said -- that Arencibia just couldn't handle it. There were three passed balls in the first two innings, helping lead to two early Indians runs. There were even more knuckleballs that went to the screen with no runners on base.
"Sometimes you throw a great knuckleball, nobody's catching it," Dickey said. "But those happen once every couple of games."
Asked whether Arencibia would catch Dickey again, Gibbons responded, "I don't see why not." Of course, that's the exact same answer he gave last week when asked if Ricky Romero would begin the season in the rotation. Two hours later, Romero was optioned to Class A Dunedin.
But the knuckleball catcher issue can be solved. The bigger question is whether this team will play up to its talent, whether this can be the team that really does bring baseball back in this town (and this country).
Until they do, the good times will stay in the memories of guys like Hentgen and Morris, guys who were here 20 years ago when every night was a rock concert.
"You tell me how to describe it to these guys," Morris said. "Just win. It can come back.
"It was the best of times. I just want it to happen again."
For a few moments Tuesday, you could easily imagine that it will. You could almost imagine that it already had.