Twins announce Joe Mauer will move to first base in 2014
The Twins are moving Joe Mauer to first base starting next season due to concerns about his long-term health.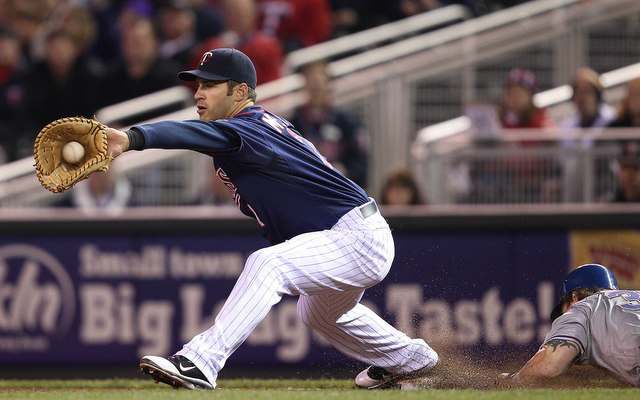 The Twins are moving Joe Mauer out from behind the plate and transitioning him to first base in 2014, the team announced. The move was made due to long-term health concerns, though he is now free of concussion systems and working out with restrictions.
"After consultation with doctors from Mayo Clinic and team doctors, and given the inherent risks of future injury at the catcher position, the organization and Joe determined that it would be in the best interest of both him and the Twins for a position change," said the club in a statement.
Mauer, 30, missed more than a month with a concussion after taking a foul tip to the facemask this past season. He's also missed time with back, quad and knee problems over the years. Catching is a rough business and those guys usually don't remain productive into their mid-30s.
In 113 games in 2013, Mauer hit .324/.404/.476 (144 OPS+) with 11 home runs and 47 RBI. Outside of his 28-homer, MVP-winning effort in 2009, Mauer has averaged only 12 homers per 162 games played. His power is short for the typical first base profile but he makes up for it with a super-high average and on-base percentage.
First base will not be a new experience for Mauer. He has played 54 games at the position in recent years, including eight in 2013 and 30 in 2012. There was some speculation the Twins would take advantage of his athleticism and strong arm by moving Mauer to third base.
There are still five years and $115 million left on Mauer's contract, so it's no surprise the team is taking steps to ensure he remains healthy and productive later into his career. The Twins could opt to pursue a free agent catcher like Jarrod Saltalamacchia or Carlos Ruiz.
The Dodgers are trying to claim a commanding 3-0 lead on the road

The Astros are trying to rebound from a Game 3 drubbing in their first game in the Bronx

Sure, the Cubs have faced great pitchers, but their offense has simply been bad in the pla...
The projections still favor an Astros-Dodgers World Series for now, but there was movement

The Astros are still in control of the series, but have been unable to solve Yankees pitch...

The Astros and Yankees will play Game 4 in the Bronx early Tuesday evening