Twins believe in stability, but do they still believe in Gardenhire?
Times are tough for the Twins, but manager Ron Gardenhire wants to stay, and baseball's most loyal organization could keep him.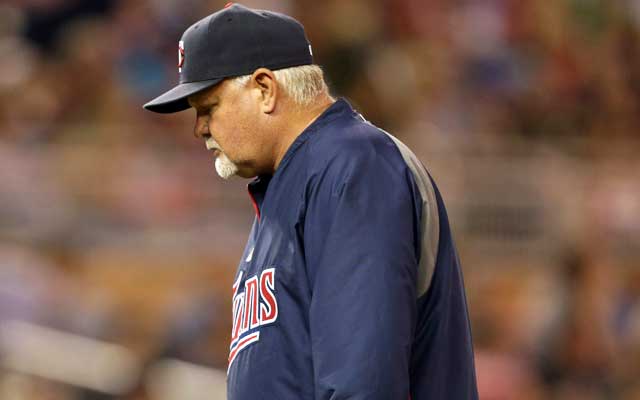 NEW YORK -- The first thing Ron Gardenhire tells you is he's doing great.
He's not doing great, if you want to know the truth. His team is not winning, he's not sleeping and just this week, two Minneapolis columnists suggested that maybe it's time for the Twins to find a new manager.
Twins general manager Terry Ryan made an effort Friday to calm the situation, saying there's "no validity" to the idea that Gardenhire's job is in jeopardy. Many people who know the Twins well believe that not only will Gardenhire hold his job through this season, but that he'll still be managing the Twins next year, as well.
Normally, that would be the safe bet. There's no organization in baseball that values stability more than the Twins.
"We believe in it," Ryan said. "Yeah, we believe in continuity, stability and loyalty. The Pohlad family has always believed in that approach. They treasure loyalty. They treasure continuity."
Ryan insists that holds true for the younger Pohlads now in charge, just as it did when Carl Pohlad was alive.
"He passed that trait on in the bloodlines," Ryan said.
You wonder about Gardenhire now. The Twins lost 96 games last year and 99 the year before, and their recent struggles (11 losses in their last 12 games heading into the weekend) and overmatched roster suggest that they're headed to a similar finish this year.
Gardenhire's contract runs out at the end of the season, and as Scott Miller pointed out this spring, the Twins already "overhauled his coaching staff and effectively put the manager on double-secret probation."
Already, he has outlasted all but one of the managers who were employed in the major leagues in 2002, when he took over the Twins and wrote David Ortiz into the lineup as his cleanup hitter. Only Mike Scioscia has been on the job longer.
The other 28 big-league teams have changed managers a combined 93 times since then. Bob Melvin and Lou Piniella have each managed three major-league teams in the time since Gardenhire took over for Tom Kelly with the Twins.
The question now seems to be whether Gardenhire is the right manager to take the Twins into what seems to be a much brighter future, with the farm system now ranked among the best in the game, or even whether he wants to be that guy.
Those who know Gardenhire the best say that he absolutely wants to continue, and that his energy and enthusiasm for the job remain at a high level. He still seems to have strong support in the Twins clubhouse, and opposing managers and coaches still refer to him regularly as one of the game's best managers.
Still, it's hard for any manager to survive this much losing, even the manager of a team that puts such a value on continuity. Gardenhire understands that, and as he answered questions Friday, he seemed to accept that the issue will come up.
"Yes, I understand the situation, having so many kids on the roster, but my job is to win games, and we haven't been able to do that," he said. "That's my job, trying to figure it out. As long as they keep me here, that's my job.
"If they decide not to keep me, so be it, and I'll be listening to the games on the radio."
Gardenhire went on to say that he thinks the Twins are capable of a 10-game win streak.
"It would be a lot of fun to turn this thing around," he said.
Realistically, though, the turnaround for the Twins is more likely measured in months and years, rather than days. The Twins have some young talent on the roster, but players like Aaron Hicks, Oswaldo Arcia and Kyle Gibson are young and arguably not even ready to play in the big leagues.
The better talent is still to come, with Miguel Sano and Byron Buxton coming to New York this weekend only to play in Sunday's All-Star Futures Game.
The immediate question is more whether the Twins can add talent by trading away some players this month. Perhaps someone gives them something of value for Justin Morneau.
Asked Friday if there was anyone on the roster that he would rule out trading, Ryan said simply, "I shouldn't."
It's not a good team right now, and that was actually respected Minneapolis Star-Tribune columnist Patrick Reusse's point in his column this week that opened with the words, "Goodbye Gardy."
Reusse actually complimented Gardenhire, suggesting that the manager shouldn't be forced to oversee what seems likely to be another ugly second half.
"If the Twins have any respect for long and meritorious service, they will not make you endure another death march to the finish," Reusse wrote.
What's clear, though, is that Gardenhire isn't looking for a way to escape another ugly Twins season. Instead, he's looking for the answers that will allow him to stay around, the opportunity to be the manager who benefits from the arrival of Sano, Buxton and others.
He's holding up well through difficult times, perhaps surprisingly well.
"I like managing," he said. "Best seat in the house. Hottest seat in the house, too."
He's not winning. He's not sleeping.
He's doing great.


Plus the Red Sox can lock down a postseason spot and all you need to know from the world of...

Neshek called Greinke an 'ahole' and a 'turd' on a message board

Ausmus' job security has been in question for years now
Sano has been out with a stress reaction in his left shin since Aug. 19

Damon Miller Jr. tweeted himself into a corner last week, and he came through with the nug...

Why the Diamondbacks could be the team to turn this October on its head in MLB