Twins' Byron Buxton tops another prospect list
Baseball Prospectus' top 101 prospects list is out, and a familiar name sits at the top.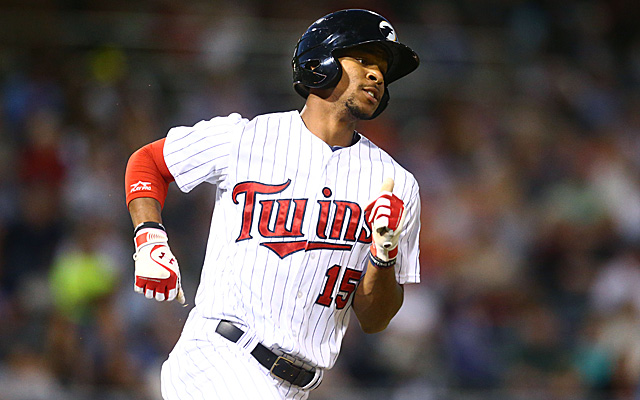 MLB.com names Byron Buxton top prospect in baseball
As noted last week (see handy link above!), MLB.com was the first major outlet to publish its annual top prospects in all of baseball list, and Twins farmhand Byron Buxton was at the top. Monday, Baseball Prospectus published its list, and Buxton again came out on top.
Along with outstanding defense, per scouting reports, Buxton hit .334/.424/.520 with 19 doubles, 18 triples, 12 home runs, 77 RBI, 109 runs and 55 stolen bases between Class-A and High-A. He'll likely start at Double-A this season.
Baseball Prospectus' Jason Parks ranked the top 101 prospects. For the full list, head on over to their site. Here's the top 10:
1. Buxton
2. Xander Bogaerts, SS, Red Sox
3. Oscar Taveras, CF, Cardinals
4. Javier Baez, SS, Cubs
5. Carlos Correa, SS, Astros
6. Francisco Lindor, SS, Indians
7. Addison Russell, SS, Athletics
8. Taijuan Walker, SP, Mariners
9. Archie Bradley, SP, Diamondbacks
10. Kevin Gausman, SP, Orioles
The shortstops!
Buxton, Bogaerts, Taveras, Baez, Correa, Lindor, Walker and Bradley each appeared in both top 10s.
In the BP list, the Twins had the most entrants with eight while the Cubs, Rangers and Pirates all had seven. Click here for the full organizational breakdown.
Kinsler is a free agent next winter

Opening Day will be Thursday, March 29 -- the earliest opening day in MLB history

The World Series champion and big-time wrestling fan was on hand Sunday night
The Brewers have very few payroll commitments moving forward

The new, lighter hats will replace embroidered logos with beveled rubber badges

Chipper Jones and Jim Thome join holdovers Trevor Hoffman and Vladimir Guerrero