Twins' Byron Buxton tops Baseball America's top 100 prospects list
Unsurprisingly, Byron Buxton of the Twins was named the top prospect in the game by Baseball America.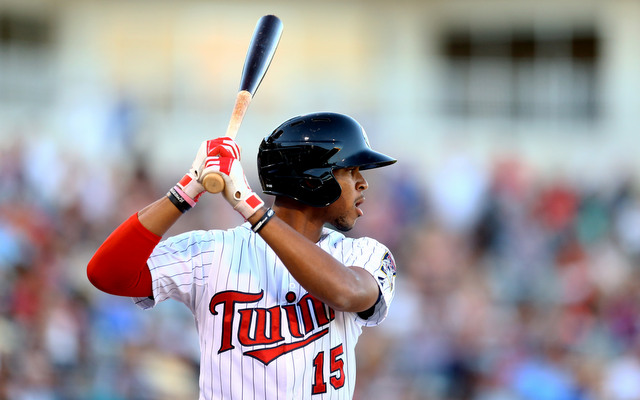 MORE: FA tracker: position players | FA tracker: pitchers
As expected, Twins outfielder Byron Buxton sat atop Baseball America's list of the game's top 100 prospects. They named him their Minor League Player of the Year after last season and he's topped just about every top prospect list this spring.
Buxton, 20, was the second overall pick in the 2012 draft. He hit .334/.424/.520 with 19 doubles, 18 triples, 12 home runs and 55 stolen bases in 574 plate appearances this year. Buxton split the season between two Single-A levels.
Red Sox shortstop Xander Bogaerts followed Buxton as Baseball America's number two prospect. The 21-year-old made his debut last season and hit .250/.320/.364 (88 OPS+) in 18 games before taking over as Boston's starting third baseman in the middle of the postseason.
Rounding out the top five are (in order) Cardinals OF Oscar Taveras, Yankees right-hander Masahiro Tanaka and Cubs shortstop Javier Baez. Tanaka is prospect/Rookie of the Year eligible despite spending all the time in Japan. It's kind of silly, but the rules are the rules. The full top 100 list is right here.
There's no reason to run over the cases for and against Bonds, so let's have fun instead

The coveted right-hander would certainly be a fit in Milwaukee

We rate the best mustaches from random baseball cards because, why not?
Colon wants to break a Dennis Martinez record

The Twins have been rumored to be interested in Darvish all winter

Rolen is one of the best third basemen of all time, but you wouldn't know it based on this...