Twins call up top pitching prospect Jose Berrios: Six things to know
Find out what Matt Garza and Michael Cuddyer have to do with the imminent debut of the Twins' elite pitching prospect.
At 6-14, the Twins are currently tied with the disappointing Astros for the worst record in the AL. I suppose the good news is Minnesota is 6-5 since their dreadful 0-9 start, so hey, at least they're moving in the right direction.
According to Mike Berardino of the St. Paul Pioneer Press, the Twins are calling up top pitching prospect Jose Berrios, who will soon join the rotation. Berrios has since confirmed the news on his Facebook page. The Twins have not yet announced when he will make his first start.
Berrios, 21, is one of the best pitching prospects in baseball. He is 2-0 with a 1.06 ERA and 20 strikeouts in 18 Triple-A innings so far this year, and last season Berrios went 14-5 with a 2.87 ERA in 27 starts between Double-A and Triple-A. He fanned 175 in 166 1/3 innings.
There's no doubt Berrios, a right-hander, is one of the top young arms in baseball. Here are six things to know about his promotion to the big leagues.
1. Berrios is truly an elite pitching prospect.
Again, this kid is crazy talented. Here is where he wound up on the various top-100 prospect rankings prior to the start of spring training:
Baseball America: 28th overall (11th pitcher)
Baseball Prospectus: 17th overall (sixth pitcher)
ESPN: 26th overall (seventh pitcher)
So the consensus is he's a top-30 caliber prospect overall, and a top-10-ish pitching prospect. That is pretty great. Here's a snippet of MLB.com's free scouting report:
Berrios has a terrific combination of stuff and feel, especially for someone his age. A terrific athlete, he has a live, quick arm that can consistently fire fastballs at the mid-90s level. Berrios' curveball has improved so much that it's almost an out pitch for him at this point. His changeup has the chance to be plus as well, which would give him three "60s" in his repertoire ... The Twins think he could be a future No. 2-type starter in the future, one with 20-win potential.
What makes Berrios' growth into an elite pitching prospect so special is that he didn't start pitching full-time until 2012. He was a shortstop for most of his high-school career. Berrios has managed to go from high-school shortstop to big-league starter in less than five years. Impressive.
2. The Twins haven't had a pitching prospect this good in a decade.
Minnesota has a very strong farm system, and they've produced some very good young players in recent years, none better than Miguel Sano. Others like Byron Buxton, Max Kepler, and Alex Meyer are still trying to cut their teeth at the MLB level. Lefty Tyler Jay and shortstops Nick Gordon and Jorge Polanco are on the way too.
The Twins have not had a pitching prospect as good as Berrios in a very long time, however. In fact, prior to Berrios, the last Twins pitching prospect to rank in the top 30 of Baseball America's annual top-100 prospects list was Matt Garza in 2007. He ranked 21st that year, sandwiched between then-Mets farmhands Mike Pelfrey and Fernando Martinez.
3. The Twins can thank Michael Cuddyer for Berrios.
Berrios was selected with the second pick of the supplemental first round in the 2012 draft and was the 32nd-overall selection. The Twins acquired that draft pick as compensation for losing Michael Cuddyer to free agency. Cuddyer was a Type-B free agent under the old system, the Twins offered him arbitration, he rejected it, and so the team received a pick when he signed with the Rockies.
Now, just to be clear, the Twins did not receive the Rockies' pick. Under the old system, Type-B free agents netted their former team a supplemental first-round pick, but their new team did not have to forfeit any draft picks. The supplemental first-round picks were pulled out of thin air and added to the draft. Cuddyer's legacy with the Twins lives on with Berrios.
4. His free agency has already been pushed back one year.
Service time manipulation has been a hot topic for years now. Teams are keeping their top young players in the minors just long enough to delay their free agency and arbitration eligibility one extra year. There was no better example of this than Kris Bryant and the Cubs last year.
It typically takes about 11 days to delay a player's free agency. That's all. Tuesday is the 24th day of the 2016 regular season, so assuming Berrios never goes back to the minors, he will be eligible for free agency following the 2022 season. Had he been on the Opening Day roster -- that was very possible, he was excellent in spring training -- Berrios would have been a free agent following 2021.
The timing of the call-up means the Twins will get something very close to a full season out of Berrios in 2016, plus six additional years of control from 2017-22. Teams are gaming the system to get that one extra year, and they're smart to do it. It does stink for the player though. They have to wait an extra year for free agency.
5. Berrios will be MLB's only active starter from Puerto Rico.
Berrios is from Bayamon, Puerto Rico, and there are currently zero Puerto Rican-born starting pitchers in MLB at the moment. Jorge Lopez, another Puerto Rican right-hander, made two starts for the Brewers last year. He's currently in their Triple-A rotation.
Prior to Lopez last year, the last Puerto Rican-born pitcher to start in the big leagues was Hiram Burgos, also of the Brewers. He made six starts for Milwaukee in 2013. The last Puerto Rican starter to hold down a regular rotation spot was lefty Jonathan Sanchez in 2012, and righties Joel Pineiro and Javier Vazquez in 2011.
Berrios figures to be the first Puerto Rican starter who sticks in the rotation long-term since Sanchez, Pineiro, and Vazquez. That's a big deal. Between Berrios, Carlos Correa, and Francisco Lindor, kids in Puerto Rico have plenty of great young big leaguers to look up to.
6. The Twins won't have trouble finding a spot for him.
Although the Twins have not yet announced when Berrios will make his first start, the expectation is he will get the ball on Wednesday.
Berrios on his way to Twins to start tomorrow.
Jorge Polanco recalled from Rochester
Ervin's Santana likely to DL.

— LaVelle E. Neal III (@LaVelleNeal) April 26, 2016
Ervin Santana is currently dealing with back stiffness, which is why he is expected to go on the DL. And even if he doesn't go on the DL, the Twins won't have much of a problem clearing a rotation spot for Berrios. To wit:
Tyler Duffey: Currently dealing with a bruised shoulder.
Tommy Milone: Has failed to complete five innings in three of his four starts.
Kyle Gibson: Has a 6.10 ERA and 1.74 WHIP in four starts.
I would be surprised if the Twins bumped Gibson from the rotation for Berrios no matter how poorly he's pitched early this season. Duffey opened the season in Triple-A, so he could be sent back there once healthy. Milone could be pushed the bullpen and a long relief role.
Point is, as long as Berrios pitches like he is capable of pitching, the Twins will squeeze him into their rotation for the remainder of the season. There's no one standing in his way.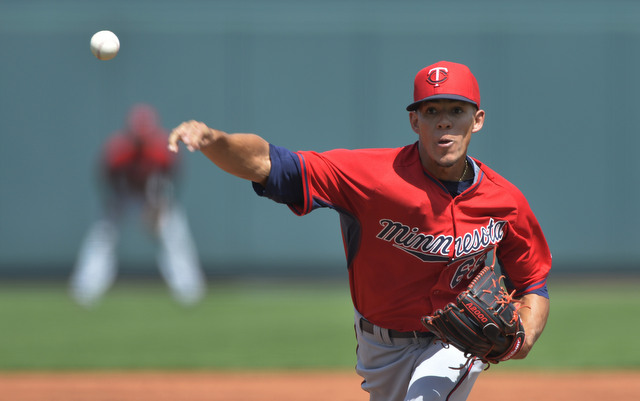 CBS Sports HQ Daily Newsletter
Get the best highlights and stories - yeah, just the good stuff handpicked by our team to start your day.
Please check the opt-in box to acknowledge that you would like to subscribe.
Thanks for signing up!
Keep an eye on your inbox for the latest sports news.
Sorry!
There was an error processing your subscription.
Here is everything you need to know about the day in baseball

Urias was placed on administrative leave last week

The Mets still lack organization depth and most of their offseason moves aren't working ou...
Cespedes had already been sidelined after undergoing surgery on his heels

Getting swept by the Marlins is never a good look for any team -- especially the Mets

The Mets front office issued a vote of confidence for their embattled manager on Monday