Twins enter fray, but Jays, Orioles might still lead Ervin Santana derby
Minnesota is said to have made a three-year offer, but Ervin Santana isn't opposed to doing a one-year deal.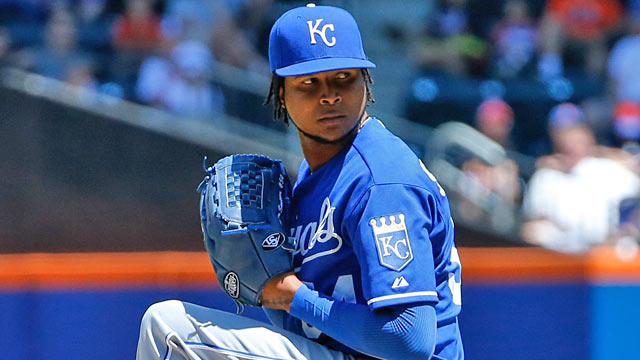 MORE: Spring Training | Scoreboard | FA tracker: hitters | FA tracker: pitchers
SCOTTSDALE, Ariz. -- The Minnesota Twins made a recent try for top free agent starter Ervin Santana, who has fielded offers from the Orioles and Jays as he seeks to make a deal in time to get to spring training and begin the season with his new team.
The Twins made a three-year offer to Santana, according to a source familiar with the negotiations, but word continues to be that Santana will most likely sign a one-year deal if he doesn't get something in the neighborhood of his $50-million, four-year asking price. It appears he doesn't much mind the idea of hitting the market again in a year. The belief is that Santana, who is working out here, will sign in "a couple days."
The Twins' offer doesn't appear to have moved Santana to a point where they are necessarily ahead of the Jays and Orioles. Sources suggest the Toronto Blue Jays have offered in the range of the $14-million asking price while the Orioles were slightly below that. There was some idea Baltimore might be able to enhance its offer by adding an incentive package but there was no word as to whether they had done that.
The Twins already loaded up on free-agent pitchers this winter, signing Ricky Nolasco as well as Phil Hughes and Mike Pelfrey. They still have only four starters certain to make the rotation, though.
The Orioles, who recently signed Ubaldo Jimenez, Nelson Cruz and Johan Santana, might be amenable to a three-year deal, as well, depending on the price.
Ervin Santana, 9-10 with a sterling 3.24 ERA last year with the Royals, is said to have interest in signing with a good-hitting team. He's been a very reliable pitcher throughout his career but has been hampered at times by a lack of offensive support.
Mark Appel was one of the players being moved about on Monday night

Garrett Cooper is the answer to a trivia question

We still don't know if Ohtani will be jumping to the majors yet
Kinsler is a free agent next winter

Opening Day will be Thursday, March 29 -- the earliest opening day in MLB history

The World Series champion and big-time wrestling fan was on hand Sunday night