Twins manager says changing Joe Mauer's position 'could happen'
With catcher Joe Mauer sidelined due to a concussion, Twins manager Ron Gardenhire acknowledged his days behind the plate may be numbered.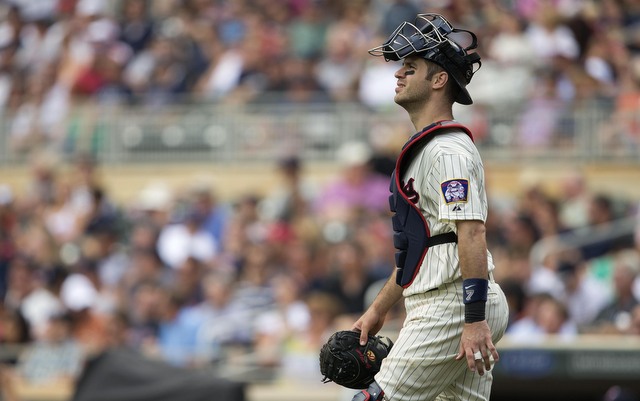 More MLB: Scoreboard | Standings | Probable Pitchers | Sortable Stats | Odds
Earlier this week, the Twins placed franchise player Joe Mauer on the 7-day concussion DL after he took a few too many foul tips to the face mask. He remained at the team hotel to rest during Wednesday's game against the Tigers and is expected to be examined at the ballpark on Thursday. If cleared, he'll fly home to Minnesota while the team travels to Cleveland.
Before Wednesday night's game, Twins skipper Ron Gardenhire was asked about the 30-year-old Mauer's future behind the plate and whether the team will move him elsewhere in an effort to keep him healthy. Mike Berardino of the Pioneer Press has the quotes:
"Every team in baseball would like to have Joe Mauer behind the plate, I guarantee you that," Twins manager Ron Gardenhire said. "Catcher is a pretty important position. He's so important back there: calling a game and running a game. Then you have a guy that can hit, too."

(snip)

"That could happen," Gardenhire said [when asked about moving Mauer off catcher]. "If this becomes one of those situations where this affects (Mauer) for any length of time, yeah, it could happen. It's going to have a lot to do with how Joe thinks about it."
At the All-Star Game last month, Mauer said he knows "eventually I won't be able to catch a whole lot, but then again eventually I won't be able to play this game. Right now I don't think it makes a whole lot of sense for me to move positions."
The Twins know firsthand how devastating concussions can be. They've derailed Justin Morneau's career and sabotaged Denard Span's season a few years ago. Cardinals manager Mike Matheny had his playing career ended by continued concussion problems and the late Ryan Freel once estimated he suffered more than 10 concussions as a player. "Concussion" is a watered down term; these are brain injuries.
Mauer has battled all sorts of injury problems over the years, most involving his back or legs. Typical catcher stuff. This is his first recorded concussion. Mauer has not started more than 75 games behind the plate since starting 107 back in 2010. He's played 141 total games at first base and DH since 2011 thanks to the nagging injuries.
Despite all of that, Mauer remains an elite hitter. He owns a .324/.404/.476 (142 OPS+) batting line with 11 home runs this year after leading the AL with a .416 OBP last year. Although he has been unable to repeat his monster 2009 MVP campaign (171 OPS+), he's still put up a stellar 134 OPS+ in the four years since. Minnesota owes Mauer more than $115 million from now through the end of the 2018, so they have a significant financial investment as well.
Keeping Mauer healthy long-term should be the team's top priority, even if it means making him less valuable overall by sticking him at first base rather than behind the plate. Morneau is due to become a free agent this winter and is likely to sign elsewhere, freeing up first base on a full-time basis. Right field, where Mauer played one game in 2011, could be another option. Perhaps third base works as well.
Mauer is going to be resistant to the idea because every catcher is resistant to the idea of moving out from behind the plate. Catchers are a prideful group. It would be the best move for his long-term health and future as a baseball player though, especially if this concussion proves to be significant in any way. Mauer is simply too valuable to the franchise to risk future brain injuries.
The Twins have already fortified the bullpen with Addison Reed, and now they want to address...

The Orioles likely want pitching, and the Indians have plenty of it

Halladay died in a November plane crash off the coast of Florida
The power-hitting outfielder is headed to Toronto

Martinez could add some power to a Boston lineup void of it

It's almost that time of the year again, time for the Tebow madness to return