Twins on way back with future stars, flourishing farm system
Byron Buxton makes rival scouts gush, and he's the gem of a fertile Twins farm system that Jon Heyman says will have the big club contending soon.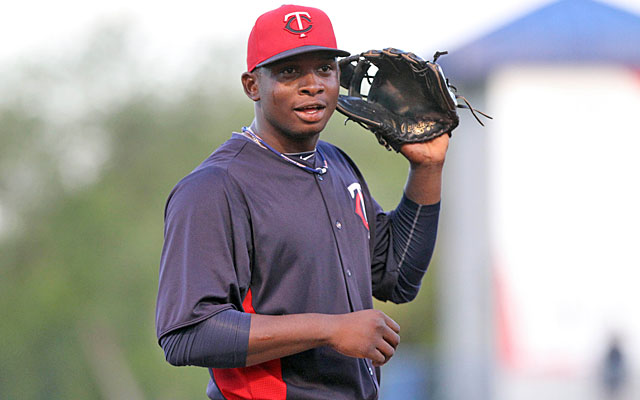 One National League general manager recently volunteered that the Twins have the "best farm system in baseball." A rival scout said that center fielder Byron Buxton, the No. 2 overall pick from last year's draft, is "the best player I ever saw."
Maybe that's a little bit of hyperbole (especially the Buxton evaluation), but if the Twins have both the best system and best prospect, that's pretty special. Needless to say, GM Terry Ryan clearly has Minnesota back on the right path.
The Cardinals, Rays and a couple of other teams are rated higher by some for their overall systems, but the rival GM said he would give the Twins the edge due to their "big three" -- the extraordinary Buxton, power-hitting third baseman Miguel Sano and hard-throwing right-handed pitcher Alex Meyer.
The GM said Buxton, 19, is "a little like Mike Trout," which while high praise may be slightly below what the scout said (though not much). Sano, 20, has "huge, huge power." Meyer, who came in a straight-up deal for Denard Span, is the third youngster in the Twins' dynamic triple play.
Ryan doesn't want to celebrate too early but noted of their top-tier guys, "The good thing is, they're performing."
Here's a rundown of the top three, plus some others.
1. Buxton: The scout went on: "He's a better athlete than A-Rod. He's a crazy athlete. These guys come once every 10 years, every 20 years. If you see this guy run, it's unreal. Five steps and he's on the bag." The scout had Matt Kemp as a comparison (the good-shouldered Kemp).
Ryan is a little more measured, though he acknowledges the talent of the 19-year-old who's tearing up the Class-A Midwest League (seven home runs, 39 RBI, 23 stolen bases and a .332 average at Cedar Rapids, Iowa). "He's got skills that will pop out to an evaluator," Ryan said. Ryan also said he loves that Buxton is a great kid with a superb work ethic.
2. Sano: He is seen as the best power prospect in baseball and getting better. "He has unbelievable raw power," the scout said, beginning what amounts to his report. "He adjusts to the fastball. He needs to adjust to the secondary stuff on the outer half. His arm is a 70 (out of 80, major-league All-Star level). His hands work. Not great feet. He'll play third base, no doubt in my mind." The scout's comp is Adrian Beltre.
"He's a big strong man, and he has a presence in the batter's box," Ryan said. "He's using the whole field, and he's much more disciplined. He's made a lot of progress defensively. He's got errors, but not like last year."
The scout said Sano has been at High A Ft. Myers too long and implied he's wasting his time there. "Get him out," he said of the slugger who's hitting .343 with 13 homers and 41 RBI.
Ryan said that if someone comes in for a day and sees Sano hit a long home run, "He's going to think that." But Ryan said he still wants to see a bit more before he goes to Double-A, likely sometime this summer.
3. Meyer: The GM loves the 6-foot-7 righty with the power arm. "He throws 97 with a good curveball," the GM noted. The scout had some concerns, however, saying, "He has a soft demeanor and pitches away from contact."
Ryan noted the irony there, considering recent complaints about some Twins pitchers pitching to too much contact. He says the real issue is command for the 23-year-old pitcher, who is 2-3 with a 3.90 ERA at Double-A New Britain (Conn.) and has 63 strikeouts and 25 walks in 54 2/3 innings.
"He's got some things to work on," Ryan said. "But he has a very impressive fastball, a very impressive curveball and he's working hard on a changeup."
4. The others: Right-handed pitcher Kyle Gibson is a sinker-slider guy who's maybe one or two Triple-A starts from a callup and should be a solid major-league starter. Second baseman Eddie Rosario is a center-field convert who played for Puerto Rico in the WBC. Lefty-swinging Oswaldo Arcia is an aggressive corner outfielder who got a taste of the bigs. And there's more, leading folks to believe the Twins will be back at the top of the AL Central, if not this year or next, then not too long after that.
Fowler suffered a knee injury at Chicago's Guaranteed Rate Field

The lefty starter is coming off a terrible season

After acquiring Ian Kinsler and Zack Cozart in recent days, the Angels are trending upward
Cozart's coming off a big season as the Reds' shortstop

The veteran slugger spent the last eight seasons with Cleveland

The Padres may be poised for an active winter