Twins sacrifice some value, but moving Mauer to first is the right call
Joe Mauer the first baseman will be less valuable than Joe Mauer the catcher, but the Twins are making the right move by shifting their franchise player to the easier position.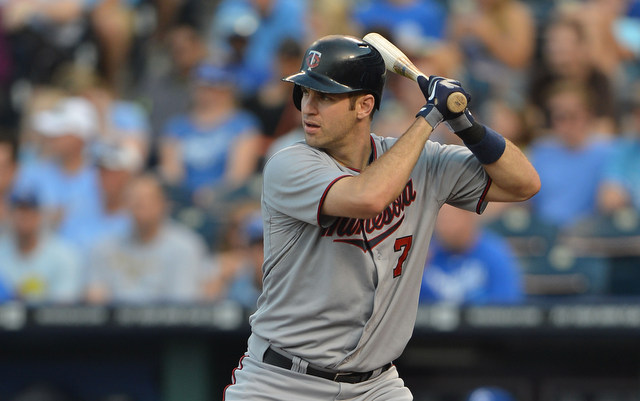 MORE TWINS: All-Time Single Season Team
By no small margin, Joe Mauer is the best catcher in Twins' franchise history. He's a career .323/.405/.468 (136 OPS+) hitter in parts of 10 seasons, plus he's played anywhere from good to elite defense over the years. Mauer has a ways to go, but it's not a stretch to say he may one day surpass Rod Carew, Harmon Killebrew and Kirby Puckett and be recognized as the best player in the team's history.
The Twins will have a new face behind the plate in 2014, however. Kurt Suzuki and Josmil Pinto are expected to share catching duties this coming season as Mauer transitions to first base full-time. The team announced the move earlier this offseason and they're making it because they want to keep their franchise player healthy. Mauer dealt with a concussion late last season and numerous other injuries over the years, most stemming from the physical demands of the catching position. They also owe him $115 million through 2018 and want to protect their investment.
Catchers usually aren't expected to contribute much offensively and that's part of the reason Mauer was so great -- he is an elite hitter, especially compared to other catchers around the league. The first base profile is different though. First basemen are expected to provide big offensive numbers. A good hitting catcher may only be a below-average hitting first baseman. Just last year the league average first baseman hit .254/.332/.430 while the league average catcher hit .245/.310/.388. That's a pretty big difference.
How will Mauer's bat play at first base? First we have to figure out how he is expected to hit in 2014, so let's look at some projections:
2014 Projections for Joe Mauer
Projection System
PAs
AVG/OBP/SLG
2B
HR
Steamer
651
.297/.388/.439
35
14
Oliver
600
.300/.382/.449
32
14
FanGraphs Readers
652
.323/.410/.482
41
15
ZiPS
582
.292/.378/.414
30
10
The average of the four projections (weighed by playing time) is .302/.389.447 with 35 doubles and 13 home runs. That's actually a tick worse than the .321/.410/.460 batting line Mauer put up from 2012-13. It's possible if not likely his batting performance will improve next year since he won't have to deal with the wear and tear of catching, but the projection systems are objective estimates, so let's stick with them. No need to be super exact; a ballpark figure is fine.
Mauer was never a big power hitter -- he did hit 28 homers during his MVP-winning 2009 season, but otherwise he's never been over 13 homers in a season -- and instead generated his value with super-high batting averages and on-base percentages. A .302/.389/.447 projection reflects his skills and is very good production regardless of position. Mauer will be an unconventional first baseman but it looks like he'll be a good one.
Looking around the league, I see only two first basemen I would comfortably expect to outproduce Mauer's projection in 2014: Joey Votto and Miguel Cabrera. Paul Goldschmidt, Prince Fielder, Chris Davis, Edwin Encarnacion and Freddie Freeman are in the "could beat it but it isn't a lock" category for me. I'd like to see Goldy, Davis and Freeman repeat their 2013 efforts before buying in fully. Either way, it still appears Mauer will be a top 8-10 hitting first baseman next year. I'd bet on him being top 4-5 when it's all said and done.
With all due respect to Buster Posey and Yadier Molina, Mauer was the best hitting catcher in the game and now he's moving to a less valuable position, where he should still be one of the top producers in baseball. If his production jumps because he's avoiding all the nagging day-to-day injuries associated with catching, then it might only be him, Miggy and Votto at the top of the heap. The Twins are sacrificing some value by turning an elite hitting catcher into a great hitting first baseman, but the trade-off is well worth it if it keeps Mauer healthy in both the short and long-term.
The Nats will host the All-Star Game in 2018

The Orioles are looking to trade Machado heading into his walk year

The Cardinals have been linked for a while to the Baltimore star
Gallardo spent the first eight years of his career in Milwaukee

MLB revenues are at a record high right now, but teams aren't spending it on players

Chicago added Tyler Chatwood earlier this offseason but might not be done adding to the ro...