Twins should shut down Joe Mauer for rest of season
With concussion symptoms lingering and only 18 relatively meaningless games left, the Twins should just shut Joe Mauer down for the season.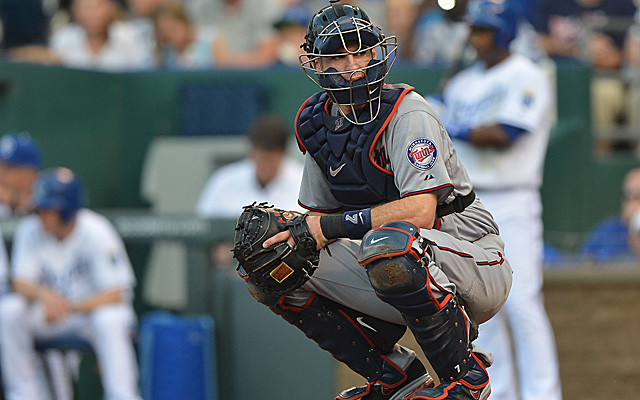 More MLB: Scoreboard | Standings | Probable Pitchers | Sortable Stats | Odds
Twins catcher and face of the franchise Joe Mauer was sent home before Wednesday's game due to ongoing issues stemming from a concussion back in August when he took a foul ball off the mask. He was said to be "irritable" and won't even take batting practice Thursday.
They still seem to be planning on him playing at some point the rest of the way, though.
My question: Why bother?
The Twins are 63-81 right now. The only thing they're playing for on the positive end is avoiding last place (they are 4.5 games ahead of the White Sox), but if they fall a bit down, they'll just end up with a better draft pick.
Meanwhile, Mauer continues to deal with lingering symptoms from a concussion. There should be obvious concerns for Mauer when it comes to after-baseball life when dealing with a head injury like this, but let's leave that aside since this is a baseball blog and not a medical analysis.
So, anyway, we're talking about a head injury to a superstar in Minnesota lingering. Hmmmmmm ... sound familiar?
Justin Morneau was one of baseball's best power hitters from 2006-10. That is, until a concussion in 2010 ruined him. He was hitting .345/.437/.618 with 18 homers and 56 RBI in 81 games in 2010 before his season was over due to a concussion and its ensuing symptoms. He hasn't been the same since, hitting .257/.319/.411 with 40 homers in 340 games.
Can the Twins really chance Mauer taking another shot to the dome the rest of this season instead of giving him all the way until next spring training to hopefully get everything in order -- especially given what they saw happen to Morneau?
Mauer is 30 and is hitting .324/.404/.476 with 35 doubles and 11 homers this season. He's obviously not a home run hitter, but he's an average, on-base and doubles machine. He's also going to be paid $23 million per season through the 2018 season.
Even if we do leave aside the worries for Mauer's after-baseball life -- which we shouldn't -- why would the Twins risk this kind of investment with 18 relatively meaningless games left in another lost season?
An additional layer here is 24-year-old catcher Josmil Pinto. Through only eight games and 29 plate appearances, he's been impressive -- .500/.552/.808 with five doubles, one homer and four RBI. Obviously small sample caveats apply here and the league will adapt with more scouting, but the Twins should get him as much experience as possible the rest of the way.
Pinto has been a good hitting catcher in the minors, too. He hit .309/.400/.482 with 32 doubles and 15 homers in 126 games across Double-A and Triple-A this year. If he can translate these to being a quality-hitting big-league catcher, moving Mauer to a different position would be much easier for the Twins to stomach.
To this point, the Twins have been reluctant to attempt a permanent move of Mauer from behind the plate. Though they haven't explicitly said so, the reason seems a bit obvious. While Mauer is an outstanding hitter for a catcher, his numbers don't play quite as well at first base. His average and on-base percentage are excellent at any position, but the power numbers don't live up to expectations for, say, a first baseman making over $20 million per season.
Look at this way, if Mauer were a first baseman this season, he'd rank 26th in home runs at the position. He would be tied for eighth in slugging percentage thanks to all those doubles and the high average, but teams still look for the longball from first basemen and Mauer doesn't really provide that.
Personally, I think I'd deal with the dip in homers and realize the rate stats live up just fine. He'd be overpaid, sure, but that contract has long since been signed and shouldn't dictate what's in the best interests in the club moving forward. All this is a different discussion for a different day, though.
For now, the Twins just need to shut Mauer down for the season, whether it makes him irritable or not. At the end of the day, that would be a move that's in his best interests just as much as it would be the Twins' best interests.