Two years after trade, Michael Pineda finally ready to help Yankees
Michael Pineda is finally in position to help the Yankees this season, two years after they acquired him from the Mariners.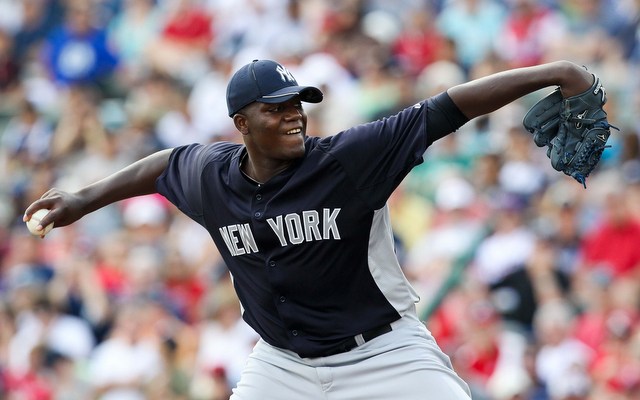 MORE: FA tracker: position players | FA tracker: pitchers
It's hard to think of a high-profile trade that worked out as poorly for both teams as 2012's Jesus Montero for Michael Pineda swap. Montero hasn't hit (89 OPS+) and was suspended 50 games for his ties to Biogenesis last year. Hector Noesi, the other guy who went to Seattle, has a 64 ERA+ since the trade. Class A righty Jose Campos missed most of last year with an elbow problem. He was the other guy New York received.
Pineda, meanwhile, has not thrown a single big league pitch since the trade due to a shoulder injury. He suffered a torn labrum during spring training 2012 and has been on the mend since, throwing 40 2/3 minor league innings late last summer as he rehabbed. Pineda reported to the Yankees' complex early for camp and says he's finally ready to help the team, two years after the trade.
"I'm feeling 100 percent right now, and my body is in perfect shape," he said to the Associated Press today. "Everything is in the past. I'm ready to go."
CC Sabathia, Hiroki Kuroda, Masahiro Tanaka and Ivan Nova will occupy the first four spots in New York's rotation. Pineda will compete against guys like David Phelps and Adam Warren for the fifth spot, and if he loses the competition, he'll go to Triple-A. Coming back from a major shoulder surgery to win a big league job will be tough, and the Yankees themselves admit they don't know what Pineda is capable of right now.
"I don't know what we are going to get from him, but we have hope," said GM Brian Cashman to Kevin Kernan of the New York Post last week. "This just has to play itself out. He has to perform April through September, and it has to be in New York and not in Trenton. The reports are good now, but he has to continue to progress and do it in a Major League setting. We certainly would love to get him back."
The ZiPS projection system doesn't expect much from Pineda (4.65 ERA in 81 1/3 innings), which isn't all that surprising after missing two years. No one knows what he'll do until he actually gets back up on the mound in meaningful games, until then we're just speculating. What we do know is that Pineda is still an important part of the Yankees' future, so this season will be a huge one for him. A third consecutive season with zero big-league innings would make it close to time to write him off.