Two years post-Pujols, full-steam ahead for Series-bound Cardinals
Names and stories change, but the Cardinals' remarkable run of success doesn't. Once carried by Albert Pujols, they remade themselves quickly.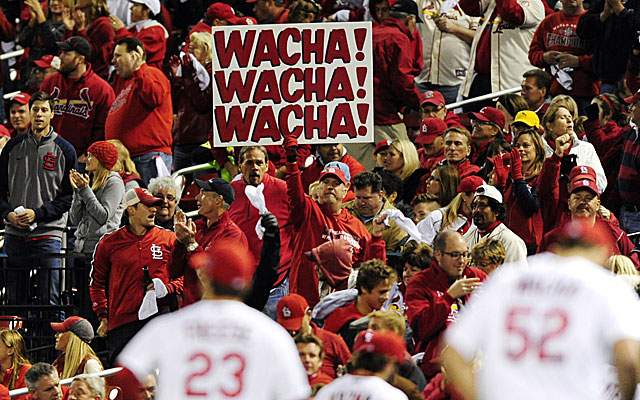 ST. LOUIS -- Tough not to wonder how Albert Pujols will be spending the next 10 or so days at home in St. Louis.
Navigating his way through a sea of Cardinals red in the aisles when he stops for bread and milk at his local Schnucks grocery store? Threading his way through the 24-hour, wall-to-wall World Series coverage with every click of the television remote? Reading Michael Wacha's life story?
Hard to believe there was a time two years ago when we wondered what October would be like for the Cardinals if they dared allow Pujols to escape.
Not only did life go on, but the quality of it never wavered.
We also now know what October is like for Pujols, post-Cardinals: He has a lot of free time on his hands. So do his Angels.
There's never any guarantee how things will turn out, but as St. Louis prepares to face Boston in their fourth World Series in 10 years, man, do the Cardinals ever look like the cat that swallowed the canary (to, ahem, stick with the ornithological theme).
But for one more win against the Giants last October, the Redbirds would be 2 for 2 in World Series appearances post-Pujols. As it is, they're 2 for 2 in NL Championship Series appearances and now have a chance to win a second World Series in three seasons.
Not bad for an organization that said farewell not only to Pujols, but to manager Tony La Russa as well after the 2011 world championship season.
"When we won the World Series, right away I remember how I was thinking that this is just a fleeting moment in time," St. Louis general manager John Mozeliak says. "Because I knew we were going to have to replace the manager. I knew we were going to have a difficult negotiation coming up with Albert.
"The balance of the club was in limbo, directionally, where we may be going."
La Russa had quietly given notice late in the season that he intended to retire when it was finished, so Mozeliak and his staff were able to do a lot of "due diligence" in August, September and October of '11.
"So the first thing we had to address was getting a manager, and we did that," Mozeliak says of Mike Matheny, the former Cardinals catcher who played under La Russa.
"I knew we were going to have to do things differently, and it really came down to re-deploying resources, how we would do that. As far as expectations to repeat as world champions, everybody says that's their goal. That's what we go to spring training for and that's what we point to.
"I knew it was going to look different. I knew it was going to require a different strategy. Fortunately for us, the one we went with worked. It hasn't been perfect. Things happen. One compliment to this organization is, when we have to adapt or call an audible, we're able to do so."
Wacha already has achieved cult hero status in St. Louis and future star designation across the country after becoming the youngest player since Atlanta's Steve Avery (1991) to be named as a LCS Most Valuable Player.
The fact that the Cardinals drafted him in 2012 with a compensatory pick they obtained by losing Pujols to free agency simply makes this story all the more compelling.
The Cardinals picked him 19th overall in the first round. Incredibly, there were seven other pitchers picked ahead of him: Kevin Gausman (Orioles), Kyle Zimmer (Royals), Max Fried (Padres), Mark Appel (Pirates), Andrew Heaney (Marlins), Nic Travieso (Reds) and Lucas Giolito (Nationals).
All Wacha did for each one of them in compiling an 0.43 ERA over 21 innings this postseason, along with 22 strikeouts, four walks and eight hits, is crank the heat up immensely. If Wacha continues his rocket ride to superstardom, each of those other pitchers had better produce. Or the teams will never hear the end of it.
Wacha, of course, is just one of the Cardinals' Kiddie Corps pitchers. These Cardinals are the first team in history to have four rookie pitchers each appear four or more times from the bullpen in one postseason, according to the Elias Sports Bureau. Matheny has called on Carlos Martinez seven times, Trevor Rosenthal six and Seth Maness and Kevin Siegrist five times each.
Over those 23 appearances, those four have combined for a 1.42 ERA.
They, along with second baseman Matt Carpenter and first baseman Matt Adams (who has done a nifty job subbing for injured run producer Allen Craig), are the pride of a Cardinals' farm system that was ranked No. 1 in the majors by Baseball America at the start of this season. They're also why the Astros hired general manager Jeff Luhnow: as colleague Jon Heyman wrote the other day, 17 players on the Cardinals' LCS roster were drafted when Luhnow was the St. Louis scouting director.
"I think our plan that we implemented about 10 years ago played out really well," Cardinals owner Bill DeWitt was saying late Friday night, sipping a beer (yes, Budweiser) while the Champagne sprayed. "And that was to build talent underneath, because the players in that era who were terrific and took us to the NLCS and world championship were in their prime -- but we knew five, six, seven years later they wouldn't be."
Players like Scott Rolen, Jim Edmonds, Edgar Renteria, Matt Morris, Woody Williams, Jeff Suppan and, yes, Matheny and Pujols.
"And so we had to have reinforcements," DeWitt said. "We had a conscious strategy to build from within. We did what we could to apply draft choices, offered arbitration to players that signed elsewhere, that type of thing.
"And then we changed the way we went about our scouting, and built on the legacy of player development. We enhanced that, too. We did a lot of things to build what we have today. I'm pretty pleased with it."
You might say. Just a couple of days from making their 19th World Series appearance -- tied with the Giants for most in the NL -- these Cardinals are at the top of their game.
There is no organization that is quicker, smarter, savvier.
"It's hard to say it could have gone any better, standing in here tonight," DeWitt said. "But we're really, really excited about it."
When the Cardinals did step into the free agent market to replace lost parts and supplement their burgeoning farm system, they were shrewd. They drew a line they wouldn't cross when it came to Pujols. And when he left for a contract that looks like it will weigh the Angels down for years, they invested in Carlos Beltran at two years and $26 million.
Surely eyeing the way Pujols might play out, they signed Matt Holliday to be a middle-order force in January 2010, for seven years and $110 million. But last winter, they willingly said farewell to free agent Kyle Lohse, who went 16-3 in 33 starts for the Cardinals in 2012.
It would be tempting to say they've had the magic touch, but there doesn't appear to be much magic here. Intelligence and rational decisions, yes. Hocus pocus, not so much.
What has been especially impressive is the bounty of young pitchers that have hit this year, and not just those in the bullpen. Starters Wacha, Joe Kelly and Shelby Miller have completely mitigated what could have been crushing losses -- Lohse to free agency, and Chris Carpenter and Jaime Garcia to injury.
Mozeliak credits former pitching coordinator Brent Strom, who left this month to become the Astros pitching coach, and Mark DeJohn, field coordinator for the Cards' minor-league system, for both instruction and building an overall culture that follows on the heels of legendary old Cardinals coaches like George Kissell.
"Mark brings energy to it," Mozeliak says. "I think players love having him around. He's amazingly entertaining. He makes going to work fun.
"That's an important element of what's happening at our camp."
And farm director Gary LaRocque pulls it all together.
"It's hard to single out any one person, because I think all of our pitching coaches have had a hand in the success of all these guys," Mozaliak says. "With the exception of Wacha [who rocketed up the farm system], it's almost like they've all been touched. Fingerprints abound."
Those fingerprints include those of Matheny, who understands the collegiate feel of an organization steeped in tradition with a sort of subway alumni feel throughout its wide-ranging fan base.
"I think we've been fortunate to be in an organization that winning is a tradition, an expectation," Matheny says. "We start talking early on about the history and the championships, the great players who have been through here and people who have made their mark on this organization and in the game."
That history and those championships include both the manager and the GM, whose inspired choice to gamble on a man without any managerial experience to follow La Russa has turned out perfectly.
"I was really nervous about bringing in somebody who didn't understand the history or understand how that city reacted to baseball," Mozeliak says. "Because it is unique, and I don't think people understand how much St. Louis is a baseball town. They demand winning, so it can't be taken lightly."
Still, considering the enormous impact Pujols had around here between 2001 and 2011 ... that the Cardinals have continued their relentless championship march without missing a step remains one of the most impressive and remarkable ongoing achievements in the game.
The raw feelings have been massaged, and both sides have moved far enough into the future that any residual bitterness at least does not have as hard an edge anymore. Mozeliak saw Pujols at the slugger's annual charity golf tournament last summer and the two had a long, cordial chat.
Pujols got his historic contract, 10 years and $240 million. And the Cardinals stuck with their plan, spreading the money across their roster instead of over-committing to one man. Surely in part out of deference to Pujols, who did so much for this organization, Mozeliak downplays the last part.
"A lot gets made out of that, like we wouldn't have been able to do this or that [if St. Louis had re-signed Pujols]," Mozeliak says. "I can't answer that because all of this happened at different times.
"By Albert not coming back to the Cardinals, we had resources that we could redeploy elsewhere. That's just natural.
"Strategically, through ownership, through my department, we were just looking at different ways of doing so."
Two years later, in the on-deck circle of another Fall Classic, it looks like a work of art.
OOTP's team ran some simulations for us on the 2017 World Series

Reddick spent half the 2016 season in L.A. and did not enjoy it

Martinez has spent most of the past decade as Joe Maddon's bench coach, but should be ready...
The Dodgers have acquired more players through trades than by any other means

Surprisingly few current Astros were originally drafted by the team

Dodgers manager Dave Roberts on Sunday announced his World Series rotation for the first four...