Ubaldo Jimenez will make money, but first wants to make playoffs
Ubaldo Jimenez has a lower ERA than Clayton Kershaw since the All-Star break, which sets him up for free agency -- and sets the Indians up for the playoffs.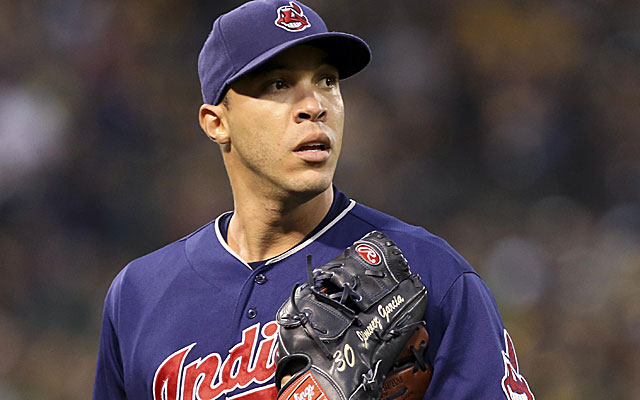 KANSAS CITY, Mo. -- It's hard not to think Ubaldo Jimenez is making himself a whole lot of money.
Even if he insists it's the last thing on his mind.
"Not right now," Jimenez said this week. "I'm in good position, but I'm only thinking about getting to the playoffs."
The Indians have a real chance, in part because the Ubaldo they hoped they were trading for two years ago has shown up in the second half of this season. He has a better ERA than Clayton Kershaw since the All-Star break, a better ERA than any other starting pitcher in the American League over that time.
He has begun September with three straight wins, allowing just one earned run in 21 1/3 innings, with 22 strikeouts and just three walks. Maybe it's not a return to the Ubaldo of the first two months of 2010, when he was 10-1 with a 0.78 ERA for the Rockies and his fastball was regularly in the high 90s, but it's easily the closest he has come to matching that.
And he should be set up to cash in.
The contract Jimenez signed with the Rockies in 2009 contained an $8 million club option for 2014, but also allowed him to void that option if he was traded. On a free-agent market that figures to include many mid-rotation pitchers but few top-of-the-rotation candidates, the 29-year-old Jimenez has to be worth much more than that.
Jimenez is comfortable with the Indians. Remember, he once described playing in Cleveland as "like being in heaven." He has bonded with first-year Indians pitching coach Mickey Callaway.
But with the way Jimenez is pitching now, will the low-budget Indians be able to afford him?
There's no question now that they would love to. They've long understood how important he could be, so important that when manager Terry Francona was interviewing pitching coach candidates last fall, one of the big questions he had was how the new coach would get Jimenez turned around.
Callaway attributes Jimenez's improvement to a "smoother, one-piece delivery" and to increased confidence. Teammate Justin Masterson says Jimenez is just healthier.
"When he reaches back for the fastball, he can just let it eat," Masterson said.
Jimenez says it's a combination of both, the health that makes him feel more comfortable and the success that has brought back his confidence. He's still not throwing as hard as he once did (his fastball averaged 92.2 mph in his last start, according to PitchFx data on brooksbaseball.net), but he's looks so much better than he did earlier in his Indians career.
"I feel really good every time out," Jimenez said.
He'll get his next chance Thursday night against the Astros, and then next week against the White Sox and Twins.
The schedule helps make the Indians wild-card favorites. And having a revived Ubaldo in the rotation doesn't hurt.
Dodgers manager Dave Roberts on Sunday announced his World Series rotation for the first four...

How should the Astros play it when one of their two aces isn't on the mound against the Do...

The former big-league infielder also worked as GM of the Puerto Rico national team
The Indians pitching coach would be getting his first MLB managerial job

In the last several years, lots of droughts have ended in MLB

The most likely scenarios are Dodgers winning in five or six games