Unconventional Rockies will talk Fowler, Cuddyer in trades
The Rockies are sending a bare-bones contingent to the winter meetings, choosing instead to gather their top scouts in Denver with general manager Dan O'Dowd. That doesn't mean they have nothing to do, and sources say they would discuss trading Dexter Fowler and Michael Cuddyer.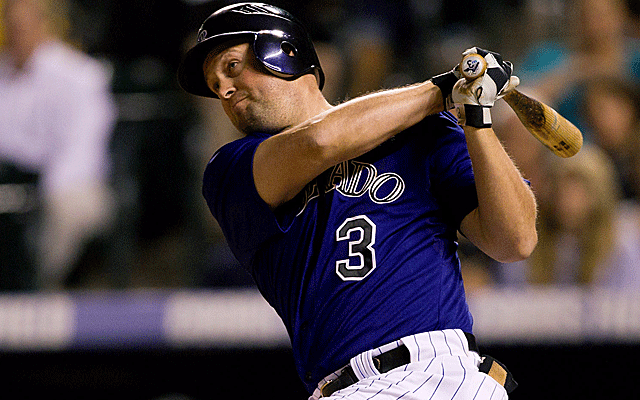 The  Rockies are willing to discuss trades for outfielders Dexter Fowler and Michael

 Cuddyer

  (pictured).
(Getty Images)
Baseball scouts from 29 organizations will converge on Nashville this weekend for the winter meetings.

And the Rockies?

Their scouts are headed for Denver.

Never afraid to be unconventional, the Rockies have decided to stay away from the winter meetings lobby scene, instead gathering most of their top minds in their Coors Field offices. Senior vice president Bill Geivett will head a small group in Nashville, reporting back to a larger group in Denver that will include general manager Dan O'Dowd.

It's not that the Rockies have nothing to talk about.

They're willing to discuss trading outfielders Dexter Fowler and Michael Cuddyer, according to sources, although they're also said to have put Rocky Mountain-high prices on both. Not surprisingly, the Rockies are looking for young pitching in return.

The Braves, in the market for a leadoff hitter, were one team that showed interest in Fowler. Those discussions haven't gone very far, because the Braves felt that the quoted price -- two top young players -- was far out of the range of what they were willing to pay.

While the Braves have signed B.J. Upton to play center field, they plan to bat Upton in the middle of the lineup, and remain in the market for a leadoff hitter. Denard Span of the Twins is another who they have talked about.

The 26-year-old Fowler, who grew up in the Atlanta area, made $2.35 million last year as a first-time arbitration-eligible player. His .389 on-base percentage was the best among players who regularly batted leadoff in the National League.

Like most Rockies players, though, Fowler had a severe home-road split, with a .431 on-base percentage at Coors Field, and just a .339 OBP away from home.

The Coors Field effect can make it hard to establish value for Rockies players, and the result sometimes seems to be that the Rockies value their players more highly than the industry as a whole does.

Cuddyer, who spent his first 11 seasons with the Twins before signing with the Rockies last winter, should be somewhat easier to value. Cuddyer has two years and $21 million remaining on his contract.
Sale becomes the first AL pitcher to reach 300 strikeouts since 1999

Steve Balboni's long-standing record of 36 has finally fallen

Several players called for the netting to be extended down the base lines following Wednesday's...
Maria made landfall as a Category 4 on Wednesday

The players are trying to do their job and don't want to see anyone hurt

The child is receiving medical attention at an area hospital, the Yankees said in a statem...