Under new management, Mariners confidence grows
The Seattle Mariners have been one of 2014's pleasant surprises, but they probably still don't get enough credit. And their confidence under new manager Lloyd McClendon and his staff is growing.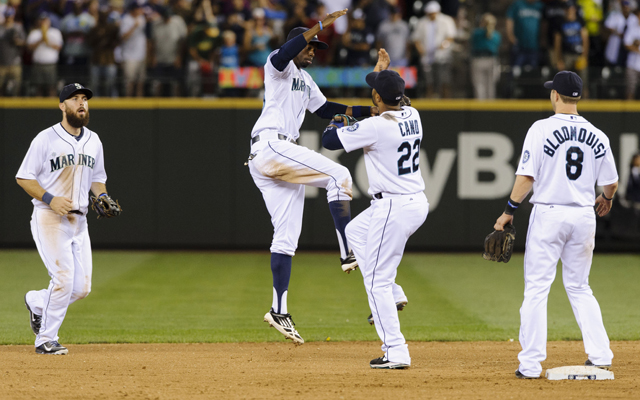 All-Star Game: Starting lineups | AL, NL rosters | Cespedes wins HR Derby
MINNEAPOLIS -- What do you get when you have a very good team in the Pacific Northwest that hasn't made the playoffs since 2001 and has only had two seasons with winning records since 2003? You get an underrated team that not nearly enough people know a lot about, that's what.
Make no mistake, these Seattle Mariners deserve more attention than they've gotten all year -- and I've tried to do my part in recent weeks to help their cause. Maybe having four All-Stars -- the most since 2003, when they sent five -- will start to turn more than a few heads. Felix Hernandez is the well-deserved AL starting pitcher while Robinson Cano is starting at second. The perpetually underrated Kyle Seager is a bench option for AL manager John Farrell and Fernando Rodney is a late-inning relief option.
There's a very real possibility that the Mariners leave a huge stamp on his Midsummer Classic.
These four players are part of the core for also-underrated manager Lloyd McClendon -- whose bunch took a 51-44 record into the All-Star break. In taking two of three from the A's heading into the break, the club sits idle for a few days with a bit of extra confidence.
"When you're winning, you get extra confidence in yourself and in your team," Cano said. "The coaches have done such a great job and as a team we have a great chemistry and that's what you want -- a great clubhouse. That's one of the things that has helped us be successful."
Cano's presence and leadership have surely helped, just as McClendon and his coaching staff seem to have shifted the attitude. This is now a well-knit team playing very good baseball and right now holds the second wild card and is battling admirably in possibly baseball's toughest division.
"We're playing good baseball," Seager said. "We had a few down years, but it's a different coaching staff and a bit of a new team. To have four guys here is a great sign for us."
Perhaps the first of several good signs moving forward. Keep in mind, the Mariners dealt with lots of injuries in the first half, most notably to the starting rotation. If anything, they should get even better as players get healthy and the confidence -- even a swagger -- grows.
Or, perhaps this is all that needs to be said: "We're a good team," Seager noted. Confidently, of course.
Now it's time for the rest of America to start paying attention. Seager's right, this is a good team that deserves to turn a few heads.
Then again, three trades in four days might be behind Jerry Dipoto's usual pace

Ohtani is arguably the best hitter and pitcher in Japan

The O's need rotation help, and Cobb is available for hire
The Red Sox and Cardinals are expected to make trade offers next

The free agent first baseman may be a fit in St. Louis

The front office changes in Atlanta continue