Under Pressure: Cano, Tanaka and new faces in new places
We're starting a new and brief series today in which we look at those players, managers and GMs who have much to prove in the upcoming season.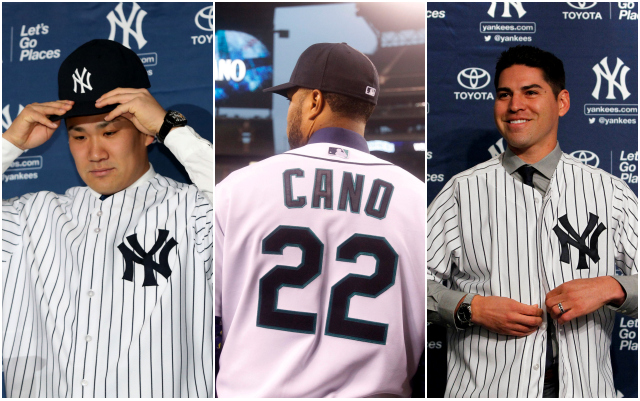 MORE: FA tracker: position players | FA tracker: pitchers
"Under Pressure": It's our name for a new and brief offseason series that starts today. In it, we'll examine the players, managers and even GMs who have much to prove in the 2014 season to come.
In some instances, it's because they're playing for new teams on high-dollar contracts. In other cases, it's because they need to bounce back from disappointing seasons in 2013. In still others, it's because dugout or front-office jobs hang in the balance. 
To get started, we'll take a look at "new faces in new places" -- i.e., those players and even non-players who need to prove to their new employers (and new fan bases) that they're worth the trust and investment placed in them. That is, they're -- all together now -- under pressure. 
Let's light this candle ... 
Robinson Cano , Seattle Mariners
Cano this offseason famously signed a whopping 10-year, $240-million contract with the M's. As a consequence, the All-Star second baseman faces pressure on a number of fronts. One, he needs to show not a hint of decline in the first year of a deal what won't expire until he's in his 40s. Second, the job of the GM who inked him, Jack Zduriencik, in part hinges on how Cano fares in his first season in Seattle. Third, the Mariners are angling to matter in a division with three other, better-on-paper contenders. 
To be sure, the left-handed-hitting Cano is far more than a product of the short right-field porch at Yankee Stadium (for instance, 16 of his 27 homers last season came on the road). However, Safeco, even after seeing its fences brought in, is still very much a pitcher's environment (it reduced LHB home run rates by 11 percent versus a neutral park last season).
In some senses, it's not enough for Cano to produce on a context-adjusted basis. In order to sway all the skeptics, he might need to put up Yankee-style numbers while playing half his games in the Pacific Northwest. That will be tough. Ultimately, though, Cano may be judged by how well the Mariners do. That's not particularly fair, but it is a particularly tall order in 2014. 
Masahiro Tanaka , New York Yankees
Tanaka, because he's a high-dollar Japanese import, is going to wind up being compared to one of two pitchers: Daisuke Matsuzaka or Yu Darvish . Dice-K was better in Boston than is widely believed, but the perception at large is that he was a flop. If Tanaka nibbles to excess, struggles with his control and proves unable to handle stateside workloads, then he's going to be lumped in with Matsuzaka.
If, however, Tanaka rides his splitter and setup pitches to high K totals and becomes a steady, sub-4.00-ERA presence in the Yankee rotation, then the $175-million investment ($155-million contract plus $20-million posting fee) will seem like a good one, particularly for the deep-coffered Yanks. That would put Mr. Tanaka in the lofty company of Darvish, who's established himself as one of the best pitchers in the game today.
More broadly, the Yankees need Tanaka to be a stabilizer in a rotation that includes a possibly-in-decline CC Sabathia , a 39-year-old Hiroki Kuroda and an inconsistent (if occasionally brilliant) Ivan Nova . If the Yankees flop despite their expensive winter, then Tanaka may come to embody those failures.   
Prince Fielder , Texas Rangers
Fielder was of course central to the blockbuster trade that landed Ian Kinsler in Detroit. While the move from the Detroit Tigers ' standpoint was largely a salary play, the Rangers are banking on Fielder to upgrade a lineup sinkhole. There's no assailing Fielder's body of work, but last season brought signs of decline. In 2013, Fielder batted .279/.362/.457 (120 OPS+) with 25 homers in the full 162 games. By no means are those bad numbers, but they constitute a substantial drop-off (Fielder had a career OPS+ of 144 coming into 2013). As well, that's not strong production for a first baseman who can't field his position or run the bases. 
The concern is that the typically large-bodied Fielder is, at age 29, seeing the onset of his decline phase. That's reasonable, of course, as Fielder's skill set and build don't tend to age well. But was last season a fluke? The worsening plate discipline and drop in his home run/fly ball percentage suggest trouble ahead.
Perhaps, though, Fielder will be reinvigorated by his new surroundings and teammates. If the Rangers are to surmount the Athletics in the AL West, then they'd better hope so. As well, they're now on the hook for $138 million of the $168 million left on Fielder's contract. Further near-term signs of decay on the part of Fielder could turn a dubious investment into a disastrous one. 
Jacoby Ellsbury , Yankees
The Yankees forked over roughly $153 million in guaranteed money for the privilege of signing the All-Star center fielder away from the rival Red Sox. The points made above regarding the Yankees' designs on contention apply to Ellsbury as well as Tanaka: They'll shoulder a good bit of the blame if things go awry. For Ellsbury, though, there's also the breadth of the investment to be considered. 
He'll turn 31 before the 2014 season ends, and he's locked up through his age 36 season. That's a healthy chunk of likely decline phase for a player who has so much of his value tied up in his ability to scoot around the bases and chase down flies in center. And can Ellsbury stay healthy? To be fair, much of his injury ledger consists of "trauma" maladies -- i.e. not, unlike strains and pulls, the kind of thing that tends to recur. Still, at some point a penchant for breaking and wrenching important body parts is just that: a penchant for breaking and wrenching important body parts. Ellsbury must overcome his history on that front.
Given the dollars involved, there also seems to be baked into his contract the expectation that the kind of power numbers he churned out in 2011 (39 homers, 46 doubles, .552 SLG, MLB-leading 364 total bases) are likely to be recaptured at some point. The aforementioned Yankee Stadium dimensions should help the lefty-swinging Ellsbury on that front, but this is player who last season put more than half of his batted balls on the ground.
Yes, he's a skilled fly-catcher and the best base-stealer in the game today, but for how much longer? And what if Ellsbury's remarkable 2011 turns out to be just what it looks like -- an outlier? In order to win the Bronx over and return value on the dollar, Ellsbury needs to be both healthy and capable of revisiting what looks like his one-off brilliance of three years ago.  
Joe Nathan , Tigers
Until part-way through last season, the Tigers had struggled for some time to find a reliable closer. Now, seemingly, they've put those concerns to rest, as they've inked one of the best closers ever coming off one of his best seasons ever. 
The reality, though, is that Nathan is now 39 years of age, and it's likely that he had a good bit of luck en route to his 2013 ERA of 1.39. Nathan's 2013 batting average on balls in play of .224 (versus a career mark of .253) bodes somewhat ill moving forward (i.e., almost certainly bound to rise), and there's also the fact that his giving up home runs on just 3.0 percent of his fly balls -- or less than half his established rate -- isn't likely to repeat itself. In other words, while Nathan could still be effective in 2014, the Tigers are paying him ($20 million over two years plus an option for 2016) as though his 2013 brilliance is repeatable. It's probably not. 
What's more is that two core bullpen contributors from last season are no more. Joaquin Benoit not long ago signed with the Padres, and Drew Smyly will be a fixture in the Doug Fister -less rotation. As a consequence, the Tigers have a lot riding on Nathan's ability to continue pitching at an elite level. His age and the deeper numbers suggest that's not going to happen. 
When two sets of expectations are squarely at odds like that, you call it ... pressure. 
Coming Friday: The "bounce-back" players who will be under pressure in 2014.
The Astros have made some matchup-related changes to their lineup for Game 3 of the ALCS

A former scout had agreed to auction off his ring

With the Yankees down 2-0 in the ALCS, Joe Girardi will look to go to his bullpen as soon as...
The former big-league infielder is presently the Astros' bench coach

Webb was just 28 years of age

Houston will look to take a commanding 3-0 lead in the Bronx