Under Pressure: Pujols, Sabathia, Kemp and other bounce-back players
Our next entry into the Under Pressure series looks at players who need to have bounce-back seasons if their team wants to contend.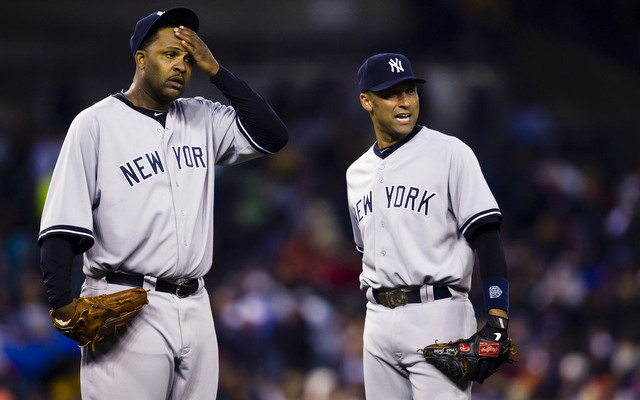 UNDER PRESSURE: New faces in new places
It is time for another entry into our brief Under Pressure series. What's this, you ask? Here's the skinny:
In it, we'll examine the players, managers and even GMs who have much to prove in the 2014 season to come.

In some instances, it's because they're playing for new teams on high-dollar contracts. In other cases, it's because they need to bounce back from disappointing seasons in 2013. In still others, it's because dugout or front-office jobs hang in the balance.
Today's entry will focus on guys who need to bounce back from disappointing seasons if their team wants to contend, if they want a big free agent contract after the season, etc.
Albert Pujols , Josh Hamilton and David Freese , Los Angeles Angels
The Halos received only 99 games and a 116 OPS+ from Pujols in the second year of his ten-year contract, which could have been just a bump in the road or a harbinger of disaster to come. Considering his nagging leg injuries and historic greatness, I'll give him the benefit of the doubt and expect better things with improved health in 2014.
As for Hamilton, he actually put together a strong second half (125 OPS+) after an ugly first half (89 OPS+), but the Angels gave him $125 million to be dominant for 162 games, not 81. They'll need a full, productive season from him if they want to contend in 2014. Freese, who was acquired in an offseason trade, had a good year last year (101 OPS+) but Anaheim would like to see him get back to his 2011-12 form (125 OPS+).
Jose Reyes and Melky Cabrera , Toronto Blue Jays
A lot went wrong for Toronto last season, including two of their big offseason pickups combining for only 181 games. Reyes was very good when healthy (113 OPS+), but injuries limited him to only 93 games. Staying on the field has been a challenge for him over the years.
Those with hot takes will be quick to point out that Melky saw his performance decline (88 OPS+ in 88 games) because he was no longer on performance-enhancing drugs, but he also had a tumor removed from his spine. That's kind of a big deal. In reality, Cabrera isn't as good as he was in 2012 nor is he as bad as he was in 2013. The real Melky is somewhere in the middle and that's who the Blue Jays need this summer.
Melvin Upton and Brandon Beachy , Atlanta Braves
Upton's first year in Atlanta was a total, unmitigated disaster. He hit .184 with a 53 OPS+, which earned him a spot on the bench later in the season. The team still owes him nearly $60 million through 2017 and with Brian McCann gone, Bossman Junior needs to pick up some of the slack. As for Beachy, he is returning from Tommy John surgery and subsequent setbacks. He'll be counted on to replace the reliable Tim Hudson and Paul Maholm .
Starlin Castro , Chicago Cubs
Part of the reason why the Cubs fired manager Dale Sveum was the stalled development of their young big leaguers, most notably Castro. The 23-year-old -- yes, he is still only 23 -- hit .245 with a 72 OPS+ in the first year of his $54 million extension after hitting .297 with a 105 OPS+ from 2010-12. A Castro rebound alone won't put the Cubbies in the postseason, but they need him to rebound because he is a key piece of their long-term future.
Matt Kemp , Los Angeles Dodgers
Injuries limited Kemp to only 73 relatively unproductive (105 OPS+) games last summer, and in fact it looks like he will not be able to come back from offseason ankle and shoulder surgery in time for the team's season opener in Australia next month. The Dodgers have a ton of firepower and have certainly paid handsomely for their star-laden roster, but Kemp is one of the five best players in the world when healthy. A healthy Kemp would improve their World Series chances greatly.
Wandy Rodriguez , Pittsburgh Pirates
The Pirates didn't do a whole this offseason. A.J. Burnett left as a free agent after flirting with retirement, and the club appears to be counting on full seasons from Gerrit Cole and Charlie Morton to make up the difference. A healthy Rodriguez would help not only the rotation, it would help his free agent stock as he prepares to go out onto the open market next winter. He missed most of last season with a forearm/elbow issue.
Elvis Andrus , Texas Rangers
The Rangers gave Andrus a massive eight-year, $120 million contract extension last April because of his stellar defense, but they surely weren't expecting his bat to go backwards at age 25. Andrus put up a career-low 81 OPS+ last summer despite an excellent second half (120 OPS+) and Texas wants to see him improve on that production in year two of that eight-year deal.
Justin Verlander , Detroit Tigers
Perhaps I am being harsh on Verlander, who pitched to a 121 ERA+ last year after being a 166 ERA+ pitcher from 2011-12. It's not like he was bad in 2013. Detroit traded away Doug Fister this winter, and while Max Scherzer and Anibal Sanchez are excellent top of the rotation help, the Tigers would like to see their ace get back to being the best right-handed pitcher in the world. I wouldn't say it is imperative if they want to make the postseason, but it sure would improve their chances.
CC Sabathia and Derek Jeter , New York Yankees
Sabathia was legitimately one of the worst pitchers in baseball last season, leading MLB in earned runs allowed (112) with an 85 ERA+ that was by far the worst of his career. He was coming off offseason elbow surgery, which could explain the poor season, though he is 33 with nearly 3,000 innings on his arm. Like Pujols, I'm giving Sabathia the benefit of the doubt in 2014. Either way, the Yankees need him to rebound if they want to contend, regardless of the Masahiro Tanaka signing.
Jeter, on the other hand, missed all but 17 games last year due to continued leg problems, including the fractured left ankle he suffered during the 2012 ALCS. The team's captain has already announced his intention to retire following the season, but this year will not just be a going-away party. The Yankees need Jeter to stay healthy and productive in order to contend.
Coming Saturday: Non-players who are under pressure in 2014.
Manager Torey Lovullo said so on Monday

Let's see how SportsLine forecasts the race for MLB's 10 playoff spots

Monday kicks off the final week of MLB action. Let's take a look at everything that went d...
No other rookie in baseball history has hit more home runs than Judge has this year

Jays have said goodbye to Encarnacion and will to Bautista. Should they move on from Donaldson,...

Judge's big September means Jose Altuve has some serious competition for the award