Unfavorable recent scouting reports may delay deal for Youkilis, who should be traded
The challenge of trading longtime Red Sox star Kevin Youkilis has become much greater with his 0-for-14 slide and some bad recent scouting reports.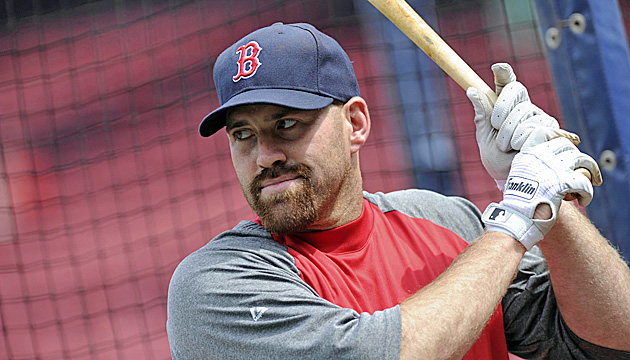 Does Youkilis just need a change of scenery or is he done? (Type on photo credit)
Longtime
Red Sox
star
Kevin Youkilis
probably needs to be traded from Boston, and the Red Sox clearly have at least been investigating that possibility. But based on what scouts are saying, it's not going to be easy to make a deal for Youkilis right now -- and that'll probably be true until Youkilis starts hitting again.
Early reports, including one here, suggested the
Dodgers
,
Phillies
and
Diamondbacks
, were among teams scouting Youkilis, a versatile hitting star for years in Boston. But it appears scouting reports are not favorable right now for the player whose career .875 OPS is stellar (it's a pedestrian .655 this year).
One scout with an AL team said he believes Youkilis "has some gas left in the tank,'' but that scout hasn't seen him since May. The ones who have been to Red Sox games more recently are less flattering.
"For what he costs, he can't do anything,'' one scout told Danny Knobler of CBSSports.com.
"Terrible,'' another scout said, adding he didn't believe Youkilis was getting to the fastball lately.
One GM, in discussing a potential Youkilis trade market, said flatly, "Good luck with that.''
Of course reports can easily swing from bad to good, or back, as Youkilis' fortunes certainly have. It's possible at this point Youkilis, still only 33, may just need a change of scenery. He is batting .219 overall after hitting the same .219 in April, followed by .313 in May and .125 in June.
One Red Sox person suggested he believed there were at least two interested teams, though he didn't wish to name those teams at the moment. From the original group, the Dodgers were said to have only "a little'' interest even before Youkilis' most recent 0-for-14 slide; the Diamondbacks aren't acting hopeful anything's there; and it's hard to know whether the Phillies, who are believed to like Youkilis, will even be an active buyer after their own rough stretch.
The
White Sox
have two third basemen batting  under .200, and even they don't seem heavily involved at the moment.
Youkilis' $12-million salary is one issue. But the bigger issue is the 0-for-14  slump since last Friday.
With super rookie third baseman
Will Middlebrooks
showing he belongs in Boston, Youkilis doesn't really fit the Red Sox as constituted. Cornerstone first baseman
Adrian Gonzalez
has very kindly agreed to man right field now, giving Youkilis extensive time at first base for the moment.
This is no permanent solution, of course. As long as Youkilis is with the Red Sox it appears he will continue to play. Youkilis has played a lot of first in the interleague games, even though it meant putting productive DH
David Ortiz
on the bench; of course more bench time would further reduce his trade value.
As long as Gonzalez is cooperative, the Red Sox will buy some time. Although, it seems that something will have to be done by the time Jacoby Ellsbury and Carl Crawford return to the outfield next month, which will force Gonzalez back to first base.
The Red Sox may have little choice but to try to make it work with Youkilis for now, though, because Youkilis' cold streak appears to be making a trade difficult at the moment.  Once he regains his form, they may have better luck later.
Cozart's coming off a big season as the Reds' shortstop

The veteran slugger spent the last eight seasons with Cleveland

The Padres may be poised for an active winter
Yes, Bryce Harper is going to make a lot of money next winter

Outfield prospect Clint Frazier might be part of the talks

Boston wants to add two big bats to their lineup, not just one