'Unique' pacts for D-Backs' Towers, Gibson guaranteed for 1 more year
The Diamondbacks never announced lengths for Kevin Towers' and Kirk Gibson's deals, but sources say the GM and manager have 'unique' one-year arrangements.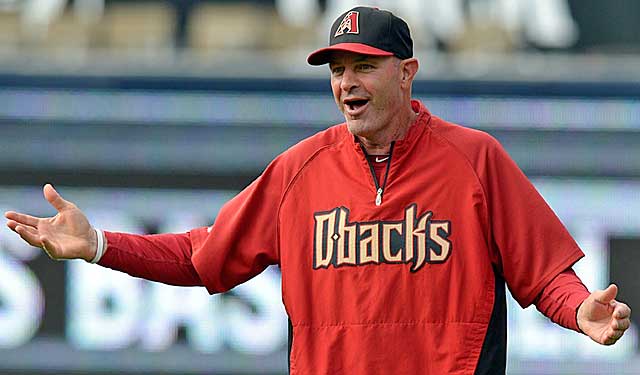 More MLB: Power Rankings | Expert Picks | Latest news & notes | Fantasy news
The Diamondbacks have never announced the length of the extensions given GM Kevin Towers and manager Kirk Gibson just before spring training, but sources say each was signed to a unique one-year extension guarantee when the announcement was made in early February.
While the new deals only guarantee both Towers and Gibson the extra year, which is 2015, sources familiar with the deal say it is a "unique" arrangement that carries the potential to become longer than only the one year. Months earlier, following the 2013 season, which had ended with a second straight disappointing .500 finish, two-year team options for Towers and Gibson were declined.
Three months later, a compromise was reached as upper management gave them at least one extra year apiece instead. The main point of the announcement was to show that 2014 was not going to be the final year on either's contract.
All sides agreed they preferred the length of the extension kept quiet, as several teams are doing now with the contracts for their baseball department heads, with the intention presumably to reduce media speculation about the job status of the teams' top two baseball decision makers. Both managing partner Ken Kendrick and club president Derrick Hall expressed enthusiastic support for Towers and Gibson at the time of the extensions, declining to mention they were for less guaranteed time than the original options, or that the pair would remained "married" in length at least.
Speculation about the status of Towers and Gibson has been pretty rampant anyway, thanks to an awful start this season. But such speculation clearly died down since the late May hiring of Hall of Fame ex-manager Tony La Russa as the club's chief baseball officer to oversee all the baseball operations, in effect becoming their boss.
The clear suggestion has been that La Russa, who won 2,728 games as a major-league manager, would spend the rest of the season evaluating the entire department, including veteran baseball men Towers and Gibson, so that has kept speculation about their jobs to a minimum since.
That Towers and Gibson are only guaranteed one more year doesn't necessarily factor significantly into La Russa's ultimate decision regarding the pair as the team tries to improve its on-field fortunes. The injury-depleted D-Backs, 18-29 and 10½ games behind the Giants when La Russa was hired, have steadied some and are now 43-56 and 11½ games back.
Arizona, which has lost ace Patrick Corbin, prime setup man David Hernandez and veteran starter Bronson Arroyo to Tommy John surgery, has made two trades already and continues to be a seller in hopes of reducing payroll and perhaps picking up some rotation help. But this team, heavily criticized for trading several young-ish players in recent years, seems to be approaching the deadline with caution, and a handful of players are seen as either off-limits or close to it.
Hall declined comment on word that the pre-spring extensions only guaranteed Towers and Gibson only one extra year. Towers also declined comment, like Hall citing the agreement on the part of the parties not to speak about the arrangement.
Towers is in his fourth year as Diamondbacks GM after operating as Padres GM for 14 years. He and Gibson have grown close although Hall actually promoted Gibson to manager.
Towers knows the score. "I'm being evaluated, as Gibby is being evaluated," Towers said.
Regarding his own hopes, Towers said, "My relationship with Tony has been good. I hope to stay here."
Not long after La Russa was hired, Towers said on a Phoenix radio station he was hoping not to become a "pseudo GM," and Towers explained by phone, "I didn't want the GM title without having to do anything."
He says it hasn't worked that way at all, that La Russa has been excellent in handling the situation, which has to be delicate considering the stature of the men involved. But he also understands the ultimate decision is out of his hands. "Tony will make the decision," Towers said. "I'm a big boy."
There has been speculation that the Padres, who have a GM vacancy, might call upon Towers -- only natural since he worked for the team for 25 years as a player, scout and executive, and has longtime ties to new Padres president Mike Dee. However, the Padres haven't yet called for permission to talk to Towers and reportedly are down to a final four of GM candidates (Rangers assistant GM A.J. Preller, Red Sox assistant GM Mike Hazen, MLB senior VP Kim Ng and Yankees assistant GM Billy Eppler), though it's possible they still could seek Towers for a different front-office role. If so, the Diamondbacks would be expected to give their permission to speak to Towers, who has a home in San Diego.
Gibson, best known as the gimpy, homer-hitting 1988 World Series hero, won an NL West title for Arizona, along with Towers, their first full year together in Arizona in 2011. However, there was some grumbling about communication issues between Gibson and the players and coaching staff last year. The staff was remade, and D-Backs people say they've seen improvement in communication between Gibson and his troops, though it hasn't yet shown in wins on the field.
Several players called for the netting to be extended down the base lines following Wednesday's...

Maria made landfall as a Category 4 on Wednesday

The players are trying to do their job and don't want to see anyone hurt
The child is receiving medical attention at an area hospital, the Yankees said in a statem...

Brantley has not played since August 8 due to an ankle injury

Plus the Red Sox can lock down a postseason spot and all you need to know from the world of...