Unproductive bottom of the order hurting Cardinals in World Series
The World Series is tied at two games apiece, but the Cardinals have to start getting some production from the bottom of the order if they want to win the title.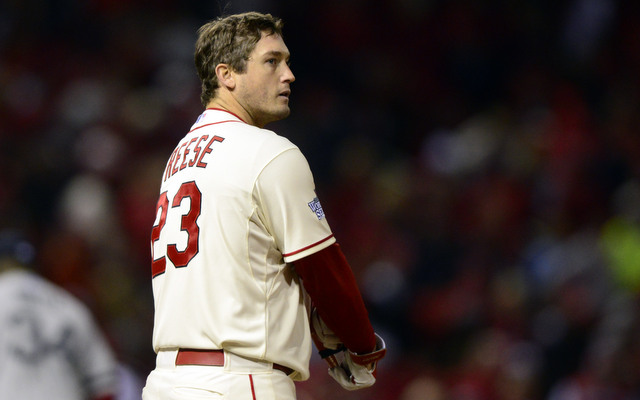 More World Series: Game 5 pitching preview | Who has the edge?
Barring a surprise turnaround in Games 5 and 6 (and possibly 7), the 2013 World Series will not be remembered for the offense. The Red Sox and Cardinals have combined to hit .213 in the four games and six of the 30 total runs have been unearned due to costly errors. It has definitely been a pitchers' series.
Despite not having the advantage of the DH, the Cardinals had the fourth best batting average (.269) and third best on-base percentage (.332) in baseball this summer. They scored 77 more runs than any other NL team -- the second place Rockies surely had some help from Coors Field too -- and hit a historic .330 with runners in scoring position. That's the best in baseball since at least 1916.
The postseason has been a different story. St. Louis is hitting .217 with a .289 on-base percentage as a team, and believe it or not, those numbers are actually slightly better in the World Series (.235 and .300). The ten playoff teams have hit a combined .229 with a .290 on-base percentage in the postseason, on par with a bad utility infielder. You'd expect scoring to come down somewhat in October since teams only use their best starters and relievers, but this is ridiculous.
The Cardinals have had to rely on the top and middle of their lineup to score runs exclusively against the Red Sox in the Fall Classic. They have gotten absolutely nothing from the bottom of the order. Well, pretty close to absolutely nothing. Here are how the starters at the 6-9 spots have performed these last four games:
2013 World Series: Bottom of the Cardinals lineup
Lineup Spot
Players Used
AVG
OBP
XBH
K
6th
David Freese, Allen Craig, Jon Jay
2 for 11 (.182)
4 BB (.400)
0
3
7th
Matt Adams, Freese, Jay
2 for 15 (.133)
1 BB (.188)
0
3
8th
Shane Robinson, Jay, Pete Kozma, Daniel Descalso
2 for 14 (.143)
1 BB (.200)
0
2
9th
Kozma, Descalso, Joe Kelly, Lance Lynn
0 for 10 (.000)
1 BB (.091)
0
3
Total
6 for 50 (.120)
7 BB (.228)
0
11
Behind stalwarts Matt Carpenter, Carlos Beltran, Matt Holliday and Yadier Molina, the Cardinals have gotten close to zero production from the final four starting hitters in the lineup. Some pinch-hitters have come off the bench to do damage and obviously you don't expect pitchers like Kelly and Lynn to do much of anything, but the starters in those four lineup spots have been brutal.
"We tried moving guys around a little bit to see if something will spark there," said Cardinals manager Mike Matheny when asked about the unproductive bottom of the lineup following Game 4. "We've got guys that can contribute at the bottom of our lineup, and right now it's not happening. We've seen that all season long. There's been points where they take off and carry us, and it's just a matter of somebody getting it going. Right now yeah, we're having trouble in the bottom getting something going."
Matheny's options are very limited. With Craig's foot banged up the skipper can't even entertain the idea of playing him at third base in Game 5, a position where he has some experience but not much. Freese has a .633 OPS in 28 postseason games since pretty much carrying the team to the 2011 World Series, but he is the guy at the hot corner. Kozma and Descalso are the only options at short. Matheny can rearrange the furniture so to speak, stick guys in different lineup spots, but that usually doesn't do much of anything.
Obviously no team goes into the postseason expecting the bottom of their lineup to be a big factor. The Cardinals were always only going to go as far as Carpenter, Beltran, et al take them. That said, St. Louis does need something from the bottom of the order. Six singles from four lineup spots combined in four games is dreadful and are a huge reason why the Cardinals have stranded a small army of runners on base. The Red Sox bailed them out with some crucial errors in Games 2 and 3 but Matheny's team can't count on that happening again. They're going to have a very tough time winning two of the next three games if the bottom of the lineup remains this unproductive.
Plus the A's have hope and all the rest of the day's action

Matt Chapman and Matt Olson give the A's hope

Despite an awful month, the Dodgers are again NL West champions
The record of 38 previously belonged to Hall of Famer Frank Robinson

The report also says that Jeter had outgoing president David Samson do the firing

This wasn't a traditional hidden ball trick, but the Blue Jays pulled it off