Upon further review, yes, time for A's to panic
I initially set out to write that the A's shouldn't be in panic mode after their Game 1 loss. When I looked deeper, I realized I was wrong. Beating the Tigers is a very tall order.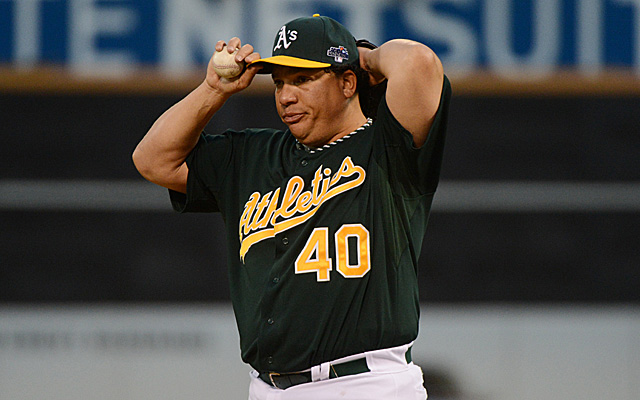 Bartolo Colon pitched like an ace Friday night in Oakland, so long as we forget the first inning.
And with surefire AL Cy Young winner Max Scherzer as his counterpart, after that bad first inning it was too late for Colon and the Athletics. You can't spot the best pitcher in the league three runs before he even takes the hill. Even if you're fortunate enough to get a big two-run homer -- as the A's did from Yoenis Cespedes in the seventh -- you're still down a run. So that was it for Game 1 of the best-of-five ALDS.
And I set out with the intention of saying there was no reason for the A's to panic after this loss. After all, they just lost to the best pitcher in the AL and now need to win three of four games. What's the shame in that -- especially when viewed through this prism: When you head into a five-game series against a team with an ace like Scherzer, it's like you're going to have to get either all three of the games he doesn't pitch or one of the two games he does. There's still plenty of time for that.
All that is true. One hundred percent. But the more and more I went through everything we're looking at in this series moving forward, the more I don't like the A's chances at all in this short series.
Justin Verlander is the Tigers' Game 2 starter, and he had a rocky season, sure, but he also had a 2.27 ERA in his last six starts. What if he's slipping into vintage JV mode? The only time he pitched in Oakland this season, he allowed only three hits and a run in six innings. And how about last season in the ALDS against these A's? How about winning both games with a 0.56 ERA, 0.75 WHIP and 22 strikeouts in 16 innings?
After that, the A's have to deal with Anibal Sanchez -- who, by the way, led the AL in ERA this season. The Tigers won nine of his 13 starts in Comerica Park this season. Doug Fister in Game 4 is no slouch and then -- if they get there -- the A's get to deal with Scherzer again.
Hey, the A's are an awesome team and this year they established -- just as a few us thought they would -- that last season was no fluke. They have pitchers and a lineup capable of going out and winning the tough games. But the way this series sets up for them is really rough. Having to win three of four games against this Tigers bunch is a real tall order. In all honesty, I'd be surprised if they get back home for Game 5.
As I said, I initially was going to write about how there's no reason to panic, but when I stepped back and started sorting through everything, I saw that my initial thought was the incorrect one.
Sometimes the story you set out to write changes with a little homework. It's time to panic, Oakland. You are fighting a major uphill battle.
deGrom is set to become a free agent after the 2020 season

Perkins missed most of the last two seasons due to injury

Jonathan Singleton was suspended after a third positive test for a drug of abuse
Rodriguez will join Jessica Mendoza and Matt Vasgersian on the "Sunday Night Baseball" boo...

Jeff Wilpon talked about payroll on Tuesday, and it won't make any Mets fan happy

Yelich's agent recently asked the Marlins to trade him before the spring