Upton Era in Atlanta begins with a bang -- and lots of smiles
Justin Upton hits a home run in a victory -- an electric beginning to a new chapter in Braves baseball.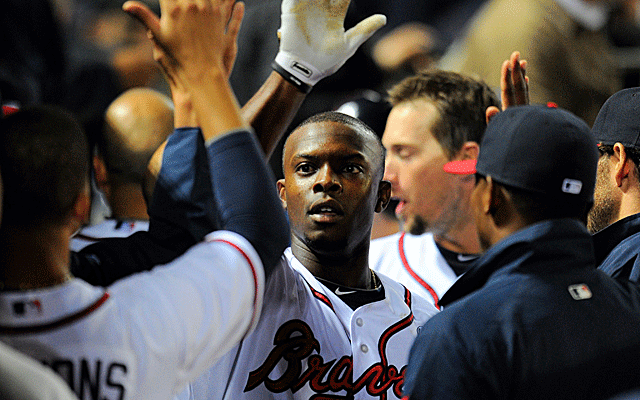 Justin Upton begins his Braves career with an opening day home run.
(Getty Images)
ATLANTA -- After the great Chipper Jones threw out the first pitch on opening night here in what might be his last on-field act at Turner Field, the new era could finally and officially begin. Sure, there are the holdover staples such as Tim Hudson and the Tomahawk Chop, but most of the excitement now surrounds the new kids in town -- the Brothers Upton, the sibling stars imported separately over the winter, and all the other young Braves.
The Uptons are sons of the South, and they had to feel at home right away. It's a consistently genial crowd here, anyway. Huddy, as opening night starter and Georgia native Tim Hudson is called, received a strong ovation after going a mundane 4 1/3 innings, and the Uptons had to notice the difference from their previous places of employment. When Justin Upton, the slightly more serene and slightly more talented younger brother, hit a rocket into the left-centerfield pavilion, the fans loved it.
This brother pairing could work equally as perfectly for both the Braves and the Uptons, who never quite reached the expectation level of their prior employers. When Justin came up to hit, batting third, he was greeted by chants of "Let's Go Upton," a warm reception for a kid who never grabbed hold of the Diamondbacks fans' imaginations or came close to matching the new D-Backs regime's ideal of the gritty ballplayer they sought.
The Uptons are nice kids, but it was time for a change for both. That they both wound up here only makes it the stuff of a storybook. As a beaming mother, Yvonne Upton, put it in the afterglow of an Upton-Era beginning 7-5 victory against the Phillies, only "the man above" could have devised such wonderfulness.
It's early in the Upton era, but they might have found the perfect locale for them both. First of all, they are together for the first time since the days of their youth in Chesapeake, Va., 566 miles mostly north of here.  Second, this is a place where the fans love their stars.
The Uptons got to see the unbridled adulation for Chipper, a man so revered he goes by one nickname. And for Phil Niekro, who made the pregame "Play ball!" announcement. And for ex-manager Bobby Cox, who was cheered so loudly in game, he rose from his seat to chants of "Bobby, Bobby."
The Uptons probably imagined it was like that here. And then Justin was introduced, and reality matched it. "The fans were electric,'' Justin said. "It's exciting having that many people behind you.''
It was clear by the middle of the winter the Diamondbacks were intent on trying to move Justin, as they apparently wondered whether the Upton with the higher ceiling would ever get close to it, even though he's only 25 and just getting started. Meanwhile, B.J.'s time was up in Tampa, too.
There were bouts of inconsistency on offense and occasional questions about hustle for B.J.; even if they had the money, the Rays probably would have spent it elsewhere. The timing was fine for Upton, who was going to be all right after putting together what in some ways was his best statistical year (his 28 homers were a career high, and he came close to being a 30-30 man as he also had 31 steals).
Folks around him say he wasn't interested in squeezing every last dollar out of free agency, and that the Braves' young and hip makeup sold him in his meeting with club higher-ups. His brother coming later only made it that much sweeter.
It's early, of course, but everyone loves the story of the brothers finally teaming up after doing it only once before, years ago, when they shared a Tidewater Mets travel team experience one fall. They played at different high schools, so they've basically been waiting forever for this. "I told them it was meant to be,'' Yvonne Upton said.
Fortune shined on all the Uptons, including father Manny, who was a baseball star at Norfolk State and is known to all as The Bossman. He beamed brightest of all after seeing his sons play a game that counted for the first time, flashing a thumbs up that covered the happiest happenstance imaginable.
When B.J. signed a $75-plus million deal early in the winter, there was no thought his brother would be joining him. No possibility at all.
There were only rumblings back then that the Diamondbacks were considering trading Justin, and no one figured that Atlanta, which has already laid out $15 million per year on one Upton outfielder would commit almost that much for his brother, certainly not when they laid out their plans to use B.J. in the middle of the order and leadoff man seemed the need.
Fortune played a role. But one smart stroke by the Uptons' longtime agent, Larry Reynolds, didn't hurt, either. For some reason at winter's start -- maybe a hunch, maybe a tip -- Reynolds and Justin changed his four-team no-trade list to now include the Seattle Mariners, who badly wanted Justin Upton to transform their perennially moribund offense.
When Mariners GM Jack Zduriencik and his old friend, the Diamondbacks' GM Kevin Towers, struck a deal to send Justin to Seattle for top pitching prospect Taijuan Walker and other top prospects, Justin couldn't turn it down fast enough. The no-trade provision wasn't there to finagle more loot, it was there to give him a chance to go where he wanted.
Seattle? "Too far," Yvonne said.
Braves people were starting to become intrigued about the possibility of teaming the Uptons after the Seattle deal fell through. For whatever reason, they are an organization that likes to team up brothers, from the Waners to the Aarons to the Niekros.
But more to the point, it's an organization that likes young talent, and they loved the idea of putting the 25-year-old Justin with B.J., 28. While Braves people believed the Mariners' offer was way too high, they still found a deal Arizona could embrace, sending them pitching prospect Randall Delgado, veteran infielder/outfielder Martin Prado and kids.
When Justin described their co-debut by saying, "everything kind of fell into place,'' the same could be said about a trade that set the Braves up to have a dynamic young outfield, including also former phenom Jason Heyward, who may be ready for his star turn now, too.
It all looks like a potential hit on the field, especially when you realize how young the whole team is (word is, it's the youngest roster in baseball, even though most folks see them as a playoff repeater) and how talented it is, too. Andrelton Simmons may be the best shortstop in baseball, and Freddie Freeman, who hit a home run off Phillies star Cole Hamels that traveled to Alpharetta, appears on the cusp of stardom, too. Even Dan Uggla who struggled through a tough spring after a tough 2012 season, joined the homer parade, mashing a 3-and-0 Hamels cookie.
But more than that, it's a nice story, one Yvonne Upton said was authored by "the man above.'' For the first time, B.J. didn't have to check his blackberry or computer to know his brother had hit a massive home run off Hamels on a cutter that cut a bit too far inside; no, he witnessed it. "Watching it live -- it doesn't get any better than that,'' B.J. said.
B.J. didn't get too contribute, going 0 for 4 and suggesting he got a "little amped up,'' which he said was a new feeling. B.J. had always before played home games at Tampa Bay's The Trop, a depressing and often largely empty place. "It's a little different here,'' he said. "Definitely a little different.''
When he said that, B.J. Upton was smiling as wide as he perceives the actual difference between Tampa Bay and Atlanta to be.
Ellsbury is due at least $68 million over the next three seasons

Wright was arrested at his home Friday

The former Tigers teammates were voted into Cooperstown by the 16-person Modern Era Commit...
The Yankees still have room for a good-sized signing even after Saturday's trade with Miam...

St. Louis gets some much needed help for their bullpen

Keep tabs on the top 50 free agents right here