U.S. Mint to issue Baseball Hall of Fame coin, first-ever 'curved' coin
Check out this pretty cool baseball coin that the U.S. Mint will soon begin churning out.
MORE: Witness Google's hatred of specific teams
Because coins rule everything around me, I was most interested to learn that the U.S. Mint and its license to kill will in early 2014 release the Baseball Hall of Fame Commemorative Coin. Of note: There's even a law regarding the minting and release of said baseball coin. I have not and will never read the text of that law, so I can't say authoritatively that you're not required to purchase the coin under penalty of execution. 
In any event, this is to be first curved coin released by the U.S. Mint in the history of ever, which seems notable in a somewhat contrived sense. There's an interactive thingy found within the top-most link above that allows you to drag-'n-rotate the coin and have a look for yourself.
For purposes of convenience and because we at Eye On Baseball are automatic for the people, here's a GIF of this writer doing just that with the aid of his trusty laptop pointer, who listens to him when no one else will ...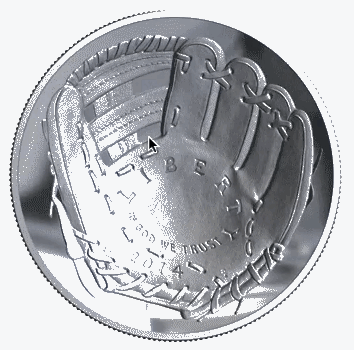 Look: curves!
As the Mint notes, surcharge fees from purchase of the coins will benefit the Baseball Hall of Fame. The coins will be released in denominations of $5, $1 and $0.50. Get one of each, and you can buy something that costs $6.50. 
Henceforth, let us all pay our bills in baseball coins. 
(Wink of CBS eye: Reddit Baseball)
Let's see how SportsLine forecasts the race for MLB's 10 playoff spots

Monday kicks off the final week of MLB action. Let's take a look at everything that went d...

No other rookie in baseball history has hit more home runs than Judge has this year
Jays have said goodbye to Encarnacion and will to Bautista. Should they move on from Donaldson,...

Judge's big September means Jose Altuve has some serious competition for the award

Goldschmidt? Rendon? Blackmon? Stanton if he hits 62 HR? Who would be your pick?