USA needs to make some noise of its own Friday night against Puerto Rico
After losing to the Dominican Republic 3-1 (and losing its leader David Wright), the USA has to come through against Puerto Rico to make it to the championship round in San Francisco.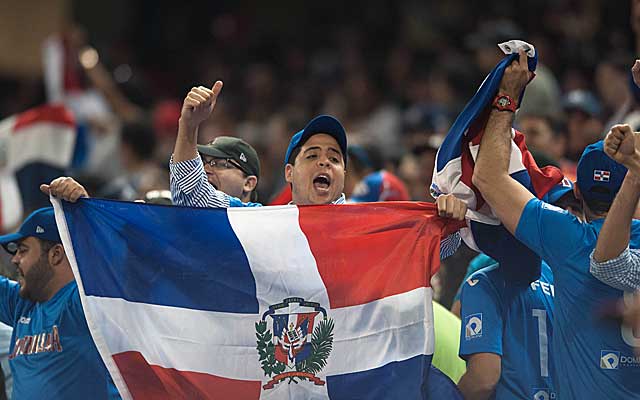 MIAMI -- Team USA's backs are against the eye-catching lime-green wall here at kitschy Marlins Park after they were beaten by a game and clutch Dominican team, all the noise that country could muster plus a dose of kryptonite/bad back that felled its superhero Captain America, a.k.a. David Wright.
The Dominican Republic, with its team of hitting stars like Robinson Cano and ex-Marlins Jose Reyes and Hanley Ramirez, plus the loudest fans on the planet, has qualified for the championship round of the WBC with its 3-1 victory Thursday night against Team USA.
The Americans, meanwhile, to advance to San Francisco must beat Puerto Rico on Friday, under a similar set of circumstances as the game they just lost to the D.R. -- the opponents will bring the noise, and the USA bring by far the better starting pitcher.
"We've done this before," USA manager Joe Torre said, referring to their rough start in round before two back-to-back victories bought them a ticket to Miami. "I really don't have to tell [the players] anything."
If he does, perhaps it should be to bring earplugs. If the Puerto Rican fans can get anywhere near to the D.R. faithful in terms of decibels, they might raise the roof of the comely stadium that was closed again on a perfect night.
The noisemakers were all Dominicans, it seemed. But if you looked closely, you saw a sturdy band of American fans, who will keep the faith, for at least one more night.
The American team, disappointed to lose their leader Wright, who was a late scratch after the trainers, the Mets and common sense overruled his desire to play when he reported having a sore left ribcage, proceeded to waste most of an early opportunity, then blow the game late.
Their best reliever, Craig Kimbrel, who was summoned by Torre into a game that was tied at 1 entering the ninth inning, was nailed for three hits, including run-scoring singles by pinch hitter Erick Aybar and Reyes, the exuberant one who celebrated like he had been traded from the Marlins again.
"Tough game tonight," Torre said. "They earned it. They beat a great one."
Kimbrel was so great last year he was barely hittable, but Nelson Cruz opened the ninth inning with a line double to right field, a hit that might have seemed like a shock to his system (Kimbrel allowed only one double all last year). He caught a break when home-plate umpire Angel Hernandez, whose strike zone seemed to reach Key West at times, called a strike on a pitch about a foot outside to Aybar, who argued briefly before drilling a line single that brought home Cruz and sent the Dominican crowd and bench into hysterics.
Kimbrel, reminded how impenetrable he was in 2012, said, "It's not last year anymore. It happens. It's a new year."
While the Dominicans have moved to 5-0 and qualified for the championship round in San Francisco, Team USA still has a little life left and can join them there with a victory Friday night against Puerto Rico. As in this game, USA will hold a major advantage in starting pitchers, with World Series hero Ryan Vogelsong facing clever journeyman Nelson Figueroa.
That guarantees nothing, as the U.S. team well knows.
For this one, Thursday night it was National League Cy Young winner R.A. Dickey pitted against Samuel Deduno, who is operating in Ft. Myers under a minor-league deal at Twins camp in hopes of winning a final spot on a pitching-thin team. No matter, Deduno was good enough.
Like Kimbrel eight innings later, he probably benefited by a strike call on a 3-and-2 pitch to Adam Jones with the bases loaded (although this one was only six inches inside) to end a dicey first inning where Team USA threatened to break the game open.
As it is, Team USA's only run scored that inning on Eric Hosmer's bases-loaded walk. Without Wright, Team USA struggled against the strong Dominican relief corps, which included major-league veteran Octavio Dotel, 100-mph thrower Kelvin Herrera and closer Fernando Rodney, who had an even better 2012 season than Kimbrel, and finished off the U.S. with a 1-2-3 ninth inning that seemed to raise the roof. The noisemakers were still going an hour after the game.
"It was crazy," Team USA reliever Steve Cishek noted about the atmosphere. "They were just yelling nonstop the whole game."
Giancarlo Stanton, like Cishek a holdover Marlin, noted how he noticed the crowd back in Phoenix for Mexico was 40,000 plus after they had been playing before "800 to 1,500 in Jupiter," which is where the Marlins camp moves sleepily along.
Meanwhile here, the excitement and emotions are getting to be overwhelming. Dominican manager Tony Pena, who called upon Aybar, put it into words (with a tear or two mixed in), "First, I thank God and really (tearing up) I feel so emotional because when we were putting together this team, these young men (have) the dedication, with the dignity with which they have represented our country."
The country noticed, no question about that.
So did Team USA, which had to be impressed by how Deduno, his big-league career not exactly flourishing yet, got through four innings with seven strikeouts before turning it over to the D.R.'s vaunted pen. The U.S. has a pretty good relief group of its own, but Kimbrel had the rarest of bad games.
"Nine times out of ten he's going to get the job done," Cishek said. "Tonight was not his night."
The D.R.'s lineup was not your usual lineup, of course.
Cano is batting .500 for the tournament, Ramirez hit a home run to the moon (it flew over the 427-foot sign that hangs in front of the left-field bar) and Reyes, remarkably, carried a lifetime .833 batting average (5 for 6) against Kimbrel into the final clinching at-bat, when he lined a single just to the left of shortstop Jimmy Rollins.
The crowd went crazy, even if Miami is technically located in the United States. "It feels like October, not March," Kimbrel noted.
Team USA should have a good shot Friday night against Puerto Rico, which came back to beat Italy to get this far. But it won't be easy.
P.R. doesn't have quite the hitting or bullpen that the D.R. has. But Team USA doesn't have its ailing main man, Wright, who had already tied a WBC record with 10 RBI in the event.
Wright, who once played a month with a broken back, wanted to play Thursday but was told no. "Chances are, nothing would have happened," Torre said. "But I don't like 'chances are' in regard to somebody's health."
Wright will head up to Port St. Lucie to see Mets doctors Friday, while Team USA stays here, its dream to win the WBC still alive for at least one more night. A win and they advance.
"We've got to win," Stanton said.
They need to overcome the loss of their leader and to drown out the noise in a venue that must seem like the road -- not to mention pitch and hit better than they did against the Dominicans.
Boston wants to add two big bats to their lineup, not just one

Even more relievers signed on the final day of the Winter Meetings

Keep tabs on the top 50 free agents right here
The league is not happy Ohtani's medical information leaked

Kansas City and Baltimore were quite busy at the Rule 5 Draft

Piscotty's mother was diagnosed with ALS earlier this year