Ventura a perfect fit for White Sox, no matter how long his contract is
Manager Robin Ventura's laid-back demeanor should work well with the Chicago White Sox.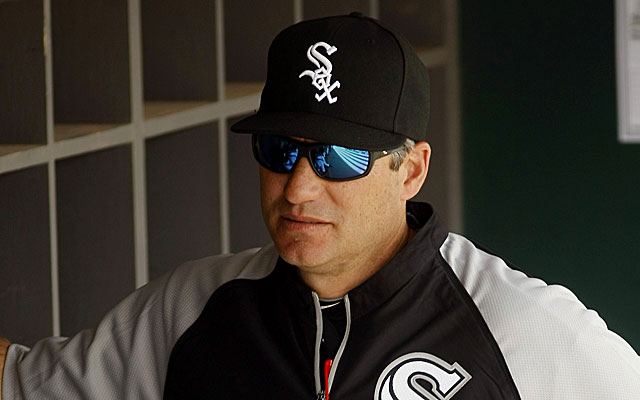 MORE: Spring Training | Scoreboard | FA tracker: Position players | Pitchers
GLENDALE, Ariz. -- White Sox owner Jerry Reinsdorf and manager Robin Ventura are perhaps the perfect complement, as loyalty (Reinsdorf) and laid back (Ventura) make a nice match. When the White Sox announced Ventura's contract this winter without specifying the term, it made perfect sense: The prevailing belief is that Ventura could be there forever, if he wants.
The unspecified "multiyear" deal is believed to be for three years (several people with connection to the situation suggested it was three), though Ventura wouldn't say for sure. "It might be, it might not be," Ventura said with his usual sly smile, explaining that "Jerry" wanted to keep it undisclosed. General manager Rick Hahn also shed no light on it, mentioning that only "five people in the world" would know, meaning executive VP Kenny Williams and the team's longtime secretary in addition to Reinsdorf, Ventura and Hahn.
No matter, as it really doesn't matter.
"He can manage as long as he wants," said one White Sox official, who didn't know the length, surmised in a statement of the prevailing belief.
In reality, it isn't often a manger receives a multiyear extension of any length following a 99-loss season, but that was all up to Ventura, too. A year earlier he declined the first offer to talk about an extension following the Sox's nice 85-win inaugural year under Ventura because he said he wanted to make sure Hahn, in his first year as GM last year, was comfortable with him. Of course he was; who couldn't be?
Ventura, now 46, was actually as shocked when he got the managerial job with no previous experience, or even an application out. He had just taken a behind-the-scenes job as a "special assistant" with the team when the White Sox originally called him in, and he had no idea what the meeting was about. To that point, he'd only had coaching experience at the kids' level, and he was said to be stunned when they asked him to manage the team.
Ventura's daily demeanor gives him away; he isn't a worrier. He loves the job, but if the job ended today, he'd go home to Santa Maria, Calif. and be fine, friends say.
In the meantime, he's the perfect man to guide a rebuilding squad. He weathered the 99-loss team. "It was what it was," he said. "I've been on teams like that. It's not fun to go through."
There may be a few more growing pains coming. While the White Sox appear to be on the right path, having acquired four position players who are under 28 and provide energy, ability and hope to turn around a moribund offense, the move forward isn't likely to be immediate or drastic. The team is unsettled at third base ("unresolved," Ventura put it, kindly), catcher and closer, as well as two rotation spots.
Adam Eaton has been as advertised, that speedy leadoff hitter who'll provide a spark that the Sox needed. Young third baseman Matt Davidson has shown his power potential, and they think he's progressing at third, thanks to Ventura, a star third baseman in his day, and perpetually upbeat coach Joe McEwing. Cuban import Jose Daniel Abreu has impressed folks with his power and politeness (as I was told he would, he walked over to shake my hand, unprovoked).
"These guys are pretty young. But talent-wise, you like what you see, today nothwithstanding," Ventura said after a recent spring loss.
They'll have to see how all the pieces fit. There's a question whether the slugging Davidson is ready to start at third base (though no less than slugging great Jim Thome, who may see a bit of himself in Davidson, has taken a liking to him). There's going to be a debate which one of two youngsters, Tyler Flowers or Josh Phegley should handle catching duties. The Sox love Brian McCann but weren't about to pay $85 million for him, so they chose to go with a youthful catcher rather than a stopgap backstop.
The questions go on. Their Nos. 4 and 5 starters are uncertain (youngster Erick Johnson and the oft-injured Felipe Paulino are the favorites). And no one has much idea who's going to close, especially with Matt Lindtsrom (oblique) and Nate Jones (gluteus) out early in camp with minor injuries.
There's little doubt Ventura is the right guy for this situation, though. He is naturally calm, and espouses that mindset. He once sent a present to one of his type-A friends, a Tommy Bahama wristwatch with one word written on the face: "RELAX." The message was clear. 
Ventura's hesitancy to sign up for more years the first time had nothing to do with his commitment to the team. "I want to do it. I just want them to be happy, whether it's me or someone else. That's how I feel about the organization," Ventura said.
Reinsdorf is world famous for his loyalty, and Ventura gets it, too. It's a perfect marriage, no matter how long it's supposed to last.
Plus the Cubs can clinch the NL Central title. Keep it locked right here for the latest from...

The club is expected to part ways with Collins after the season

Here is a preview of what's on the line Tuesday
Jerry Dipoto will have his hands full

Otani is said to be coming over this offseason, though nothing has been made official yet

What do the Mets need to do to get back to the postseason next year? Well, a lot