Verlander gets his contract (and he'll get his statue)
Justin Verlander is as talented as any pitcher in the game. He's also as driven as any pitcher in the game. As one of his ex-teammates said when Verlander's contract negotiations were just getting going, "He wants a statue [at Comerica Park]." On Friday, Verlander signed a huge contract that will keep him with the Tigers at least through 2019. Someday, he'll get his statue.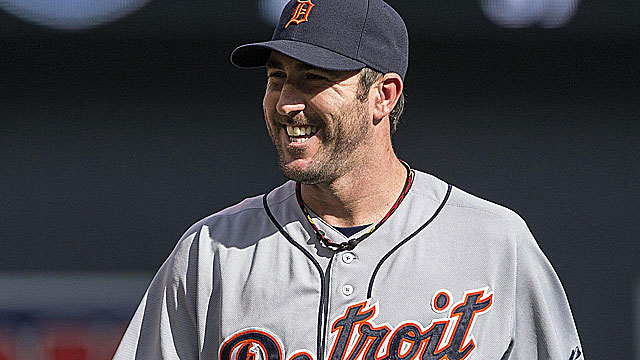 Spring training had just begun. Felix Hernandez had just signed his mega-deal with the Mariners, but the early signs were that Justin Verlander's contract talks with the Tigers weren't off to a great start.
"He'll sign," one of his ex-teammates predicted back in early February. "He wants a statue."
Verlander smiled when I relayed the conversation to him a couple of days later.
He told other reporters as the spring went on that he was intrigued by the idea of free agency, of having teams come after him. I'm sure he was, but I'm equally sure that statue was always in the back of his mind.
He'll get it now.
He's got his contract, the biggest ever given to a pitcher (at least for now). He'll get his statue at Comerica Park, right there next to the ones for Ty Cobb and Hank Greenberg, Al Kaline and Charlie Gehringer.
You can argue today whether the Tigers are making too long of a guarantee to a pitcher who turned 30 last month and will turn 32 before his five-year extension even kicks in. You can also argue whether Verlander could have gotten even more money if he had waited two years and headed to free agency.
What you can't argue is that Verlander has proven true to his words about preferring to stay with one team for his entire career. And that Tigers owner Mike Ilitch has once again proven true to his reputation for spending what it takes to field the best team that he can.
Who knows if Verlander can still be the best when he reaches the end of this contract? You're always one pitch away from the end of your career, as pitchers like to say, a point driven home by Thursday night's disappointing news about Johan Santana (who once held the distinction of being baseball's highest-paid pitcher).
We do know that if you asked baseball people which pitcher they'd most like to have starting for them on opening day, an awfully high percentage would pick Justin Verlander. We do know that in the seven years since he first opened a season with the Tigers at age 22, Verlander's team has made it to the ALCS three times and to the World Series twice.
We know that he's always driven to be better, always driven to be the best. In the final days of spring training, I ran into Marlins pitching coach Chuck Hernandez, who was the Tigers' pitching coach in Verlander's first season.
Even as a rookie, Hernandez remembered, Verlander had Hall of Fame aspirations.
That has always been part of what makes him great, along with the 100-mph fastball, the often-unhittable curve, the outstanding changeup and even the more-recently-added slider. The best players put that superhuman talent together with a superhuman drive; Verlander has always had both.
When he threw one no-hitter, he wanted to throw another one. When he became the first starting pitcher in years to win a Most Valuable Player award, he came back the next spring determined to have an even better year.
And when he showed up at Comerica Park and saw those statues out there in left-center field, you'd better believe he was thinking that he wanted to prove he deserved one of them himself.
He'll get one now. He's committed to the Tigers now through his age-36 season, which gives him seven more years to add to a legacy that already includes 124 wins (you bet he'd like to take a shot at 300), six straight 200-inning seasons (probably would have been seven if the Tigers had allowed him to do it as a rookie), three strikeout crowns in the last four years and first- and second-place finishes in the Cy Young voting the last two years.
On the way to all that, he has thrown a ton of pitches, 1,000 more than any other pitcher in the game over the last six years (and that doesn't even include the postseason).
Some would say that all those pitches will take a toll, that all those pitches are one more reason why he won't make it to the end of this contract as an elite pitcher, a reason that the Tigers shouldn't have signed him for this long or that other teams should actually be happy that they won't be able to bid for Verlander on the free-agent market.
The problem with that theory is that Verlander has already proven he can do things other guys can't. Who's to say that can't continue?
Besides, there's no doubting that, right now, having Verlander atop the Tigers' rotation makes them one of the elite teams in baseball, perhaps even the best. There's every reason to believe that will still be true two years from now.
The Tigers had a choice. They could pay up by Verlander's opening day deadline, or they could take a major risk that, after 2014, Verlander would be pitching (and winning) for somebody else.
They couldn't sign Verlander to a shorter contract. Believe me, if they could have, they would have.
Verlander had a choice, too. He could play it out and see if he could get even more, or he could sign now and commit to the Tigers.
He could hope for more money, or he could go for a statue.
The statue won out.
$100+ million pitchers
Player, Team
Contract years
Amount
Justin Verlander, DET
2013-19
$180 million
Felix Hernandez, SEA
2013-19
$175 million
CC Sabathia, NYY
2009-15
$161 million
Zack Greinke, LAD
2013-18
$147 million
Cole Hamels, PHI
2013-18
$144 million
Johan Santana, NYM
2008-13
$137.5 million
Matt Cain, SF
2012-17
$127.5 million
Barry Zito, SF
2007-13
$126 million
Mike Hampton, COL
2001-08
$121 million
Cliff Lee, PHI
2011-15
$120 million
Kevin Brown, LA
199-05
$105 million
Our Latest Stories
The O's need rotation help, and Cobb is available for hire

The Red Sox and Cardinals are expected to make trade offers next

The free agent first baseman may be a fit in St. Louis
The front office changes in Atlanta continue

The Marlins are more likely than you think on our list

Judge finished a distant second in the balloting and he paid respect to the winner