Verlander win puts Tigers on verge of ALCS sweep
A Tiger starter finally gave up an earned run Tuesday night, and it was Justin Verlander. But it didn't come until the ninth inning of Game 3, and it wasn't enough to save the Yankees. The Tigers won Game 3 2-1, and now they're on the verge of sweeping past the Yankees and moving onto the World Series.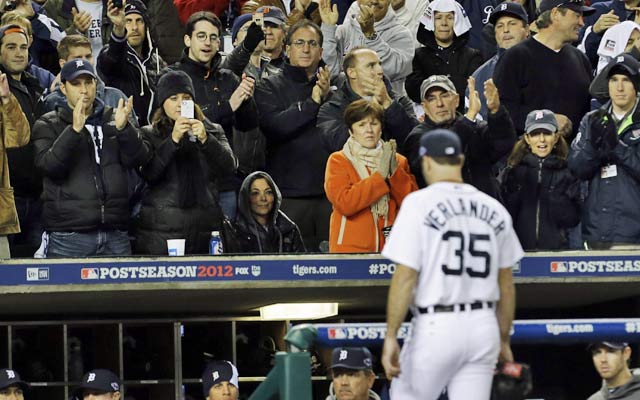 Justin Verlander and the Tigers are one game away from the World Series.
(AP)
DETROIT -- Jim Leyland teased the Yankees by suggesting Jose Valverde could pitch Tuesday night.

All they saw was Justin Verlander for 25 outs and Phil Coke for the final two, and now the Tigers are a win away from sweeping their way into the World Series.

Three games into the ALCS, the Yankees have scored four runs off Valverde, and almost no runs off anyone else. It was no runs at all off anyone else until Eduardo Nunez homered in the ninth inning Tuesday, giving the Yankees their only run in the Tigers' 2-1 Game 3 win.
More playoff coverage
ALCS: Tigers vs. Yankees
NLCS: Cardinals vs. Giants
Hard to say that was a surprise, given the way the Yankees have hit in this postseason, and given they were facing the guy Yankees first baseman Mark Teixeira referred to as "the best pitcher on the planet."
At least the Yankees avoided being shut out in back-to-back games, something that has never happened in their long postseason history.

Verlander was as dominating as ever. Then again, against this Yankee lineup, how would you know?

Yankees manager Joe Girardi benched Alex Rodriguez for the second time in five days. He benched Nick Swisher, too.

He couldn't bench everyone. And he couldn't find anyone on the roster who could do any better.

Ichiro Suzuki managed two singles off Verlander. Until Nunez's leadoff homer in the ninth, the rest of the Yankee lineup had as many hits as Robinson Cano had in this series until the ninth inning, which is to say: zero.

Things change quickly in the postseason, but can you really imagine this series changing now?

Can you imagine the Yankees scoring more than one run?

Verlander at times seemed to toy with them Tuesday. He didn't bother striking them out, but instead was content with letting them alternate popups with soft fly balls to the outfield.

Verlander pitched without much of a safety net, because the Tigers continually missed opportunities to blow the game open. They scored on a Delmon Young home run in the fourth, and on a Miguel Cabrera double in the fifth. But they left 10 runners on base, and went 2 for 10 with runners in scoring position.

Yankee starter Phil Hughes only made it to the fourth, leaving with what the team announced was a stiff back. That meant more innings for Girardi's heavily-used bullpen, which could be a factor if this series goes on much longer.

At this point, you have to wonder whether it will go past Wednesday's Game 4.
Chicago added Tyler Chatwood earlier this offseason but might not be done adding to the ro...

The Dodgers and Braves pulled off a whopper on Saturday

Sabathia will reportedly spend a 10th season in the Bronx
Fowler suffered a knee injury at Chicago's Guaranteed Rate Field

The lefty starter is coming off a terrible season

After acquiring Ian Kinsler and Zack Cozart in recent days, the Angels are trending upward