Veteran umpire Wally Bell, 48, has died of heart attack
Longtime umpire Wally Bell has died of a heart attack at age 48.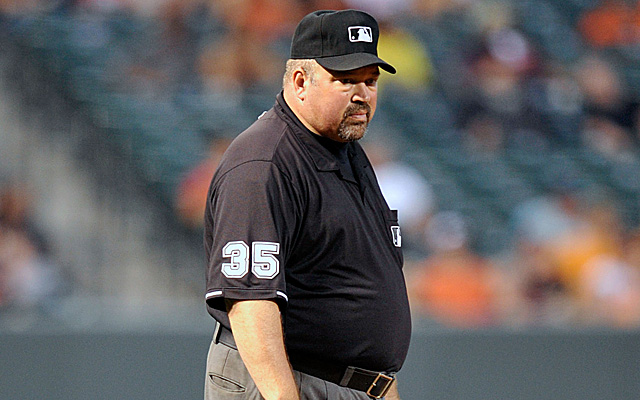 Longtime umpire Wally Bell has died at the age of 48 in his hometown of Youngstown, Ohio, Major League Baseball announced Monday night.
"I am deeply saddened and shocked at the loss of Umpire Wally Bell," MLB executive vice president of baseball operations Joe Torre said in a statement. "Umpiring was his life, and he touched so many people within the game of baseball. Aside from being an accomplished, All-Star-caliber umpire, Wally was a loving dad to his two teenage children. I extend my deepest condolences to them, his girlfriend Renee, the rest of his family and his admirers across Major League Baseball."
Initial reports indicate Bell died of a massive heart attack in a Youngstown hospital.
"All of us at Major League Baseball are in mourning tonight regarding the sudden passing of Wally Bell," commissioner Bud Selig said in a statement. "I always enjoyed seeing Wally, who was a terrific umpire and such an impressive young man. On behalf of our 30 Clubs, I extend my deepest condolences to Wally's family, fellow Umpires and his many friends throughout the game."
Bell had open heart surgery in 1999 and did charity work with the American Heart Association in the ensuing years. According to his biography, his proudest moment was returning to the field after his heart procedure.
Bell began working Little League games at age 17 and was in the majors in 1992 at age 27. He worked one World Series (2006), three LCS (2000, 2001, 2005) and six LDS (1998, 1999, 2003, 2004, 2006, 2013). He just finished working the Pirates-Cardinals series last week.
"Wally was a great umpire, a great partner and a great friend," said Joe West, president of the World Umpires Association. "The umpiring community is deeply saddened by this tragic loss. He will be sorely missed by many."
Keep it locked right here for everything you need to know about the world of baseball Tues...

There have been several racially charged incidents at Fenway Park this year

Washington's right fielders have sputtered offensively since Harper went down
The good news? Wichita still has a chance to win the series Tuesday night

The 2017 season is going to shatter the all-time collective home run record

Ferrell somehow avoided going to the ground