Victor Martinez and the quest for more homers than strikeouts
Tigers DH Victor Martinez has a chance at making history this season -- history that's made even more impressive by current league conditions.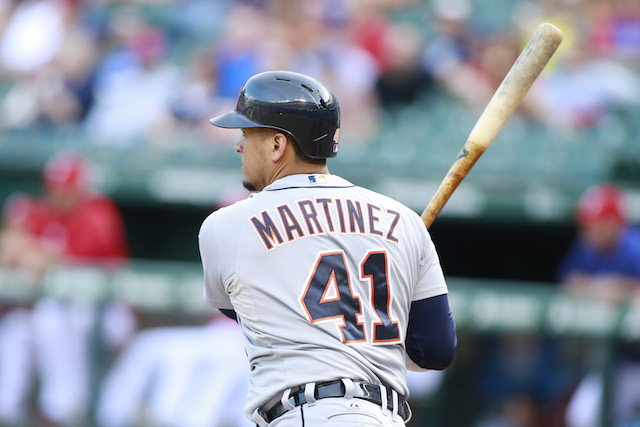 More MLB: Power Rankings | Expert Picks | Latest news & notes | Fantasy news
Tigers designated hitter Victor Martinez is thus far enjoying an exceptional age-35 season: .333/.394/.611 (171 OPS+) with 174 total bases (2nd in the AL) and 126 times on base (5th in the AL). In matters very much related, V-Mart in 2014 is hitting for power while also making contact at a high rate. At this writing, he ranks fourth in the AL with 20 homers and second in the AL with a contact rate of 92.5 percent. 
Needless to say, this kind of "skills union" is a rare thing these days. That is, power, which typically necessitates swinging hard, usually comes at the expense of contact, which typically necessitates a more controlled, less coiled approach at the plate. In Martinez, though, you have a hitter who's among the best in baseball in each otherwise conflicting regard this season. 
Nothing brings it home like this fact: Those 20 homers of Martinez's are set against his 22 strikeouts. Since we're roughly at the halfway point of the season, Martinez has something better than a puncher's chance of finishing 2014 with more homers than K's. That puts him in exceedingly rare company. 
In fact, the last qualifier to pull this off was Barry Bonds in 2004 (45 HR, 41 K). Before that it was George Brett in 1980 (24 HR, 22 K). Before that it was Vic Power in 1958 (16 HR, 14 K). In all, the feat has been pulled off a by a qualifier just 65 times since 1901 (via Baseball-Reference Play Index). Of course, not all who achieved it are power hitters in any real sense of the term. Limit it to those who hit at least 30 home runs for the season in question (Martinez is presently pacing for 43), and the list gets whittled down to 25. Go up to 40 homers, and you have just 10 player seasons that qualify. 
What's impressive about Martinez's bid is that we're in the highest-strikeout era of baseball history. For instance, the K rate in MLB this season is 7.7. Compare that to the K/9 marks during Bonds' season (6.6) and Brett's (4.8) and then Powers' (5.0).
To put a finer point on it, this season Martinez has 90.9 percent as many homers as strikeouts. Among current 2014 qualifers, the next-highest percentage of home runs/strikeouts belongs to Albert Pujols, who checks in with a mark of 44.4. There's leading the league in a given category, and then there's utterly crushing all comers in a given category. The latter is an example of what V-Mart is doing this season. So take the prevailing league environment into account, and Martinez's current work may the most impressive power/contact tandem ... ever, maybe? 
To be sure, Martinez is, as noted above, on target to fall short of the HR>K accomplishment, but that he's even in the discussion in late June -- and in strikeout-drenched 2014 -- is profoundly impressive. 
Neither Josh Donaldson nor Brian Dozier have talked about a new contract extension

Francisco leads the Dominican Winter League with seven home runs

Thome deserves enshrinement and here's why the case against him does not hold up
The Twins have already fortified the bullpen with Addison Reed, and now they want to address...

The Orioles likely want pitching, and the Indians have plenty of it

Halladay died in a November plane crash off the coast of Florida