Victor Martinez is nowhere to be seen now, but Tigers haven't forgotten him
As it turned out, Victor Martinez's lone contribution to the 2012 Tigers was that his knee injury spurred owner Mike Ilitch to sign Prince Fielder. The Tigers originally hoped Martinez would be healthy in time for the postseason, but that didn't happen. Now they expect him back for 2013.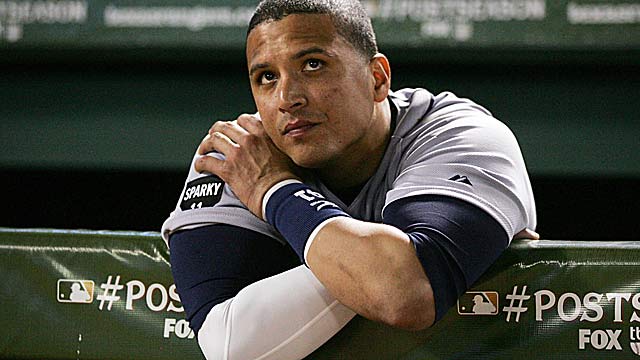 Tigers catcher Victor Martinez, out with a knee injury, should bolster the lineup in 2013.
(US Presswire)
DETROIT -- We'll never know if things would have been different for the Tigers if Victor Martinez was here.

We only know that things will be different next year, because Victor Martinez will be back.

Martinez's only contribution to the 2012 Tigers was the knee injury that convinced owner Mike Ilitch to tell his baseball people to sign Prince Fielder. The Tigers originally thought Martinez might return late in the season or at least for the postseason, but his rehabilitation was going slower than expected, so that didn't happen.

Instead, Martinez has been nowhere to be seen as the Tigers have gone through the postseason and into the World Series. He's not on the roster, he's not in the clubhouse.

"His decision," general manager Dave Dombrowski said, adding that he had no problem with that decision. "When I first started as a general manager, I really didn't understand why a player who was injured didn't want to stay around the team.

"For some players, it's painful for them to be around when they can't play. Some guys want to be around. Some guys think they just get in the way."

The Tigers plan for Martinez to be more than just around next year. They look ahead to what should be an even better middle of the order, likely with Martinez batting just behind Miguel Cabrera and Fielder.

"He'll make us better," Dombrowski agreed. "He's a good hitter, and he's also a switch hitter. So we'll always have either two left-handed hitters and two right-handed hitters in the middle of the lineup.

"He's a quality, quality hitter -- and a clutch hitter."

Fielder had a good first season with the Tigers, but his addition didn't change the lineup that much, because it coincided with Martinez's absence. Next year, the Tigers should have both of them.

There was a time they believed they would have both of them this month. Obviously, that didn't happen.

We'll never know how much difference it would have made.
Despite an awful month, the Dodgers are again NL West champions

The record of 38 previously belonged to Hall of Famer Frank Robinson

The report also says that Jeter had outgoing president David Samson do the firing
This wasn't a traditional hidden ball trick, but the Blue Jays pulled it off

The Tigers essentially fired Brad Ausmus on Friday, but things are going to be ugly for a...

The club made the announcement on Friday