VIDEO: Alabama's season ends on worst called strike three ever
Alabama's season ended on Monday thanks to one of the worst called strike threes you'll ever see.
More NCAA: FAQ: Oregon State top seed | Florida pulls off hidden ball trick
The NCAA Division I postseason is fully underway, and in fact most of the Super Regional berths have already been decided. One was up for grabs on Monday afternoon, when Kennesaw State and Alabama met in the Tallahassee Regional final.
Kennesaw State won the game 4-2, but the tying and go-ahead runs were on base for Alabama sophomore infielder Kyle Overstreet with two outs in the ninth. Overstreet hit .279 with a .336 on-base percentage and four home runs this year, so he was certainly capable of at least extending the inning.
Instead, Kennesaw State junior closer Justin McCalvin struck Overstreet out looking to end the game and Alabama's season. Here is the final pitch:
Brutal. Absolutely brutal. I mean, look at this: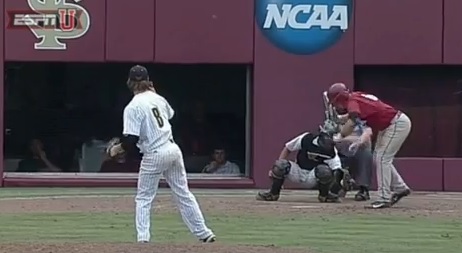 I have seen more awful called strike threes in my life than I care to count, but that is up there with the very worst of them. Especially considering the stakes. That should have made the count full with two outs, meaning the runners are moving on the next pitch .... geez. Alabama got hosed. That's no way to end a season.
Kennesaw State, meanwhile, has advanced to the first Super Regional in school history. They will play Louisville.
Piscotty's mother was diagnosed with ALS earlier this year

From the rebuilding Marlins to the aggressive Angels, here's how the most active teams made...

Plenty of other teams are involved, of course
Where might the Orioles third baseman land?

Kinsler will slot in at second base for the Angels

The Marlins got a better return for Ozuna than Stanton or Gordon