VIDEO: Jennie Finch toys with Adrian Peterson in softball game
Vikings running back Adrian Peterson isn't as talented with a baseball bat as he is with a football.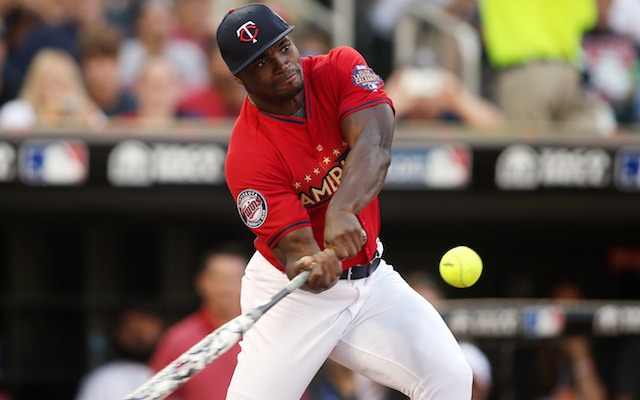 If Adrian Peterson's football career doesn't work out, he definitely doesn't have a future in softball.
As part of MLB's All-Star weekend, Peterson played in the Legends and Celebrity Softball Game on Sunday and it was all fun and games until it was time for Peterson to go up against Jennie Finch. 
As a pitcher for the United States in the 2004 Olympics, Finch helped the U.S. bring home a gold medal. If you've forgotten who Jennie Finch is, this is Jennie Finch. 
Jennie finch, what a girl. pic.twitter.com/nbQpVlEoUp

— Aaron Sostaric (@AaronSostaric) July 15, 2014
Either the Vikings running back didn't know how good Finch was or he didn't care, because he asked her to bring the heat during his at-bat. 
"I said, 'Don't take it easy on me. I want you to come with a fastball,'" Peterson told ESPN.com.
Finch brought the heat and you can see below what happened. Lets just say it wasn't pretty. Finch eventually showed Peterson some mercy and threw him a slow pitch -- and Peterson still didn't get on base, he grounded out. 
The coveted right-hander would certainly be a fit in Milwaukee

We rate the best mustaches from random baseball cards because, why not?

Colon wants to break a Dennis Martinez record
The Twins have been rumored to be interested in Darvish all winter

Rolen is one of the best third basemen of all time, but you wouldn't know it based on this...

Neither Josh Donaldson nor Brian Dozier have talked about a new contract extension