VIDEO: Red Sox get hosed by instant replay yet again
Once again, the new instant replay system appears to have ruled against the Red Sox incorrectly.
More MLB: Power Rankings | Expert Picks | Latest news & notes | Fantasy news
The new instant replay system has not been kind to the Red Sox. Last weekend a replay went against them incorrectly, prompting MLB to admit its mistake. Another call went against them the very next day, which resulted in manager John Farrell saying it is "hard to have much faith in the system right now."
On Friday night, it happened again. Nick Markakis lined John Lackey's very first pitch of the game to left field for a leadoff double, though the ball appeared to land just foul. Farrell challenged the fair/foul call and after a lengthy chat with the replay crew in New York, the umpires announced the ball had been deemed fair and Markakis' double stood. Here's the video:
There's no doubt that ball was right on the line and a tough call to make during live action play. The replay showed dirt kicking up from the ball, not white chalk from the foul line. This sure looks like a foul ball too: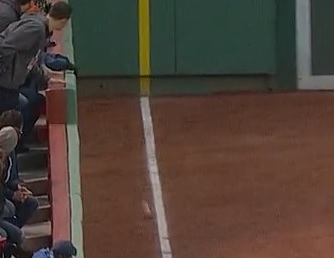 Maybe the replay folks felt the play was inconclusive. After watching the video, I guess I can understand that. To me, this looks very much like a foul ball. The lack of chalk kicking up is too much too ignore.
The new replay system has its flaws, no doubt about it, and the Red Sox seem to be on the wrong end of every botched call so far. That said, it's better to have the system in place and deal with a few mistakes than to not have it all. Otherwise Farrell would have had no recourse once the umpire ruled this ball fair.
Marcell Ozuna figures to be the next Marlins star on the move

Several relievers have signed in the last two days

Several teams are interested in the switch-hitting first baseman
Neshek and the Phillies are closing on a two-year contract

And the team that first drafted Cole is interested

This scout was SUPER into Jeter