Vin Scully doesn't want LA street named after him
The Los Angeles mayor mentioned Sunday he would like to name a street after Vin Scully. Vin Scully has said he doesn't want this to happen.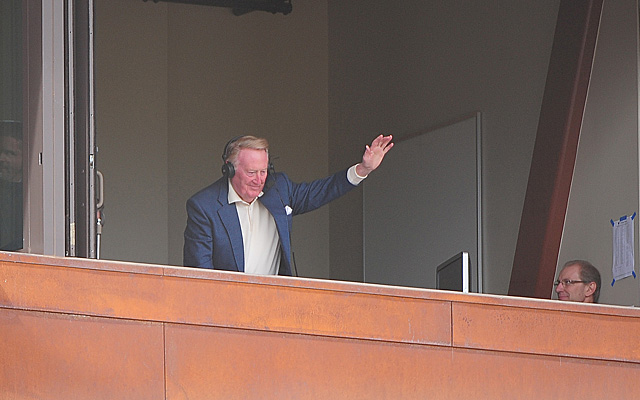 More MLB: Scoreboard | Standings | Probable Pitchers | Sortable Stats | Odds
Los Angeles mayor Eric Garcetti has made it publicly known that he'd like to name a street near Dodger Stadium after legendary Dodgers broadcaster Vin Scully. In return, Scully himself has issued a statement through the Dodgers saying he is against the idea (via latimes.com).
"The mayor of Los Angeles has a great deal more important things to do than name a street after me. And if he is considering the idea, better the street should be named after Walter or Peter O'Malley than myself."
Walter O'Malley is, of course, the former Dodgers owner who moved the club from Brooklyn to Los Angeles. Peter is his son, who took over ownership while the club was in L.A.
Any of the three would make for a great street name in the vicinity of Dodger Stadium, really. Part of what makes Vin so great is his humility, which is why it's not surprising at all that he would attempt to reject the idea of a street being named after him.