Vintage K-Rod ties MLB record for saves before May 1
Francisco Rodriguez looks like his old self and now has tied the MLB record with 13 saves before May 1.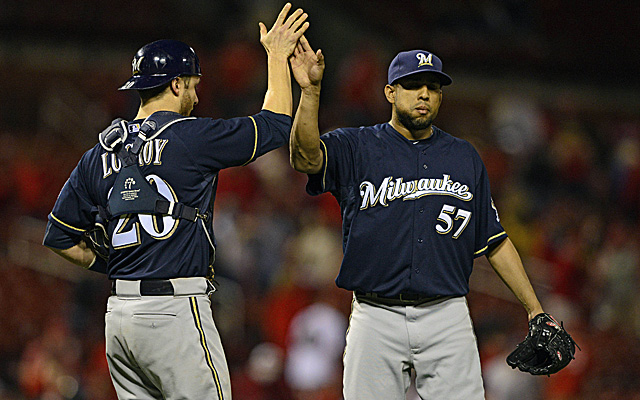 More MLB: Power Rankings | Expert Picks | Latest news & notes | Fantasy news
Francisco Rodriguez can now safely be called K-Rod again. Not that we ever stopped calling him that, it just had gotten to the point that it seemingly tarnished the image of the man who was one of baseball's most dominant closers for a handful of seasons.
In the past few years, the man who holds the single-season save record was setting up for Jon Axford and then heading into a season unsigned. Then he signed a one-year deal and was later traded for Nick Delmonico. This time around, he sat unsigned until February, when the Brewers again decided to grab him on a one-year deal.
Thus far, it's been one of baseball's biggest bargains. At essentially the last minute, Brewers manager Ron Roenicke decided to use Rodriguez in save situations instead of incumbent Jim Henderson. Not only is Rodriguez again vintage K-Rod -- paying massive dividends to the Brewers in the aftermath of Roenicke's decision -- but he has now tied a record for the most saves in a season before May 1 in baseball history.
Only six times in MLB history has anyone ever recorded more than 10 saves prior to May. Rod Beck (1997) and Mark Davis (1989) each had 11-save months. Lee Smith recorded 12 before May 1 in 1994 and Kaz Sasaki had 13 in 2001. The other two times, it was K-Rod.
In 2008, K-Rod recorded 11 saves before May 1 and would go on to save 62 games -- which is still the all-time MLB single-season record.
In 2014, though, he is now 13-for-13 in save chances, after successfully closing down the Cardinals and helping the Brewers run their record to an MLB-best 20-7.
As most of us know, a player can rack up saves without being overly dominant sometimes due to the nature of the stat. He's not skirting the system, though. Not only does K-Rod have six one-run saves, but it's much more than the saves themselves. He's now worked 16 innings and hasn't given up a single run. He's only allowed seven hits and four walks, good for a 0.69 WHIP. He's struck out 23, putting his strikeout rate around where it was back when he was a spring chicken in 2004.
Speaking of which, it seems like he's been around forever with this being his 13th season, but he's only 32 years old. Jonathan Papelbon is 33. Rafael Soriano is 34 while Grant Balfour is 36. Joe Nathan and Koji Uehara are both 39.
Considering the age, the track record and the performance thus far in April, it's fair to say there's a good chance Vintage K-Rod has plenty of gas left in the proverbial tank and will continue closing down lots of games for the Brewers.
GM Sandy Alderson said he followed his manager's recommendation

A report indicates the Rays are listening to trade offers on Chris Archer and Evan Longori...

Scott missed almost all of last season after a concussion
The superstar is one year away from free agency

The Angels knew about it and still wanted to sign the potential ace, of course

The Tigers asking price is supposedly very high, though