Wade Boggs is still waiting for the Red Sox to retire his number
Hall of Famer Wade Boggs is still waiting for the Red Sox to retire his No. 26.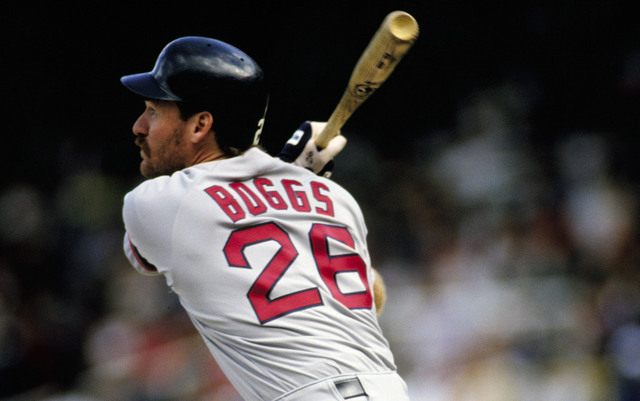 More MLB: Scoreboard | Standings | Probable Pitchers | Sortable Stats | Odds
Wade Boggs wore a Red Sox hat into Cooperstown when he was elected into the Hall of Fame in 2005, but he is still waiting for the team to retire his No. 26.
"It would be nice," Boggs said to Stan Grossfeld of the Boston Globe when asked about having his number retired. "Am I bitter? I thought when I wore a Boston hat in the Hall of Fame I'd be up there ... It's been eight years now. I used to be bitter. But I think those days are over. Was I bitter? Absolutely."
Boggs, 54, added the team told him, "[You] have to end your career as a Red Sox" to have your number retired. He played for the Yankees and Devil Rays after leaving Boston, but he also said he never wanted to leave in the first place.
"Mrs. Yawkey called me and [my wife] Debbie over in the parking lot in 1991 after the last game," Boggs told Grossfeld. "She said, 'Wade I want you to follow in the same steps as Ted [Williams] and Carl [Yastrzemski]. I want you to be a Red Sox for life.'
"I said, 'Mrs. Yawkey, that would make me extremely happy.' She said, 'Would seven years, $35 million be adequate?' I said, 'I'll sign it right now.' But then she slips in the tub, she dies, and everything washes away."
No. 26 has been re-issued several times since Boggs left the team in 1992. Outfielder Scott Podsednik wore it last year and minor league infielder Brock Holt wore it in spring training this year, for example. He pointed out that no player has worn No. 21 for the Red Sox since Roger Clemens left in 1996 even though it remains technically unretired.
Boggs ranks among the franchise's all-time top-10 lists with a .338 average (second), .428 OBP (third), 2,098 hits (fifth), 1,067 runs scored (sixth), 1,625 games played (seventh), .890 OPS (ninth) and 71.4 WAR (third) among several other significant offensive categories. Seems worthy of number retirement, if you ask me.
After being a seventh-round pick in the 1976 draft, Boggs made his big-league debut in 1982 and went on to hit .338/.428/.462 in parts of 11 seasons with the Red Sox. During his peak from 1983-88, he hit a staggering .356/.448/.489 with five batting titles.
Boggs became the first player to hit a home run for his 3,000th career hit -- Derek Jeter is the only other player to do it -- and he retired as a .328/.415/.443 career hitter with more walks (1,412) and extra-base hits (757) than strikeouts (745) in 1999.
Currently the assistant coach of the Wharton High School baseball team near his home in Tampa, Boggs confirmed he and his agent have approached Red Sox ownership about a public relations role.
In addition to the universally retired No. 42, the Red Sox have also retired Nos. 1 (Bobby Doerr), 4 (Joe Cronin), 6 (Johnny Pesky), 8 (Yastrzemski), 9 (Williams), 14 (Jim Rice) and 27 (Carlton Fisk).
(h/t Baseball Think Factory)
Gallardo spent the first eight years of his career in Milwaukee

MLB revenues are at a record high right now, but teams aren't spending it on players

Chicago added Tyler Chatwood earlier this offseason but might not be done adding to the ro...
The Dodgers and Braves pulled off a whopper on Saturday

Sabathia will reportedly spend a 10th season in the Bronx

Fowler suffered a knee injury at Chicago's Guaranteed Rate Field