Wainwright makes like Carpenter, and Cards are Game 5 winners again
The Cardinals expect moments like this and games like this. Wednesday, Adam Wainwright delivered, pitching the Cardinals into the NLCS against the Dodgers.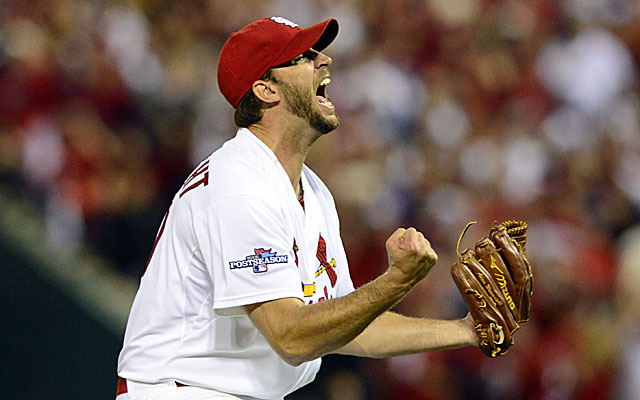 ST. LOUIS -- The Cardinals handed Adam Wainwright an opportunity, but they also handed him a responsibility.
They talked about passing the torch, but they really did more than that. They didn't just give him the chance to pitch games like Game 5. They didn't just want him to follow the lead of Chris Carpenter.
They wanted him to be Chris Carpenter.
They wanted him to take over a winner-take-all Game 5 the way Carpenter did that night two Octobers ago in Philadelphia, take it over and make it his own.
The way Adam Wainwright did Wednesday against the Pirates.
And when it was over, when the champagne was flowing one more time in the home clubhouse at Busch Stadium after Wainwright's 6-1 victory against the Pirates, Cardinals general manager John Mozeliak stood to the side and answered a question about whether this was what he envisioned when he gave Wainwright a new contract this spring.
"I would have to say yes," Mozeliak said. "Yes. Expectations are high."
Expectations are high here, and with good reason. The Cardinals are back in the National League Championship Series for the third consecutive year, and the sixth time in 10 years and the eighth time in 14.
Other teams go away, some for a long time like the Pirates and some for a shorter time like the Dodgers, the Cardinals' next opponent when the NLCS begins here Friday night.
The Cardinals just go on. They don't win every year, but they don't go away. They don't win every winner-take-all game (see Game 7 last year in San Francisco), but they sure do win most of them.
When Carpenter's health just won't let him pitch anymore, they have Wainwright to step in as staff leader and staff ace. When Albert Pujols walks away to sign for crazy money in California, the Cardinals have someone to step in for him, too.
Their first baseman (Matt Adams) homered Wednesday night. David Freese did, too, and you might remember him from previous big October nights.
And the guy on the mound made like Chris Carpenter.
This wasn't a shutout, like the one Carpenter pitched in that 2011 matchup with Roy Halladay. But as Carpenter himself pointed out, Wainwright only missed a shutout because of a freak run the Pirates scored in the seventh inning, on three consecutive infield hits, the third one taking a wild hop off the first-base bag and allowing Justin Morneau to come home from second base with the only Pirates run.
There were enough comparisons that Mozeliak watched Wainwright 2013 and thought of Carpenter 2011. There were enough similarities that Carpenter watched and thought the same.
"100 percent," Carpenter said. "I knew, and other guys knew, that he was in control."
The Cardinals so often seem to be in control on October nights like this. They won't necessarily beat the Dodgers in the upcoming NLCS, but you won't be at all surprised if they do.
They're never the surprise team.
"We knew everyone was pulling for Pittsburgh," Carpenter said.
The Pirates had the great story, the magical season in which they broke a record 20-year string of losing seasons, and the crazy-loud beautiful ballpark that finally came alive. The Cardinals didn't begrudge them that, and they didn't complain about the attention that the Pirates got.
They also didn't worry when the Pirates won Game 3 on Sunday to go ahead two games to one and leave the Cardinals a loss away from going home.
"After that game we lost, I looked around the clubhouse and everyone was relaxed," said Carlos Beltran, a great October performer before coming to the Cardinals, and still one now. "The games these guys have played through the years allow them to relax."
Wainwright wasn't exactly relaxed on Wednesday. He felt himself pumping his fist, not just after big outs but after nearly every out.
"I felt like I was closing from the first inning on," he said. "I knew I didn't want to go home yet. I'm not ready for hunting season. We've still got champagne to pop.
"That's what I'm hunting."
The Cardinals sprayed their champagne Wednesday, but this was a celebration under control, a celebration fitting for the end of a tough series that went the five-game distance, but also for a team that has won enough to understand this is only an early step.
The Cardinals have been here often enough to understand, and now they'll approach the NLCS with the Dodgers the same way they played this series with the Pirates. They had praise for the Pirates Wednesday night, and showed appropriate respect for the Dodgers.
The talk in the hours to come will be of Clayton Kershaw and Zack Greinke, the Dodgers' twin aces, and of how the Cardinals will win a series in which Kershaw and Greinke will each get two starts. But after watching Michael Wacha nearly no-hit the Pirates on Monday and then seeing Wainwright nearly shut them out on Wednesday, the Cardinals will go in fully believing that their rotation can match up.
"Any time you get to this point of the season, you've got good starting pitching," Carpenter said. "If you don't have it, you don't get here."
Carpenter isn't able to pitch, but he remains here as a sort of combination guru and cheerleader. He gushed about Wacha's performance in Game 4, and even more about the way Wainwright pitched in Game 5.
"It's almost like watching my son grow up," he said. "I know he's not my son's age, but that's what it's like."
Carpenter had the responsibility before in games like this, whether it was that night in Philadelphia or three weeks later in Game 7 against the Rangers. He's part of the reason the Cardinals are 7-1 in winner-take-all games during the past 10 years, and 8-1 during the past three Octobers in games where their season could end.
"You know what, we don't think about losing," Yadier Molina said. "You always have to think about winning."
They don't win all the time, obviously. The Cardinals won a World Series in 2006 and another one in 2011, but four times in recent years they've seen their season end at the stage they're about to enter -- including last year against the Giants.
But they get here, here to the postseason and often here to the NLCS. They get to games like Game 5 and Game 7, and when they do they fully believe they're going to win them.
And when they gave Adam Wainwright a new contract and talked about passing the torch to him, it was exactly with nights like this and games like this in mind.
"I envisioned the chance," Wainwright said. "I knew this organization was going to give me a chance to have a lot of postseason moments."
They gave him the chance, and Wednesday night he gave them another moment.
He gave them the chance, over the next week and a half against the Dodgers, to create even more.
CBS Sports HQ Daily Newsletter
Get the best highlights and stories - yeah, just the good stuff handpicked by our team to start your day.
Please check the opt-in box to acknowledge that you would like to subscribe.
Thanks for signing up!
Keep an eye on your inbox for the latest sports news.
Sorry!
There was an error processing your subscription.
It's reportedly on to Plan B for the Reds and their managerial search

The Brewers' backs are against the wall and the Dodgers can win the pennant for the second...

The Diamondbacks will at least listen for offers for Goldschmidt
SportsLine's Mike McClure, a DFS pro with nearly $2M in winnings, gives optimal lineup adv...

The Astros are fighting the clock as much as anything

Adam Thompson is a dialed-in MLB handicapper.