Waiver bonanza: Cubs, Jays, Rangers, Mets, O's, Rays, ChiSox make claims
Seven different teams made waiver claims on Monday afternoon. Here's a rundown of the moves.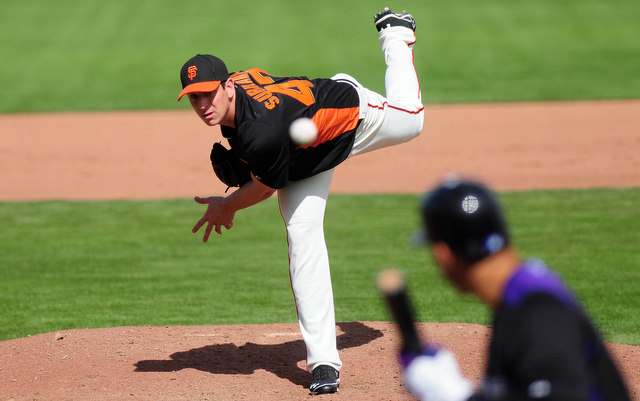 MORE: FA tracker: position players | FA tracker: pitchers
Waiver claims certainly aren't the sexiest transactions of the offseason, but every once in a while they will have a pretty big impact at the big league level. Players like Edwin Encarnacion, Marco Estrada, Darren O'Day, Eric O'Flaherty, Eric Stults and Justin Maxwell have all been claimed off waivers in recent years.
Seven different teams made a waiver claim on Monday afternoon. Here's a recap of the action.
Toronto Blue Jays : Claim 3B Brent Morel from Chicago White Sox
Two years ago, the ChiSox gave the 26-year-old Morel a chance to be their everyday third baseman, but he responded by hitting .245/.287/.366 (74 OPS+) with 10 home runs in 444 plate appearances. He's a career .229/.276/.333 (63 OPS+) hitter in parts of four MLB seasons and a .275/.333/.417 hitter in three seasons at Triple-A. Morel's calling card is his strong hot corner defense.
Chicago Cubs : Claim RHP Brett Marshall from New York Yankees
Marshall, 23, made his MLB debut in 2013 and allowed six runs in 12 innings. He pitched to a 5.13 ERA with a 1.76 K/BB in 138 2/3 Triple-A innings as well. Before this past season, Baseball America ranked Marshall as New York's sixth best prospect and said he"profiles as a durable, sinkerballing No. 4 starter." If nothing else, he'll have a better opportunity with the rebuilding Cubs than the never-rebuild Yankees.
New York Mets : Claim RHP Ryan Reid from Pittsburgh Pirates
The 28-year-old Reid made his big league debut by allowing two runs in 11 relief innings this summer. He also had a 2.73 ERA and 2.55 K/BB in 59 1/3 relief innings in Triple-A. Reid has never been much of a prospect but he keeps getting results. The Mets figure to give him an opportunity to win a bullpen job in spring training.
Baltimore Orioles : Claim RHP Liam Hendriks from Cubs
The Cubs essentially traded Henriks (who they claimed off waivers from the Twins about a week ago) for Marshall. Hendriks has a 6.06 ERA (68 ERA+) with a 2.17 K/BB in 156 big league innings over the last three seasons, though his Triple-A numbers (3.61 ERA and 3.78 K/BB in 254 innings) are much better. The 24-year-old hails from Australia.
Tampa Bay Rays : Claim 1B/OF Jerry Sands from Pirates
Sands, 26, has been part of two high-profile trades in recent years. He went from the Los Angeles Dodgers to the Boston Red Sox in the Adrian Gonzalez/Carl Crawford blockbuster, then he went from Boston to Pittsburgh in the Mark Melancon/Joel Hanrahan trade. For his career, Sands is a .244/.325/.376 (96 OPS+) hitter in 251 MLB plate appearances and a .264/.347/.487 hitter in 1,337 Triple-A plate appearances. You know the Rays will find some kind of use for him.
Texas Rangers : Claim 2B/OF Alex Castellanos from Red Sox
Castellanos, 27, received 41 MLB plate appearances from 2012-13 (56 OPS+) and is a .294/.382/.525 hitters with 36 home runs in 848 career plate appearances at the Triple-A level. Baseball America ranked him as the 11th best prospect in Los Angeles' system prior to 2013 in their Prospect Handbook. "Castellanos should fit in ... as a utility option, capable of playing anywhere except catcher and shortstop, as soon as this season," wrote the publication. Given his flexibility, he's a nice extra piece to have lying around.
White Sox: Claim LHP Eric Surkamp from San Francisco Giants
Tommy John surgery delayed the start of the 26-year-old Surkamp's season and limited him to only 86 2/3 minor league innings in 2013. He has a 2.78 ERA and 2.70 K/BB in 71 1/3 career innings at Triple-A and has allowed 25 runs in 29 1/3 big league innings over the last three years. Surkamp was the No. 25 prospect in San Francisco's system before 2013 according to Baseball America. "Surkamp profiles as a good back-of-the-rotation starter ... his one premium pitch (curveball) and his presence on the mound make him a name to keep in mind," they wrote in their Prospect Handbook. It's worth noting the White Sox have a history of turning low-profile pickups into solid starters, namely Phil Humber and Jose Quintana.