Was Max Scherzer's no-hitter vs. Mets the most dominant ever?
Looking closer at the detailed statistics, it's hard to fathom any no-hitter being more dominant than this one.
We already know that Max Scherzer of the Nationals threw his second no-hitter of 2015 on Saturday night, striking out 17 Mets in a 2-0 victory at Citi Field. But was Scherzer's the most dominant no-hitter of all time?
Short answer: Probably.
Scherzer's 17 strikeouts tied Nolan Ryan's record for a no-hitter. Furthermore, Scherzer allowed zero walks -- reaching three balls in the count just twice -- and coming within a botched throw, on an otherwise routine play for infielder Yunel Escobar, from a perfect game. Ryan had four walks in his second no-no of 1973, which knocks his game out of the top five, going by game score.
Game score, a creation of Bill James, says that Scherzer's mark of 104 is the best ever in a no-hitter, by two points over Clayton Kershaw's no-hitter from June 2014. A total of 45 other pitchers in history have compiled higher game scores, but 44 of them were earned by throwing between 11 and 26 innings in a single game (and none were no-hitters). The lone comparable exception: Kerry Wood, who scored a 105 by striking out 20 in a one-hitter in 1998.
Game scores are tedious to explain (here's the formula), but this is the gist: The more innings, the more strikeouts, the fewer baserunners (and runs) -- the higher the game score.
Most Dominant No-Hitters In History
Pitcher (Team) -- Date
Opponent
Strikeouts
Walks
Game Score
Max Scherzer (WAS) -- 10-3-15
Mets
17
0
104
Clayton Kershaw (LAD) -- 6-18-14
Rockies
15
0
102
Matt Cain (SFG) -- 6-13-12
Astros
14
0
101
Nolan Ryan (TEX) -- 5-1-91
Blue Jays
16
2
101
Sandy Koufax (LAD) -- 9-9-65
Cubs
14
0
101
What about hard-hit balls? A hard thing to compare, especially throughout history, but there was just one hard-hit ball by the Mets -- Curtis Granderson hit a head-high line drive to second baseman Dan Uggla to start the fourth inning. Scherzer, being humble after the game, noted Granderson's L-4 could have been a hit easily, that it was just bad luck, and he's right -- but that was the only one. Can't do much better than that.
Take a look for yourself:
The strikeout against Yoenis Cespedes to start the ninth, in particular, just oozed with "You can't touch this."
It's hard to believe (and just as hard to prove) that anybody was better in a no-hitter -- and possibly in any nine-inning game, ever -- than Max Scherzer was against the Mets.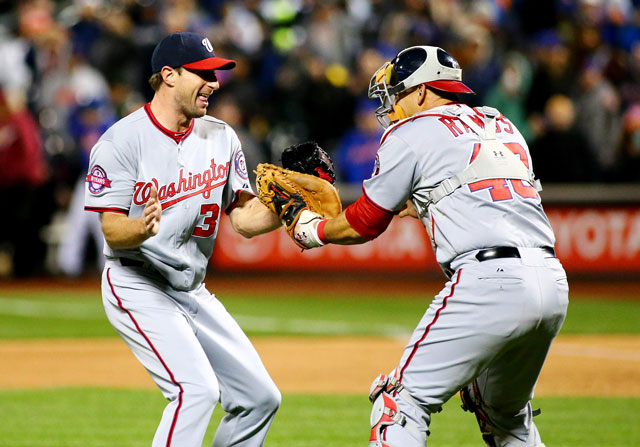 CBS Sports HQ Daily Newsletter
Get the best highlights and stories - yeah, just the good stuff handpicked by our team to start your day.
Please check the opt-in box to acknowledge that you would like to subscribe.
Thanks for signing up!
Keep an eye on your inbox for the latest sports news.
Sorry!
There was an error processing your subscription.
Our Latest Stories
Price tossed six scoreless innings on short rest in ALCS Game 5

Devers has driven in seven runs in limited postseason action

From Alex Cora to Dave Dombrowski, there's a lot of history on the line
The Red Sox defeated the reigning champion Astros 4-1 in the American League Championship...

Cora turned 43 on the same day the Red Sox clinched the ALCS

It's quite a pivot for a player who struggled at the plate during the regular season