Washington resignation caps 'worst' and unluckiest Rangers season
Manager Ron Washington resigned from the Rangers, a team that had suffered more than anyone already this year.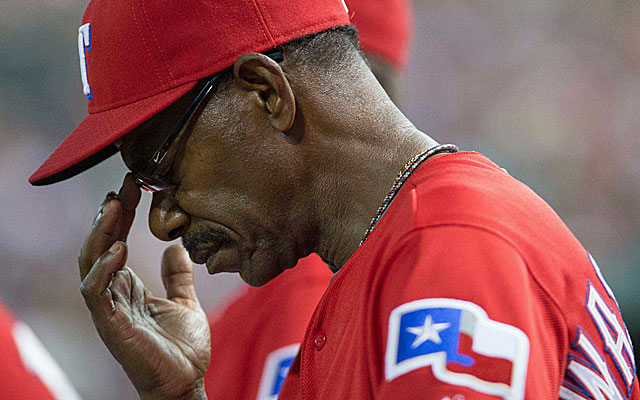 In a way it was only fitting that manager Ron Washington was lost to the Rangers after almost all of his players were.
Washington's sudden resignation was just the latest bit of misfortunate for perhaps baseball's all-time most unfortunate team, the 2014 Texas Rangers, which has had to use the disabled list a baseball-high 26 times, and still has 14 players on the DL, which is more than half a team.
 It's a team that had to use a ridiculous 61 players, and that doesn't even count September callups. It's no wonder they are in last place, behind even the Houston Astros.
Washington has looked worn out at times during a season in which the Rangers, originally viewed as a likely contender, were knocked out by injuries by June and may finish with the worst record in baseball after contending the past few years under Washington, making the World Series twice and almost winning it once (Washington will be recalled as the manager to come closest to winning a World Series without actually winning one).
It's been a disarmingly upsetting season in Arlington, with almost no one spared pain or a DL stay. It's been such an awful year that even the Rangers.com writer, T.R. Sullivan, tweeted upon word of the Washington resignation. "It is official, end of discussion: 2014: worst season in Rangers history ... Nothing else close."
No one could argue.
The abrupt end to the tenure of Washington, a beloved figure in Arlington, is surely seen as the topper in a year that's brought one piece of sadness after another.  But at least it came with one bit of good news.
It isn't about drugs.
Washington officially  announced that he's resigning his position as Rangers manager due to an undisclosed  "off-the-field  personal" reason. GM Jon Daniels, the man who hired Washington, filled in the gap, letting folks know it isn't a case of drugs that felled Washington. The former A's third base coach, major-league infielder, base-running expert and zealous cheerleader will be recalled mostly as a nice, enthusiastic fellow who came excruciatingly close to winning the World Series before ultimately falling to the Cardinals in seven games in 2011 but also for failing an MLB drug test for cocaine a few years back.
Some scouts suggest the Rangers looked at times like a team that had given up. But more accurately, they were simply too  exhausted to compete. And Daniels said the team had planned to bring Washington back in 2015, no matter the record.
But now, the loss of Washington means Rangers people face a winter that begs for even more work than they did last winter. The Rangers appeared, in fact, to win the 2013-14 offseason when they signed top free agent Shin-Soo Choo and pulled off the blockbuster trade for Prince Fielder, filling the team's two most obvious holes -- leadoff and cleanup -- with what seemed like substantial answers. Choo posted a sterling .424 on-base percentage last year for the Reds, and Fielder was viewed as someone who could hit 30 home runs the Rangers' generous home park without even trying.
But alas, Choo valiantly tried to play through elbow pain all year before he finally succumbed and is out for the year, and Fielder, who played the most games in the bigs in multiple years past, needed neck surgery that knocked him out the whole year.
With Fielder out, and many other first-base types suffering injuries, too, the Rangers have started an impossible 11 different men at first base -- though calling some of them first basemen might be a stretch. Many were catchers, middle infielders or DHs masquerading as first basemen.
But the biggest misery was in the pitching staff, where 13 DL moves were made.
In a year when the Rockies, Diamondbacks and others were decimated by injuries, the Rangers took the prize, with 1,978 days lost to the DL, more than 50 percent more than even the second and third unluckiest teams.
All the injuries were aggravating in their own way, from Derek Holland's offseason knee injury allegedly suffered while playing with his dog at home to the most recent stiff neck for catcher Robinson Chirinos (he was hit in the mask by a foul) and shoulder fatigue by pitcher Milos Mikolas.
Holland was supposed to be back in July but just returned last week. He pitched well, as usual, but it's too late for this season.
Some injuries were even worse.
Matt Harrison, a rotation mainstay, tried to return after a second back surgery but hurt himself and needed a third. His future is in jeopardy, but at least the Rangers have insurance.
Infielder Jurickson Profar, once seen as the top prospect in all of baseball, suffered a shoulder injury that knocked him out two months, then mysteriously re-injured it to the point of missing the entire season while doing "non-baseball activities. One belief was that he first felt the pain while sleeping, but that is unconfirmed, and it's still uncertain how he injured himself, or re-injured himself.
As it turns out, with all the pain suffered maybe the star-crossed Rangers would have been better off simply sleeping through the season.
CBS Sports HQ Daily Newsletter
Get the best highlights and stories - yeah, just the good stuff handpicked by our team to start your day.
Please check the opt-in box to acknowledge that you would like to subscribe.
Thanks for signing up!
Keep an eye on your inbox for the latest sports news.
Sorry!
There was an error processing your subscription.
Martinez doesn't have a starting spot in St. Louis, and probably won't find one anywhere else,...

It seems impossible that two people can miss this call, but here we are

Keep up with all the latest trade rumors around Major League Baseball
The trade deadline is less than two weeks away, and there's plenty to watch over the coming...

Adam Thompson has a three-way parlay that could pay off huge on Friday

Keep it right here for all of Friday's MLB action