Wasted Greatness: Players stuck on bad teams during their primes
Sometimes great players, even historically great players, get stuck on really bad teams. It's time to show them a little love.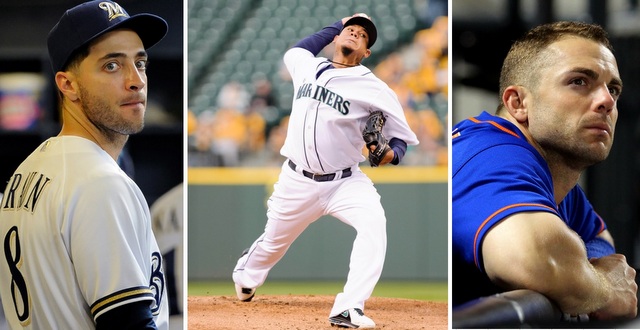 More MLB: Scoreboard | Standings | Probable Pitchers | Sortable Stats | Odds
Once upon a time, before the Wild Card system was implemented, only four teams qualified for the postseason each year. Long before that, only two teams qualified. As a result, some all-time greats never appeared in a playoff game. Ernie Banks, Luke Appling, Ron Santo, Joe Torre, George Sissler ... none ever went to the postseason as a player.
These days ten teams qualify for the playoffs every year, so most players will see October baseball at some point in their career. Others aren't so lucky. Adam Dunn leads all active players in regular season games played without a postseason appearance (1,800), with former Blue Jays teammates Vernon Wells (1,679) and Alex Rios (1,380) rounding out the top three.
Sometimes great players get stuck on bad teams, and it's even worse when those players are right smack in the primes of their careers -- their late-20s and early-30s. This post is going to highlight some of those players because a team's lack of success can lead to people overlooking just how great a player really is. Think Brian Giles and the Pirates once upon a time.
"Bad teams" is totally subjective, but I'm looking at clubs who are not expected to make the postseason both this year and another year or two after that. Things can turn around in a hurry of course, but that would require some unexpected developments for the clubs in this post. Ages listed are as of today.
Ryan Braun, Brewers (Age 29)
All the performance-enhancing drug drama clouds just how marvelous a hitter Braun is. He's a career .313/.375/.565 (147 OPS+) hitter who averages 41 doubles, 36 home runs and 22 stolen bases per 162 games played. From 2007-12, his worst season was 3.9 WAR. Milwaukee has been to the postseason twice during the Braun era (2008 and 2011), but they have the third-worst record in baseball this year and a rebuild -- especially on the pitching side -- is in order.
Felix Hernandez, Mariners (Age 27)
This is the eighth full season and ninth overall season of Felix's career, and only twice have the Mariners finished higher than fourth in the division -- second in 2007 and third in 2009. The King is a perennial Cy Young candidate who has pitched to a 2.80 ERA (140 ERA+) and 1.13 WHIP in nearly 1,100 innings since 2009. He's got a Cy Young Award and two other top-four finishes in the voting during that time. The Mariners are yet again buried in fourth place in the ultra-competitive AL West and stuck in what feels like a perpetual rebuild.
Alex Gordon, Royals (Age 29)
Has there been a more under-the-radar great player these last three years than Gordon? It took him a few years to find his footing in the show, but since 2011 he has hit .297/.368/.468 (129 OPS+) while averaging 46 doubles, 19 homers and 13 steals per 162 games. Gordon is also an elite defensive left fielder who ranks third among outfielders with 16.0 WAR since the start of 2011. The Royals are on the periphery of the AL Central race and could possibly make the leap to contender in 2014, but they haven't finished higher than third in the division since 1995. I'm okay with betting against them.
This one might be a little unfair because the Twinkies did go the postseason four times in Mauer's first seven years as a big leaguer, but they've resides in the AL Central cellar since 2011. Mauer, meanwhile, remains an otherworldy pure hitter. He led the league in OBP last year (.416), and since winning the AL MVP in 2009 he's hit .327/.409/.478 (142 OPS+) with an average of 40 doubles and 16 homers per 162 games. Only once since 2006 has Mauer been worth less than 3.5 WAR in a season (1.5 in 2011). That's as a catcher, the most demanding position in the sport. The Twins stink right now and their franchise cornerstone is right smack in the middle of a Hall of Fame path career.
David Wright, Mets (Age 30)
It's hard to believe that just two years ago, Wright posted a 115 OPS+ and was being talking about as someone who peaked early. He's responded by hitting .306/.393/.503 (149 OPS+) the last two years. Wright is a career .301/.382/.507 (137 OPS+) hitter who averages 41 doubles, 26 homers, 22 steals and 5.5 WAR per 162 games, yet the Mets have only been to the postseason once in his ten-year career while finishing fourth in the NL East every season since 2009. The Amazin's have a ton of money coming off the books this winter (Johan Santana and Jason Bay, specifically) and big market teams can turn things around in a hurry, but it sure seems like Wright will have to a wait a while for that second career postseason appearance.
Others Considered: Carlos Gonzalez, Rockies (Age 27); Jose Bautista, Blue Jays (32); Cole Hamels, Phillies (29).
Where might the Orioles third baseman land?

Kinsler will slot in at second base for the Angels

The Marlins got a better return for Ozuna than Stanton or Gordon
The two teams are going about things in very different ways

The Marlins are indeed in teardown mode under new ownership

The Marlins still have more attractive pieces