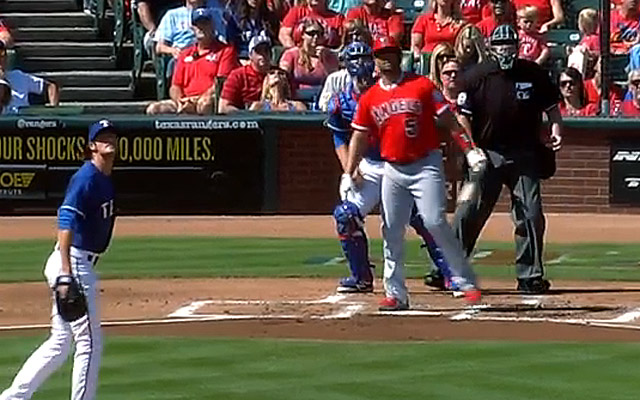 Albert Pujols came through with a big first-inning homer for the Angels on Sunday. Here it is:
Now, it's big because they need a win and an Astros loss to force a tiebreaker game on Monday (which would be at 3:35 p.m. ET, by the way), but this was also his 40th homer of the season. This is a big statistic for several reasons.
On an individual level, Pujols has now hit at least 40 home runs in seven different seasons, tying him with Ken Griffey Jr. and Sammy Sosa. The only players with more?
1. Babe Ruth, 11
2. Alex Rodriguez, Barry Bonds, Harmon Killebrew and Hank Aaron, 8
That's it for all of baseball history. Fine company, Mr. Pujols. There's more, too.
Before this season, the only Angels player to ever hit at least 40 homers in a season was Troy Glaus, who only did it once. Mike Trout and Pujols both have 40, so they've tripled the Angels' record book in this single season.
Further, before this season, there were only 28 teams in MLB history with at least two players hitting 40 or more home runs, with the most recent team being the 2006 White Sox. The Rockies (Nolan Arenado, Carlos Gonzalez) and Blue Jays (Josh Donaldson, Jose Bautista) had already joined that club this season and now the Angels become the 31st in history.
A few more fun ones?
Albert Pujols is the first player in MLB history to hit 40 homers in a season and have an OPS under .800

— Cespedes Family BBQ (@CespedesBBQ) October 4, 2015
Pujols is the 9th player to 40 HR this year, most since 2006 (11). http://t.co/VfXbXaTjAd Encarnacion sitting on 39, J.D. Martinez 38.

— Bill Baer (@Baer_Bill) October 4, 2015
So, yes, Pujols' 40th homer was a significant one for numbers nerds everywhere. And, really, aren't all baseball fans?