WATCH: Benches clear in Braves-Marlins game
There was a near-brawl in Wednesday night's Braves-Marlins game, and Jose Fernandez was central to the action.
More MLB: Scoreboard | Standings | Probable Pitchers | Sortable Stats | Odds
Marlins ace Jose Fernandez, in the course of another strong outing, managed to clout his first major-league home run. And that's where things between the Fish and the visiting Braves got even more interesting ... 
So, lots to unpack here. 
Obviously, the initial temptation is going to be to lay all of the blame on the 21-year-old Fernandez, who absolutely violated all manner of rules of decorum by admiring that home run for so long. You can't do that, at least to such an extent, and expect the other team to ignore it. 
With that said, Chris Johnson is also a main offender here. Here's what happened earlier in the game when Johnson flew out against Fernandez ... 
He starts talking trash to Fernandez as he makes his way down the baseline. Maybe something preceded all of that nonsense, but Johnson's mouth-running no doubt played a role in what happened later. 
Also, what's Johnson doing here?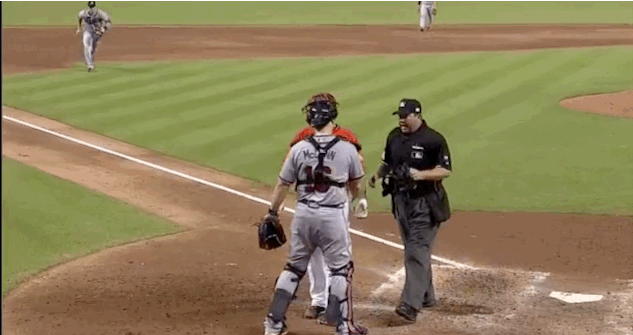 McCann's having what appears to be a "veteran explaining things to rookie" type of peace-making conversation, and then Johnson decides to break into a dead sprint. Then he pretty much hides behind the umpire. It's that that helped empty the benches. 
So, yes, the 21-year-old Fernandez seems to have a little growing up to do. By the same token, though, so does the 28-year-old Johnson. 
The Diamondbacks outfielder was not impaired, he was just going way too fast

MLB can unilaterally implement rule changes, which will also include limits on mound visit...

If the MLBPA wants to fix MLB's economic system, it should push for more money for young p...
Fans aren't happy Gerrit Cole and Andrew McCutchen have been traded away

Acuna is arguably the best prospect in baseball

Kent had a good career, particularly with the bat