The start of Wednesday afternoon's series finale between the Rockies and Cardinals at Coors Field (GameTracker) was delayed a few minutes. Not because of rain or technical difficulties. Nothing like that.
No, Wednesday's game was delayed by a post-national anthem standoff between Cardinals outfielder Jose Martinez and Rockies reliever Carlos Estevez. This wasn't a short delay. It lasted several minutes. Long enough for the umpires to get together and tell the managers to order their players back to the dugout. Here's some video:
The entire standoff lasted a good 3-4 minutes. Eventually Estevez, who put on a catcher's mask as protection in case play started, relented and walked back to the dugout. Here's the moment of defeat. Or, if you're a Cardinals supporter, the moment of victory: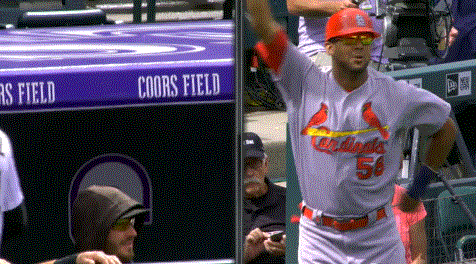 Now, just to be clear, this was not some sort of protest that had anything to do with the Colin Kaepernick situation. It was just two players being clowns, basically. Martinez and Estevez weren't standing up for anything other than their honor.