WATCH: Tom Lawless flipped a bat in 1987 and no one cared
Back in the 1987 World Series, Tom Lawless hit a home run, walked for nine seconds before running and flipped his bat high in the air. No opponents complained.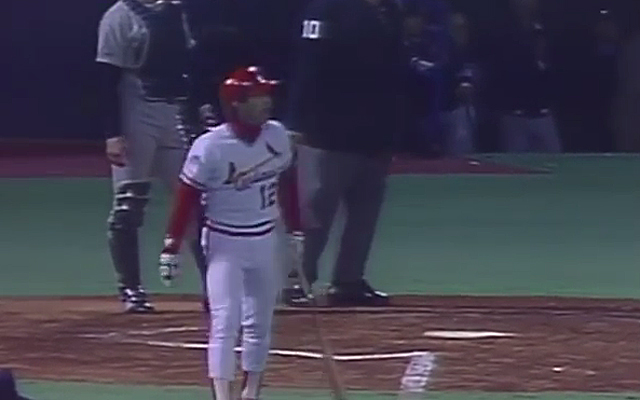 This just in: Baseball players who hit home runs sometimes "pimp" them by walking a few steps down the line and/or flipping their bats in celebration. The latest example was Blue Jays' slugger Jose Bautista with what was essentially a series-clinching homer and it was followed with a bunch of complaining, namely from the Rangers.
We heard plenty of variations of the tired tropes:
- "Play the game the right way"
- "Respect the game"
- "Act like a professional"
- "Act like you've been there before"
And, the worst one ...
- "This wouldn't have happened back in (insert generation while remembering it with revisionist history)."
Um, yeah, it would have. It did.
Hey, for fun let's watch Tom Lawless homer in the 1987 World Series.
Look at that. I counted nine seconds before he starts running. On the Bautista homer, it was three seconds. Lawless' bat flip? I think Yasiel Puig would be jealous of that.
And what do we get afterward? Announcers laughing. I found game stories from the New York Times and Los Angeles Times in which there were zero complaints about being professional or not playing the right way. Lawless was never hit by a pitch in retaliation. I can't find any record of people kicking and screaming about how big a "punk" Lawless was.
Oh, sure, things are much different nowadays. They are different because everyone is so much more sensitive than they used to be and whines about things that ultimately don't matter much.
Next time you see a bat flip, think about Tom Lawless. If you didn't freak out then, don't freak out now. Please? Pretty please?
CBS Sports HQ Daily Newsletter
Get the best highlights and stories - yeah, just the good stuff handpicked by our team to start your day.
Please check the opt-in box to acknowledge that you would like to subscribe.
Thanks for signing up!
Keep an eye on your inbox for the latest sports news.
Sorry!
There was an error processing your subscription.
We're on the other side of the winter meetings, but there's plenty of offseason action ahe...

Baseball's unofficial salary cap is working

Adams spent part of last season with Washington
The 31-year-old slashed .250/.317/.421 last season

The rookie manager will inherit a team that lost 115 games a season ago

Kinsler would likely fill a utility infield role for the Padres